Aquila Game Reserve
by Valerie Layton
(Gulf Breeze FL USA)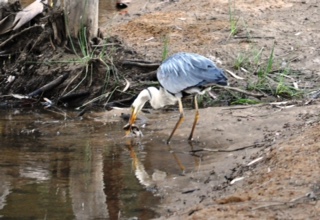 Heron fishing
Aquila Game Reserve is a delightful safari camp in western South Africa.

The reserve is a vast area of open valleys and shrub covered hills. Among all of that flora is a great variety of animals from rhinos to springbok.

We stayed in a thatched cottage with great African themed décor. Meals with regional flavors were buffet style to allow for various safari groups to come and go.

Safaris can be a super learning experience. They can also have wonderful rewarding surprises. Sometimes different times of the day can reveal animals in different activities.

Like the early morning when we saw a stunning heron posed in a stream and then in a flash we saw him catch a fish!

Your safari guide is a wealth of knowledge and fun stories. Our guide scooped up day - old elephant dung and declared it didn't smell. Of course I had to prove that to myself! And he was right.

And what were those black glossy creatures scampering about resembling miniature VWs? Those were the industrious and powerful Dung Beetles, bigger and more amazing than any beetles I'd ever seen!

It just seems that every moment of a safari there is something new to learn and experience. It is a life event everyone needs to enjoy!

Join in and write your own page! It's easy to do. How? Simply click here to return to South Africa Safari.