Tanzania Travel - Selous Game Reserve
Safari Location:

Dar Es Salaam/Selous Game Reserve, Tanzania

Company Used:
Authentic Tanzania (David)
Duration:
12 days, June 2006
Traveller Details:

Yionna Pavlides

, Australia. Three people in the group.
Tanzania Travel Questions
Where did you stay and what was it like?
We stayed in several accommodations and lodges in our latest Tanzania travel. We arrived in Dar and stayed at the Sea Cliff Hotel for two nights to recover from our long trip from Australia.
Considering the renovations at the hotel, we had a pleasant stay with stunning views of the Indian Ocean and great and friendly service.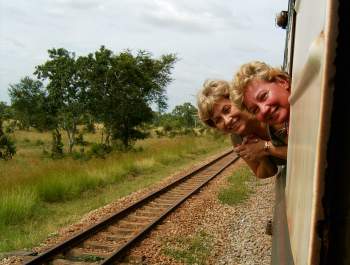 Our agent recommended we go via train to Selous for an unusual experience. The train ride was 5.5 hours, and the bonus going by train was that we got approximately 1 hour of free game viewing in Selous, this was magic.
It was quite a Tanzania travel experience traveling first class in Africa. Approximately 10 minutes into the ride, the porter entered our cabin and placed a red carpet on the floor and curtains on the window. We thought this was hilarious, but loved them as they are so friendly. I would recommend to do the train once just for the experience.
Selous is the largest Reserve in Africa, and it's located in Southern Tanzania. The Reserve is not as popular as the northern part of Tanzania, thus we loved the quietness and felt special as you can guarantee you will be on your own, no other vehicles to disturb you, also as they have a variety of safaris: game drives, walking safaris and boat safaris. Tanzania travel at its best.
We stayed at the Sable Mountain Lodge. Accommodation consisted of stone cottages and tented 'bandas' over looking the Beho Beho Hills. I loved the intimate and true wilderness of the place. It even has a swimming pool for relaxation after your game drive. The great part about Sable Mountain is that it's just a little out of the reserve, which means you do not have to pay reserve fees everyday, whether you do a game drive or not. The best option is Sable as it is affordable, and optional with game drives and not feeling guilty that you have to go out because you have paid the fees.
We stayed in the tented bandas and loved it. They were spacious, all complete with en-suite, verandas with spectacular views. They were clean and beds very comfortable... I would strongly recommend it. The staff were great, especially George who looked after us during our meals.
We stayed for 4 days and flew direct to Amani Beach resort and stayed at the Amani Beach Hotel, all inclusive. We loved the accommodation and the great, spectacular views of the ocean, great gardens for walks, excellent meals.
Back in Dar before we left stayed also at the Beachcomber Hotel, great and friendly staff. We also went to the Kunduchi Hotel for a lunch meal, and were very impressed with the décor.
We found all staff in Tanzania, from the north to the south very friendly and helpful... a little slow, but hey how fast can you go when you get the constant heat in Dar.
| | |
| --- | --- |
| How did the safari operator perform? | |
Authentic Tanzania was wonderful. David was in contact with me all through my planning the trip from Australia via e-mails, no question was unanswered. His suggestions and recommendations were greatly appreciated.
The help with our suitcases within Tanzania travel around, from one destination to another was greatly appreciated.
He was very knowleadgable, especially on the species of birds. Selous Reserve has a great variety of birds which I was not aware of.
To anyone going to Tanzania, I recommend David - he specialises in travel to Southern Tanzania. He is friendly and smiled a lot. All went smoothly.
| | |
| --- | --- |
| Did you have good weather? | |
The weather was great, I was expecting the nights to be a little cool, but it was very good.

In Dar, we could not get over how cheap the lobsters are in Tanzania compared to Australia, so guess what we stuffed ourselves with.

The food at Sable Mountain was inclusive, considering the wilderness the meals were wonderful, a variety of dishes and plentiful.

You'd think Tanzania travel food would be plain but it was great. A typical breakfast included cereal, fruit, eggs and Kilimanjaro coffee ... we loved it. Lunch was usually a picnic, dependent on what you were doing out on safari. Dinner consisted of a three course meal and the one night had traditional Tanzanian food.

At Amani Beach Resort the meals were also inclusive. I would definitely have it as a top cuisine... the meals were creative and tasteful.

We had buffet breakfasts with eggs to your liking, fruit, cereal and pastries. Lunch and dinner were a choice of entrees, main meal and dessert and always offered with imagination and taste.
| | |
| --- | --- |
| Please describe a typical day from start to finish. | |
After a full breakfast, we started early for a game safari/boat safari at Lake Tagalala. The drive was a little rough but expected.
I could not get over the how large Selous is, with plenty of vegetation and wonderful scenery, nothing like the north of Tanzania - travel I've done a previous time.
Lake Tagalala was magic. It is the first time I have done a boat safari and must admit loved every minute of it. We called our boat the African Queen. My husband is afraid of small planes and boats ... guess what - he did the lot. We felt safe with all the hippos and crocodiles around us. Had a picnic lunch on the boat.
On our return we also went to the Hot springs, a very small area but I was adventurous to have a swim.
| | |
| --- | --- |
| What were your Tanzania travel wildlife spotting and other highlights? | |
We saw plenty of zebras, giraffes, elephants, hippos, crocodiles and different species of birds.
The highlight of the safari was on our return from the boat safari to our camp, we reversed to see a herd of elephants. The female elephant charged us and coming towards us and making a loud sound and flapping her ears continuously. We all started shouting to the driver to take off. The reason was she was protecting her baby and I think any mother would have done the same.
Cannot pin point any other specific highlights as I loved all of it, all the things we did were different and each had its special moment. The company was very good, and the whole organization of the trip was excellent.
| | |
| --- | --- |
| Was there anything that didn't meet your expectations on the trip; any disappointments or regrets? | |
I would recommend to do the north of Tanzania travel first to see all and Selous next. Selous is so vast that it is a little difficult to spot animals. We were very disappointed in not seeing any lions.
Also I believe Selous is known for the wild dogs but unfortunately we did not get the chance to see any. You might have to stay over a week and do safari every single day to spot the dogs, lions and leopards.
Any tips and advice for others interested in a Tanzania travel?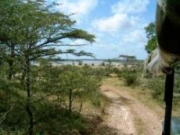 Get a good agent, and all will be great.
Travel light. The standard that should be taken is a camera, hat, sunscreen and binoculars.
Tanzania travel is great as it has a variety of national parks, reserves and lakes, and I think it's the safest country in Africa.
| | |
| --- | --- |
| How would you rate your safari, on a scale of 1 to 10? | |
First class, 10. And I hope to return to do Lake Tanganyika.