First Hand Kenya Safari Information To Help You Plan Your Safari
If a Kenya safari is what you are looking for, why not get advice from the experts? Learn from the footsteps and camera clicks of people who have already been there.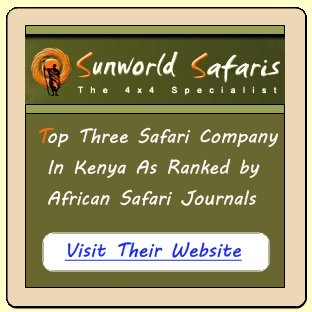 They have experienced the unique smell of an African thunderstorm and the way the spider webs glisten in the morning dew. They can explain exactly what the holiday was really like.
The trip reports below contain the accumulated wisdom of previous Africa travellers and the photographs they took on their trips. The travel reviews identify the Kenyan areas that are the best for wildlife spotting Kenya holidays.
There are a number of game reserves that provide excellent opportunities for an unforgettable experience in Kenya.
Make sure you take a look at the travel journals below to find out more about them. They provide valuable independent tips, insights and advice you won't find anywhere else to help you plan the best possible Kenya safari and they also give an indication of the top three Kenya safari companies.
Kenya Safari Trip Reviews
Masai Mara National Reserve
---

The Masai Mara is one of the most popular safari areas in Kenya because of the excellent wildlife spotting opportunities to be found there.
You are almost assured of spotting lion in this reserve if you stay for a reasonable length of time.
Every year around August/September, millions of wildebeest visit the Mara in search of fresh grazing... a spectacle that has to be seen to be truly appreciated.
| | |
| --- | --- |
| | Freedom Africa review » We saw all of the big five and more - cheetahs, leopards and hyena. We saw leopards on two consecutive days which was outstanding. We got kissed by giraffes at the Karen Blixen centre - it was wonderful. I even stroked a rhino and tickled his ear... |
| | Odyssey Safaris » The highlight was a trip to the Mara River where we saw a pair of crocodiles seize a wildebeest, then a few minutes later face off and fight a mama hippo. We saw virtually everything there is in the Mara... |
| | Luxury Africa trip » "Africa is my catnip. I cannot resist it. Every day I hear the heart of Africa whispering my name and I must follow." Flying from one luxury camp to the next, Connie had the perfect Kenya safari and shares her love for Africa through her detailed journal... |
Wildlife Trails Review » We spotted two lions we had seen earlier and as we came up beside them I heard a grinding sound. We were now stuck on a rut with no traction on any wheel. It was getting dark and there was nothing between us and the lions that were now looking at us curiously...
Walking safari » Walking in the wild is one of the best ways to experience a safari because you have a much more intimate connection with the land and it's animals when you are making footprints on it. Tom went walkabout in Kenya and this is what he experienced...
Tsavo East & West National Parks
---
Together Tsavo East & West form the largest park in Kenya, divided only by the Nairobi-Mombasa railway and road.
Tsavo is easily accessible from the coast making it the perfect choice for a Kenya safari & beach combo holiday. There are wildlife, mountains and hills, large lava flows, lakes, savannah, woodlands and caves to enjoy.
You can stay at anything from public campsites to bandas to luxury lodges. A pool would be a bonus as Tsavo is situated in a hot, dry region.
Special about Tsavo: In the East, look out for the endangered Hirola (Hunters Hartebeest). The lucky might catch a glimpse of the endangered wild dog in the West where you can also do a boat excursion, go walking or climbing or if you're looking for something different, go to Mzima Springs and watch hippos from underwater viewing hides.
| | |
| --- | --- |
| | Ithumba camp review » In Tsavo East we stayed at the David Sheldrick Foundation guest camp at Ithumba. It is one thing to view elephants from a vehicle but this was an amazing experience to be able to walk with them and be accepted by them... |
| | Two night Tsavo trip » Woke up to the sounds of birds, and the sun peeping through the tent. Got ready and went for breakfast, watched the croc and the hippos in the water whilst eating breakfast with the sun coming up... |
| | Tsavo West trip report » Shaun went to Tsavo West where he stayed in a different lodge every night. He had a great time and saw almost everything (except rhino). Despite taking anti-malaria tablets, he got very sick, displaying all the symptoms but not the disease itself. Has this scared him away from Africa? Find out in his review... |
Tsavo lions make a kill» Although his Kenya safari was brief, David offers good tips for a Tsavo safari. He and his sons were lucky enough to witness something that not many people have ever seen on safari...
Request full trip report » Jeff went on a self drive camping safari in Tsavo and stayed at the Mtito Ande and Chyulu Camp sites and had a great time. One of the big cats in the form of a leopard put in an appearance but lions were elusive. This is an excellent trip report for information about how to conduct a self guided Kenya safari in your own 4x4 vehicle...
Samburu National Reserve
---

The serene, off the beaten track Samburu National Reserve is situated in the centre of Kenya, about 300km north of Nairobi. It is adjacent to Buffalo Springs National Reserve (separated only by the Ewaso Ngiro River) and the Shaba National Reserve is also only a stone's throw away.
The reserve consists of a mix of wood and grassland with riverine forest and swamp which is a haven for elephants and leopards in particular.
Animals to look out for: gerenuk, reticulated giraffe, oryx.
| | |
| --- | --- |
| | Kobo Safaris Review » The game drives were the best. I loved the place, the endless plains, the golden colours, the sunsets, the animals, the air, but also thanks to our fantastic guide Lucy. She was kind, funny and knowledgeable... |
| | Request full trip report » The first animal that Nancy saw on her Samburu safari was an antelope called a Dikdik and from then on they spotted almost everything the reserve has to offer in spite of the fact that recent rains had caused the grass to grow long and dense... |
| | Request full trip report » Although Samburu is not as active a spot as Masai Mara, there is quite a variety of wildlife to see, although not as much game as available in other parks. It was here, however, that we saw the only leopard and we really enjoyed our stay... |
Request full trip report » Driving to Samburu can be a tiring affair because the roads are very bumpy and it was a seven hour journey to get there for Lara on her Kenya safari. But the service at the camp was excellent, the meals were top class and the wildlife sightings more than made up for the discomfort of the road trip...
Amboseli National Park
---
The reserve is surrounded by the larger Amboseli National Park ecosystem, allowing wildlife to roam quite freely. The eastern parts are best for game viewing; look for the fringe-eared oryx, gerenuk and black rhino among others, and a variety of vulture species.
You will find here an interesting and beautiful landscape: swamps dotted with elephant herds, marshes and the temporary Lake Amboseli. One of the best places to enjoy good views of Mt Kilimanjaro, which is situated across the border in Tanzania.
Protect your camera against the loose ashy volcanic dust in the dry season. Accommodation is at campsites or luxury lodges.
| | |
| --- | --- |
| | Amboseli Serena safari lodge » Peder really enjoyed his safari and was impressed by the service at his accommodation and also the food. Afterwards they went to Watamu on the coast and the highlight there was diving at the coral reef... |
| | Kibo camp experience » Katrien wanted to go a little off the beaten track and avoid the crowds on her Kenya safari which she managed to achieve by using a company that specialises in trips like that. She has lots of highlights and fond memories of the adventure where Amboseli National Park was one of the areas they visited on the 10 day journey... |
| | Willbell tours review » Seeing all of the "big 5" (lion, leopard, elephant, rhino and buffalo) plus a wide variety of other animals and birds resulted in a 10 out of 10 score for this Kenya safari to Amboseli and Tsavo. Jacobus has learnt a few things after having been on two African safaris and shares some tips for those still planning to go... |
Request full trip report » Cyn and John took a chartered small plane from their cruise ship to get to Amboseli. They saw cheetah stalking impala, thousands of flamingos, elephant by the dozen and of course the majestic Kilimanjaro mountain cloaked in a mantle of cloud. Lunch on their Kenya safari was a buffet at the Ol Tukai lodge and the Masai people paraded their local dress and offered crafts for sale...
Climb Mt Kenya
---
At 5 199m (17 058 ft) Mt Kenya, an extinct volcano, is the second highest mountain in Africa. Even though it is located near the equator - 180km north of Nairobi and within the Mt Kenya National Park - there are permanent glaciers on top of it.
Like Mt Kilimanjaro, Mt Kenya is an altitude climb that should not be rushed. Various routes lead to the top: Naro Moru (most popular - the steepest and fastest way up), Chogoria (most scenic but also the toughest), Sirimons (popular), Timau, Kamweti, Burguret (a faint old mule trail), New Bantu, Old Moses (including beautiful forest walking) and Meru Routes. Wild animals including elephant and buffalo are regularly encountered on some of the routes.
Most people of reasonable fitness can walk to the third highest peak of Mt Kenya while reaching the second highest and the highest peaks are reserved for those with technical rock and snow climbing qualifications.
| | |
| --- | --- |
| | Climbing Africas two highest mountains » The porters and the guide on Mt Kenya carried everything on their back. Interestingly the trails were such that carrying on their head would have been fine as there was no step up or handhold climbing, just a different climbing culture... |
| | Sirimon route climb report » Alan was very happy with how his climb went and ascribes the success to thorough planning and preparation - by both the climbers and their guide and his team. He did the climb in February and with this got great weather as he had hoped. ... |
| | Kamweti route » Charles enjoyed this route which is really off the beaten track (rather on elephant and buffalo tracks). He and his friend made a concerted effort to prepare for the climb and as a reward found the experience "not really hard". A knowledgeable guide, the right equipment, good food and good weather all helped to make his Mt Kenya climb a memorable one... |
Climbing adventure » Everything went smoothly on the trek to the top of the mountain and Itzik had only one regret and that is not taking an extra day to climb Mt Kenya which would have allowed him to acclimatise better. The food was great and his guide excellent...
Mt Kenya expedition » Kristofer's trip report of his Mt Kenya trekking experience is so descriptive and detailed that you almost feel like you were there with him on the mountain. At first you wonder why he's doing it because it sounds like hard work in unkind altitudes but then he reaches the summit and starts using words like "exhilaration", "overwhelming" and "sublime"...
Submit Your Own Kenya Safari Experience

Share your own story to help others still planning to go on an African trip like this.
More Kenya Safari Trip Reports
Click below to see contributions from past Kenya visitors...

East Africa tour » K.C. spent 3 weeks in East Africa including a Kenya safari in Masai Mara during the wildebeest migration, which she saw from the air as well as the ground. In her trip report, K.C. goes into detail about the accommodation, the unexpected wet weather and her experiences like getting to know cheetahs up close and personal...
Holiday to Africa » Some amazing wildlife sightings, like seeing a python eat an impala and spotting leopards from a hot air balloon. Laurel also gives great safari tips on accommodation, comments on the food and a warning to bring warm clothes as Africa can get cold...
More East Africa adventures » Some Kenya safari companies go above and beyond the call of duty and Ruth's this trip report of their private, tailor-made safari is definitely an example of that. If you're planning to visit Kenya in similar fashion, prepare yourself for delicious omelettes and masses of fresh fruit...
Masai Mara National Park » A keen photographer, Jariya got plenty opportunity to photograph all kinds of animals including lion and cheetah on her Kenya safari. She was keen on seeing lots of hippos and got more than she bargained for when 2 hippo males chased their boat...
Naivasha » Dave & Suzy saw a myriad of game during their self-drive camping safari across the Masai Mara, Naivasha, Aberdares and Loisaba. Because they live in Kenya, his stunning journal provides lots of hidden gems, like where to go on your Kenya safari if you want to sleep (in luxury) under the starry skies of Africa...
Masai Mara Reserve » Siggi is mad about Kenya and timed this trip to coincide with the annual wildebeest migration. There was no shortage of action during her safari, like seeing a wildebeest surviving a crocodile attack...
Wildlife encounters » Booking a Kenya safari is easy when you find the right company. John found his safari so wonderful that he gave it a 10 out of 10 rating. Find out why in his Kenya wildlife safari trip report...
Tsavo National Park » At first game was a bit scarce, but after only 3 days, Steve and his wife left very satisfied with the amount of wildlife they saw on their Kenya safari. Get great lodge recommendations for scenery, service and great food....
Related Pages
Back to the top