Hoopoe Safaris Review
by Sandra Glover
(USA)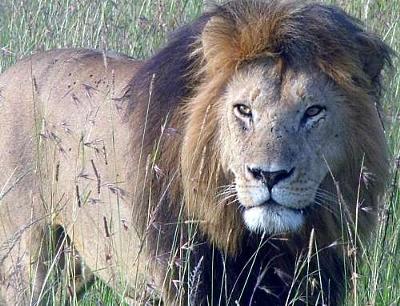 Lion King
The lions we spotted were absolutely magnificent (and lazy). Learning about the lion pride and their lifestyle was fun. The birds looked unreal. They were colourful and quite exotic looking. There were birds of many types – we couldn't keep up with all the species so decided to buy a local bird book instead.
Safari Company Performance
Hoopoe Safaris, the operator that accompanied us was excellent, thorough and customer service was great. First class - 100%.
The guide was superb as well.
Accommodation
The Norfolk Hotel
(Nairobi)
was our first taste of Africa. It was a very elegant hotel with a large and helpful staff. We rested well after our long journey to get there.
The Ark was shaped like an ark and was situated in a lush area of Aberdare National Park. The rooms were small with 2 beds.
There was a buzzer in the room that would sound off throughout the night when an animal was nearby; guests would run to the observation deck (even in pajamas) to see what was out there.
Governer's Camp was alongside the Mara River and was very serene. The nights were lit by a bonfire and I'd swear we could hear animals snoring at night!
Larsen's Camp was my favourite. It is in Samburu and the tent was so soothing and pretty. It is alongside the Uaso Nyiro River which was quite pretty. We loved the staff that was very attentive and helpful.
The meals were elegant and served by candlelight in the evenings. They were friendly and talkative, eager to share their lifestyle stories with us. They really enjoyed talking with my sons who kept them entertained.
The Mt Kenya Safari Club is just plain elegant! It was everything I thought it would be when I learned that princes, kings, presidents and other high ranking dignitaries stay there too.
There were meals galore and the guests there were very friendly. We went swimming and played croquet on the lawn. The view from atop the property was excellent.
Our rooms were adjoining and at night when we returned to our room, the fireplace was lit and there were hot water bottles placed between the sheets to warm the beds! Wow!
Food and Wildlife
There were trained chefs at each place we stayed in. We did not eat any local or traditional food.
We visited Aberdare National Park where we saw stunning elephant and even some bushbuck, and bulls among others.
We learned about Grevy's Zebra and the different stripe patterns of zebras. We also learned about the reticulated giraffe and we can distinguish their coloring and patterns. What a discovery for us. We saw cheetah, leopard and many more elephants.
We saw wildebeest, lion, cheetah, crocodile, baboon, elephant, dik-dik, topi, impala, monkeys, zebra, giraffe, hyenas, genet, buffalo, rhinoceros and leopard.
The insects were huge. Millipedes and moths were like something out of a movie!
Typical Day
Most days we were awakened pre-dawn by tea and ginger cookies in our tent; then we dressed and went on safari by 6 a.m.
After the a.m. safari we returned for a full breakfast array of foods, beverages, and fruits. We would then travel to a village or go swimming and explore our surroundings before lunch.
After lunch and more leisure time, we would go on our p.m. safari that went until dusk.
There were fun evening activities and some really needed 'down time' where we leisurely wrote in our journals, recapped the day's events, and interacted with the staff there learning about their lives and their hopes and dreams.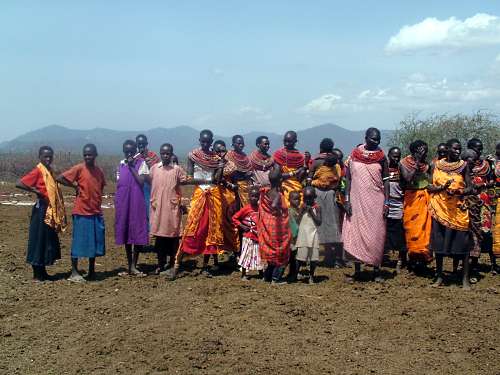 Other Activities
We went to a village where the Samburu and Turkana tribes co-exist, which I understand is not very common a thing.
The people were so welcoming and so generous to allow us to take photos and share (
with a translator
) information. We brought them gifts of candy, snack crackers, ink pens, and bandanas which the villagers absolutely loved.
In Nanyuki we visited the Weavers. The Weavers are women who have learned to be self sufficient by developing a skill and selling their wares. It was very enlightening – the women tend sheep, collect the wool and make beautiful items for sale.
We considered the hot air balloon trip over Lake Victoria and dinner beside the lake, but that cost an additional fee and we were pretty much tapped out of cash.
Disappointments, Tips and Advice
The only thing we regretted is that time passed so quickly. We hated to leave!
Take along a video camera and still camera for lots of photography options.
Insect repellent will always be a useful item in your luggage.
Highlights of the Trip
Taking two young men – my sons – on safari to Kenya for two weeks was magnificent. It was our first trip together out of the country and we couldn't have gone anywhere nicer. I invited my best friend from college to join us and she did.
Gone were the video games and the prescribed activities that we as Americans are so accustomed to - we embraced everything African. My sons aged 10 and 8 at the time of our trip, were so eager to learn and to try new foods, fruits and beverages. I was amazed with their amazement. The people, the sounds, the tastes, the smells, all exceeded our expectations.
We traveled to Nairobi, passed through Thika, and Kikuyu where we saw endless farmlands ripe with coffee and tea. We traveled a very bumpy ride by automobile to the Equator and stood at the earth's center.
The lush greenery was so very rich looking; we later witnessed some desert land as we traveled from the lush highlands down to the plains of Samburu National Park for more safari rides.
In a huge leap of faith, we boarded a prop aircraft and flew to the Maasai Mara. A bit skeptical at first, but we strapped in our seats, said a prayer and off we went.
Maasai people are so colorful with their red clothing and dark skin. We heard stories about boys coming of age and becoming men. We heard stories about lions and the mutual respect between the two.
We went on two game drives per day. The lions and the bulls were my absolute highlights. It was, for me, the trip of a lifetime. It was for my sons, the tip of the iceberg.
I hope their lives were forever impacted in a positive way so through this great set of memories we created, that they will become great men with a quest for cultural knowledge and awareness in order to do great things.
More Amboseli Safari Reviews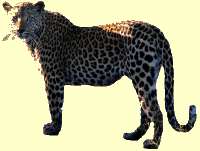 Join in and write your own page! It's easy to do. How? Simply click here to return to Kenya Safari.