Rwanda travel is mainly centered around mountain gorilla trekking. This great ape is an endangered species - there are only about 800 of them left on earth.
Over half of the remaining mountain gorilla population roam in the Virunga Mountains stretching across Rwanda, Uganda and the DRC (Congo). In this area, Rwanda's Volcans National Park is the best option as Uganda's Mgahinga group frequently cross over into Rwanda anyway, and the DRC situation is pretty unstable. The remaining gorillas are in Uganda's Bwindi Impenetrable Park.
Going on a gorilla trek and watching them go about their daily business is one of those once-in-a-lifetime experiences and as you will read in the trip reports below, worth every cent of the high permit price.
Due to the small size of Rwanda travel logistics are relatively simple - for example the journey from the capital (Kigali) to Volcans NP is only around 110km (under 70 miles).
Other Rwanda Travel Ideas:
Also at Volcans NP, visit a habituated group of golden monkeys.
In Nyungwe Forest you can enjoy more primate viewing - in this case chimpanzees and 12 other species, plus almost 300 species of birds... not to mention the wide variety of trees, orchids and butterflies. Book a guided tour searching for a certain species, be it the L'Hoest monkeys with their snow white beards or the more elusive red-tailed monkey, or if you prefer you may just walk around on your own using some of the shorter trails.
If it's big game you're after, Rwanda's Akagera National Park is home to zebra, giraffe, elephant, buffalo, impala, tsessebe, eland and other antelope. Although there are some predators, Akagera is not on par with the likes of Masai Mara, Serengeti, Kruger or Etosha. What Akagera does offer is solitude. It is not unusual to spend a day without coming across any other tourists. That and the extremely beautiful landscapes make the park well worth a visit.
With a few more days to spend in scenic Rwanda travel to the massive Lake Kivu (relax, water activities, lakeside towns), hike to the top of Mount Karisimbi, and of course spend time in the capital Kigali (markets, genocide memorial). And try to spend some time with the locals - this is a nation with a terrible recent past (the genocide in 1994) yet the people are so friendly and hopeful.
Rwanda Travel Trip Reviews
Volcans National Park (Parc National des Volcans)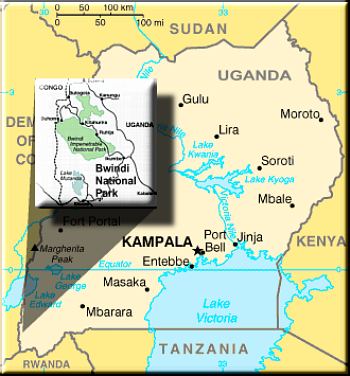 Volcans National Park is situated a short drive from the capital Kigali, in the north west corner of Rwanda which shares a border with Uganda and the DRC (Congo) in the Virunga volcanoes. The sometimes steep slopes are covered with thick vegetation and the scenery is spectacular.
The park is best known as one of the last places where the endangered mountain gorilla can be seen. There are four habituated groups (Susa, Amahoro, Sabyinyo and "13"). Seeing them is not guaranteed, but the percentage chance of success is in the high 90s.

Volcanoes gorilla safari » Philip says it was surreal to watch wild mountain gorillas going about their business. By the end of their hour-long visit, 12 gorillas had come out and was all around them. They had good hiking weather (mid December) even though the trail was muddy.
He booked his tour company online and although they seemed fine through the planning process, he was disappointed with them overall and goes into a lot of detail as to why in his full report...

Rwanda gorilla safari » Sonja spent 6 weeks in Africa but visiting the mountain gorillas was one of her highlights. She and her husband visited the Amahoro Group where they both had close encounters with the apes.
They trekked a second day to a different group and she feels very privileged that they were able to once again be in the presence of these wonderful animals. Although she spent two extra days in Kigali, she regrets not seeing more of the country and its friendly people...

Request full trip report » Michelle and Troy navigated some extremely muddy roads en-route from Uganda, and were lucky to get permits the day after their arrival at Ruhengeri. During their hour with the gorillas they changed position a few times to get different perspectives, enjoyed watching the babies play and were mock charged by two of the Susa group's silverbacks.
They had a bit of rain during the down hill hike. They warn people to not be put off by the cost (used for conservation) because the experience is unforgettable...
Request full trip report » Steve & Hannah visited the gorillas in Rwanda as part of their overland Cairo-to-Cape trip. It seems their operator was less than satisfactory but nothing could take away the magic of the gorilla experience. They visited the "13" Group which included a 7-month old baby.It's nice to read that their Rwanda travel guide, despite already working there for 27 years, still took the time to point out a chameleon and certain plants which the gorillas like to eat...
Request full trip report » Not many people can say they spent Christmas day with a family of mountain gorillas, but that's exactly what Jan and John did. After an early start and a demanding hike of two and a half hours they finally got to the Sabyinyo group.Jan's Rwanda travel report contains a few pictures of both the gorillas (including the silverback) and the scenery...
Request full trip report » Neil gives some great practical tips about Rwanda travel and organising a gorilla trek there (like problems with ATM machines and arranging transport to Volcans NP). He thought the scenery was stunning and the Rwanda people friendly.Although visiting the gorillas is expensive, he thought it was well worth it and recommends the experience to everyone who can afford it...
Nyungwe National Park

Request full trip report » Jon has a very keen interest in the different mammals across the world and it shows in his Rwanda travel report. He saw 8 different species of monkeys in Nyungwe as well as 3 wild chimpanzees and a few other small mammals.
Jon's travelogue also contains several fantastic pictures of the various animals and the scenery that he came across in Rwanda...

Request full trip report » The group saw L'Hoest monkeys, blue monkeys and a pair of chimpanzees during their time in the forest as well as a great number of birds including the red-collared mountain babbler, a much sought after species at Nuyngwe.
The trip report contains useful logistical information as well as brief reviews of their various accommodations...