Read Zambia safaris trip reports to give you an in-depth and unbiased look into what makes such a holiday tick.
Want to find out where lions are spotted regularly? How about getting the low-down on the quality of the food on such a trip? Or would you like to know which safari operator provides the best wildlife spotting experience?
The trip reports below are written by people who have been on such a trip already so they can provide answers to these questions. And the advice is independent and unbiased, so there is no 'marketing exaggeration' involved.
Often the best information about a travel destination can be obtained from somebody who has already been there, so take a careful look at the travel reviews to get some great tips.
Previous Zambia safaris trips can provide you with a wealth of great information, advice and recommendations to plan your own Zambia safari holiday. OK, take your virtual tour to Zambia now through the travel journals below...
Zambia Safaris Trip Reviews
South Luangwa National Park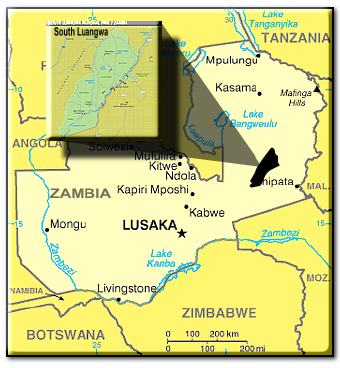 With a large concentration of mammal and bird life, the South Luangwa National Park is one of Africa's foremost safari destinations.
The park covers an area of 9050 sq kilometres which is half the size of Wales and over three times the area of Rhode Island which makes it ideal for big five Zambia safaris.
Over the years, it's built up a reputation as a very good place for leopard sightings due to the fact that it seems to have one of the highest densities of this secrtive and highly adaptive cat in Africa.

Huge lion pride »
Gary couldn't believe his good fortune when they came across the Mwamba lions because there were 17 of the big cats on view and apparently that is only half the membership of the full pride...

South Luangwa wild dogs »
Here's proof that you can also see the highly endangered wild dog in South Luangwa. Ian, who is a keen wildlife photographer, managed to view these highly efficient hunters while he was staying at the Kaingo and Mwamba bush camps...

Robin Pope photographic tour »
Photography safaris are specialised trips which place different demands on an operator then a run of the mill viewing safari. And judging by Jeff's trip report Robin Pope Safaris has managed to get all the ingredients just right...
Zambia Africa safari adventure Charles rates his safari experience in Zambia as an 11 out of 10. It included, amongst other things, a hippo chase, lions in camp, snake for dinner and a visit to the Victoria Falls...
Request full trip report » Margot was lucky enough to spot virtually all the rarest animals in the reserve and she did it in style by staying at the Nkwali camp which overlooks the river...
Off the beaten track South Luangwa remains one of the best locations for a secluded safari, even in the peak season of August. Going on a walking safari also brings you closer to the details of nature, as Kim found out...
Request full trip report » Wildlife roams free around and sometimes in Flatdogs camp which Noel and Bron soon realised when they were awoken by an elephant in the dead of night who was scavenging for vegetables in the dustbins...
Request full trip report » So what do you do when three lions turn up outside the reception office? You tell them, VERY carefully, that the campsite is full...

Read more South Luangwa safari reviews
Lower Zambezi National Park
Situated in the south eastern part of Zambia, not far from Lusaka, between Kariba Lake in the west and Mozambique border in the east. The mighty Zambezi River is the southern park border and also the country border between Zambia and Zimbabwe.
The park features almost 400 bird species and a great variety of game. Viewing the natural abundance from canoes is a popular activity of Zambia safaris here - just watch out for the hippos!

Normann Carr Review »
The highlight for Helen was canoeing on the crocodile infested waters of the Zambezi River. She also enjoyed the fishing and the walks. The accommodation, food and wildlife sightings were also top notch as her trip report explains...

Zambezi river canoe safari »
Hélène had an excellent time canoeing on the Zambezi River and just enjoying each and every day of discovering animals. The highlight was when a particularly large animal visited camp at night keeping her awake because of pure excitement and adrenaline...
Adventure safari »
Clare and her 8 friends enjoyed a short variety adventure safari in perfect weather conditions. They went walking in the bushveld which was an amazing experience as it brought them very close to lots of interesting insects, small mammals, flowers and trees...
Lower Zambezi experience This trip report underlines the fact that Zambia has just as much to offer as other safari destinations in Africa. Dennis had such a good time on this safari that he booked another trip with the same safari company to visit the Kafue National Park...
Victoria Falls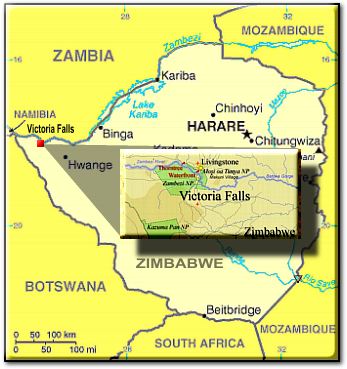 The Victoria Falls lies on the border between Zambia and Zimbabwe.
Views from both sides are spectacular but the entrance fee on the Zambian side is cheaper. This waterfall is rated as one of the natural wonders of the world with good reason (especially during the rainy season when the river is full) so it's a very good idea to include it in Zambia safaris itineraries.
It's possible to view the spectacle from the top, mid-way and bottom of the waterfall so be prepared to do a reasonable amount of walking, it really is worth it.

Zambezi Sun Review »
Suzie's Zambia review is short but contains useful information on various aspects of a short break to Livingstone. It will equip you to make the most of your future visit to the wonderful Victoria Falls area...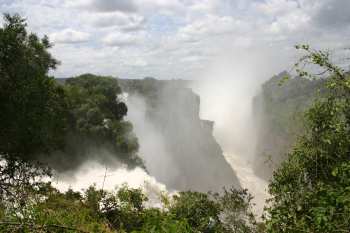 Victoria Falls trip review »
Liza was one in a group of four who organised their own self-catering Victoria Falls camping trip. They found a great place to base themselves in Livingstone. The Falls themselves were magnificent
(she sent the photos to prove it)
; they got soaked by the spray, or "smoke that thunders"...
Kafue National Park
Both old (proclaimed in 1950) and large (more than 22400 sq kilometres), the Kafue National Park is an adventure travelers delight because it still relatively undiscovered and underdeveloped. There is no chance of getting into the multiple vehicle scrums around a lion pride here as happens in many of the parks in Eastern Africa.
The geography of the park is wildly different from the tree and water rich areas of the south containing three rivers to the vast, flat expanse of Busenga plains in the North Western section, making for a very different Zambia safaris experience.
Kafue Zambia travel report »
Another Zambia safaris destination that somehow seems to slip under the radar is Kafue, which is strange as it provides an excellent African safari experience as Dennis found out to his delight...
Submit Your Own Zambia Safari Experience
Share your own story to help others still planning to go on an African trip like this.
More Zambia Safari Trip Reports
Click below to see contributions from past Zambia visitors...