Survived a Hippo Attack
by Anthony Snider
(USA)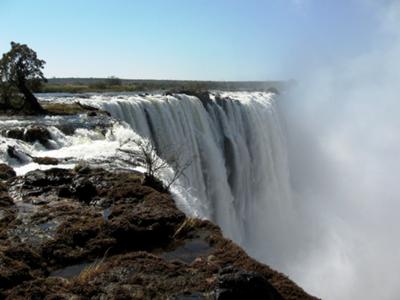 Victoria Falls - Livingstone Island
Our paddle down the Zambezi River was beautiful and we survived a hippo attack, which while frightening, gave us great stories to tell on our return. Other than the attack, all went well.
Safari Operator Performance
We used Wildside Safaris, found on the internet (Google).
All in all, they performed well.
The guides were good and interaction was very casual and easy.
Accommodation
Our accommodation was at Jollyboys Hostel, Livingstone – extremely loud, but nice facilities.
We also stayed at Crocodile Creek which had wonderful huts and very nice grounds.
Food
We had fruit for breakfast and lunch and at a LOT of chicken for dinner.
Food was not provided by the tour and we were not overwhelmed by the food choices in town.
Wildlife
We rode elephants, saw rhinos, water buffalo, various antelopes, black rhinos, white rhinos, all sorts of birds (including all three types of kingfishers), crocodiles, river monitors, wild elephants, and hippos.
Typical Day
We'd eat a bit at the hostel (food we'd bought), then get picked up and taken to our adventure or dropped off at the start point by the hostel staff.
After our adventures, we'd have a little dinner and settle into work (we were teaching online classes during this period).
Other Activities
I took a microflight over
Victoria Falls
. It was terrifying and fabulous - the best way to see the falls is from the air.
We also took a bike tour of the underbelly of Livingstone, Zambia. We both wanted to see the side of the town not viewed by most tourists. It was well worth the time and truly eye opening.
The highlight was a tie between the flight and the paddle.
Disappointments / Regrets
As this was our first time in Africa, our expectations were low and we met with no disappointment.
Tips and Advice
Don't let the guides put both of you in the same kayak! Make them place a guide with a tourist.
Remember your flashlight. It came in handy more often than I expected!
It was a great side trip (we were on a working tour of China and this was our vacation during the middle). We both want to return to Africa in the future.
Anthony's Safari Details:

Rating: 9/10

Safari company used: Wildside Safaris (make an enquiry)

Parks visited: Victoria Falls Heritage Site, Mosi-O-Tunya National Park, Zambezi River in Zambia

Date of safari: 14 July for 10 days

More Zambia safari reviews »

More Victoria Falls Reviews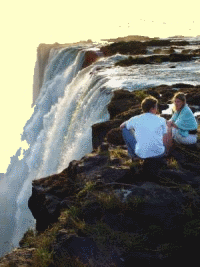 Join in and write your own page! It's easy to do. How? Simply click here to return to Zambia Safaris.