The Best South Africa Safari Trips According To the Experiences of Safari Travellers
South Africa safari destinations are legion. How can you choose the South African safari that is going to provide the most value for you in terms of wildlife and service?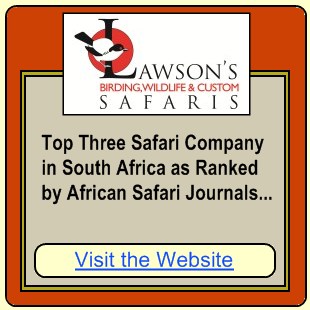 Well, one of the ways that works best, especially for wildlife spotting, is to ask someone who has already been there on safari what they saw and experienced.
That's an excellent way to find out what it might be like if you decide to go on your own South Africa safari. These people have heard the sounds of lion and hyena calling in the dusk and seen the crystal clarity of an African night sky.
They can tell you exactly what a South Africa safari is like and very importantly, it's independent and unbiased advice.
It might prove difficult for you to track down someone who has gone on a south African safari, so I have done it for you.
I've listed the South Africa safari journals below according to the areas in which they took place. South Africa has a wide variety of wildlife experiences to choose from.
They include wildlife pictures of South Africa of the animals that were seen and a trip report of events on each particular South Africa safari. If you read them carefully, you will pick up tips and advice you won't find in any guidebook...
South Africa Safari Trip Reviews
Kruger National Park
---

This national park (satellite map and distance/time calculator) covers an area the size of Wales (380km/236miles long and 60km/37miles wide) and contains a variety of wildlife that is unrivalled anywhere else in Africa. There are over 147 species of mammal to be discovered here and 517 different bird varieties.
The road and accommodation infrastructure is particularly good here too as this is arguably the best managed African national park. It's widely ranked as one of the top safari destinations on the continent.
| | |
| --- | --- |
| | Kruger, Swaziland and st Lucia trip » The highlight was a leopard in a tree, we took about 50 photos. We saw so many animals in Kruger that it's difficult to not forget some of them especially the birds. We booked it all by email, very easy and flexible process... |
| | 10 day South Africa Safari » The first thing we saw leaving the camp was a leopard, just walking on the road in front of our car. Many, many animals appeared along the way, I don't remember from my previous travels having seen so many animals in such a short distance... |
| | Third trip with Bearded Heron » This "once in a lifetime experience" was so good we already had 3 safaris with this company, of which 2 in a span of 7 months. We saw giraffes sparring, a herd of over 500 Buffalo, a giant of an elephant submerging totally in the water with only his trunk visible.. |
Magnificent Kruger adventure » In total 3 leopards presented themselves to us during our time in the Kruger which was spectacular. Lions, oh the lions, we saw more than 40 of them throughout the trip and only had one day where we didn't see any...
Passionate guide makes all the difference » Neil (the guide) was passionate, knowledgeable, witty and extremely funny. He was always intuitive to the needs of the group and went the extra mile to ensure we all achieved what we wanted on the safari...
Family tour » Not many people get to see the endangered black rhino in the wilds of Kruger. These two brothers and their mom did, as well as the "usual suspects" one expects to see on a South Africa safari. Not everyone gets an all round excellent experience on safari either but they did...
Sabi Sands Game Reserve
---

The privately owned Sabi Sands Game Reserve shares an unfenced boundary with the Kruger Park which means the animals can move across the border at will and it contains about 30 up-market South Africa safari luxury lodges.
Off-road driving is permitted here which enhances the wildlife viewing experience because it's possible to follow the animal once the tracker has found it instead of being limited to only going where the road takes you.
This enables these lodges to specialise in finding the normally very elusive leopard so your chances of seeing this beautiful cat on a safari here is much higher than normal.
| | |
| --- | --- |
| | Arathusa lodge review » We booked our stay at Arathusa Safari Lodge for the second consecutive year and in the Sabi Sand Game Reserve for the third consecutive year, Wildlife highlights were the lions mating and finding three leopards on the same spot within 15 meters from one another... |
| | Leopard in camp » We were charged by an elephant, stampeded by Cape Buffalo and stalked by a leopard. Everything about Exeter Dulini was awesome, situated on a dry river bed but lots of animals in camp.... |
| | Leopard Hills » We had the privilege to go and spend some time in Sabi Sands at the Leopard Hills Game Reserve Lodge and what an amazing experience it was. If you are searching for a luxury South Africa safari, look no further than this lodge. Read my review to find out why... |
Wild Wings Review » Stig had a score to settle with a leopard because it was the only one of the big five animals that he hadn't seen yet. His trip report explains exactly how he tackled this dilemma...
Five star lodge » Monique visited three luxury lodges on her South Africa safari: Singita Boulders Lodge, Sabi Sabi and Londolozi. She explains that one should always save the best for last, or the perfect experience may spoil your judgement of other wonderful lodges...
Timbavati Nature Reserve
---
Timbavati Private Nature Reserve is an area adjacent to the Kruger National Park, consisting of a number of private land blocks that is set aside for conservation and wildlife tourism.
Off-road game viewing ensures you can view animals up close and they also have a rule that no more than two vehicles are allowed at a sighting at any one time.
| | |
| --- | --- |
| | Ebright Travel trip » Paul stayed at three exclusive private game lodges and it was Dulini in Timbavati that stole the show and where he saw the "big 5" in a single morning. He goes into more detail about the service they received and also gives short reviews on each of his accommodations... |
| | Kings Camp » During a very short stay we saw a pack of wild dogs hunting and a pride of lions lazing around with bursting tummies. Kings Camp lodge offers 5-star service, food and accommodation in their corner of the unspoilt Timbavati natural area... |
| | Timbavati » Excellent insight into what a South African safari is like including accommodation, food, clothing and rare wildlife seen. She also gives some valuable tips about what to take with on safari and what the most useful item in her luggage was... |
Gomo Gomo Lodge Review » The accommodation was excellent and the nice thing was that the bedroom window in the rondavel did not have any glass in it. It only had wire netting and we could lie and feel the bush breeze wafting over us in the night whilst listening to the sounds of the bush...
Ngala Game Reserve
---
Ecotourism is high on the agenda at Ngala, with WWF and South African National Parks in conservation partnership with the private owners. The reserve is bordered in the east by the famous Kruger National Park, and on all other sides (almost surrounded) by Timbavati Private Game Reserve.
"Ngala" means lion in Shangaan, the local culture and language, so be sure to look out for some of the resident prides when going on a South Africa safari here.
| | |
| --- | --- |
| | Cape Town and safari » Ngala Main Camp Ngala private reserve - what can I say. It was definitely a perfect place to begin. We felt like we were family right away, they were so anxious to make sure we were happy. This camp had the best food.... |
| | Seamless private reserves tour » Kim's time on safari was split between three lodges in different reserves, one of which was Ngala. She and her husband stayed in the tented camp and thought the traditional food was incredible, the guide excellent and the staff very nice... |
| | Ngala game reserve » Amazing walking safari where they came face to face with the king of the beasts and saw all the other cats and more... |
Kgalagadi Transfrontier National Park
---
In the northwest corner of the country is this national park with arid landscapes and red sand dunes, resulting in remarkable sunsets. Game includes gemsbok, springbok, huge black-maned lions, cheetah, leopard and a good concentration of a raptors.
This detailed Kgalagadi Transfrontier Park map and distance calculator will help you orientate yourself in the park.
| | |
| --- | --- |
| | Request full trip report » The highlight of the South Africa safari Kgalagadi trip for James and Karen was being less than two metres away from a pride of lion which included two males, two lioness and three two month old cubs. They spent over three hours watching them at the waterhole and took hundreds of photographs.... |
| | Request full trip report » Barry decided to take his whole family on a self drive South Africa safari to the Kgalagadi and stay in one of the chalets at the Twee Rivieren camp. He could make use of his normal sedan vehicle (no need for a 4x4) because the gravel roads are in good condition... |
Hluhluwe-Imfolozi Game Reserve
---
Among the hills, rivers and pans of one of the oldest reserves in Africa you'll find a wide variety of game and birds as well as a strong Zulu history, elements for the perfect South Africa safari. The location of the park offers an additional advantage: it is around the corner from the Greater St Lucia Wetland Park - a UNESCO World Heritage Site.
Detailed Hluhluwe Imfolozi game reserve satellite map and distance calculator...
Euro Zulu safari » Photographers Frances and Rodger found Euro Zulu to be wonderful - from arranging their activities, to the food to the quality of wildlife and cultural guiding. Their South Africa safari report narrates just what it was that set this operator apart and how they enjoyed learning about more than just the "big 5"...
South Africa tour » Thea and Karel went on a bus tour of South Africa, Swaziland and Lesotho, passing through game reserves like the Kruger and Hluhluwe-Imfolozi. She preferred Hluhluwe-Imfolozi as the nicest South Africa safari park...
Hluhluwe-imfolozi » 10 minutes after entering Hluhluwe Imfolozi on our first day, we found a lion kill with several spotted hyenas hanging around in the hope of scavenging some scraps. We were also blessed with a cheetah sighting - these cats are not often seen in the park due to their low numbers there.

The park is ideal for a self-drive South Africa safari, with well maintained roads and sufficient picnic- and toilet stops. Unfortunately you can't camp inside the park but we found two great spots to pitch our tent during our 5-night stay...
Diverse game reserve » The park is situated in such a diverse area, which according to Beth is one of its strong points. That, and the fact that they saw lions twice and got to experience the excitement of staying in a safari tent at Mpila where there are no fences keeping the wild animals out. At nearby Cape Vidal they saw the endangered samango monkey...
Request full trip report » Walking safaris are an amazing experience and within two minutes of the walk starting they had spotted a buffalo which turned around and stormed back into the bush. The highlight of the South Africa safari trail were the encounters with the white rhinos. One was eating grass right next to their tent (no fences) and another one charged them while they were walking...
Ithala Game Reserve
---
A small reserve in KZN, just south of Swaziland. It is situated in a mountainous area and therefore the scenic beauty is one of its drawing cards. You'll find plenty of plains game (giraffe, zebra, tsessebe, ostriches...) and rhinos not to mention peace and tranquility. And, where else is swimming in a wilderness river permitted?
Unfenced accommodation options include a rustic camp site, bush camps, the main camp with thatched chalets and an exclusive lodge.
More about Ithala Game Reserve as well as a distance and time calculator and a detailed satellite map with clickable icons...
| | |
| --- | --- |
| | Rhinos and battlefields in KZN » Yvonne and her husband spent 2 weeks on their South Africa safari driving themselves around in a rental car. She liked Ithala for its spectacular scenery, lovely accommodation and good restaurant not to mention the dassies and necking giraffes... |
| | Ithala camping » Although we didn't see many predators our short South Africa safari visit to the scenic Ithala was great. We saw plenty plains game, the elusive elephants and best of all, a black rhino with a little baby. The camps are not fenced so you really experience nature, we had a herd of impala settle for the night mere metres from our tent at the remote and primitive camp site... |
Addo Elephant National Park
---
The Addo Elephant Park boasts the densest elephant population on the planet and it's one of the few places in Africa where it's possible to see the big five (elephant, lion, rhino, buffalo, leopard), the southern right whale and the great white shark (the so called big seven).
| | |
| --- | --- |
| | So what's this park like? » Annabelle travelled all along the coastal region of South Africa and stayed over in the Zuurberg section of Addo, at Kuzuko Lodge which she thought was great. A special treat in this area was seeing the mountain zebra... |
| | Elephant Park review » For a short family South Africa safari Addo Park is a great choice, as Karen found out. They booked for 4 nights but she thinks 3 are enough. The African elephant (and the fact that you can get so close to them) is the undisputed star of the show but they also saw a herd of buffalo during a night drive... |
| | Is this reserve up to scratch? » Sonia pulls no punches about her trip to the famous South African safari elephant park in the Eastern Cape. She was disappointed by the state of some of the accommodation and the fact that the park can become a little crowded during peak season. The variety of the wildlife that she experienced here was also less than she is used to... |
Request full trip report » Then on the other side of the coin, Denney & Sally say they were in seventh heaven their entire stay in Addo. They found the accommodation to be very clean and spacious. The highlight for them on this South Africa safari was the night they were sitting on the stoep of their chalet enjoying cheese and wine, when they noticed a herd of kudu running on the side of the hill followed closely by some bushbuck. The reason soon became clear. Two large male lions were stalking them...
Madikwe Game Reserve
---
Situated in the far north of South Africa, this reserve is remarkable not only for the fact that it's one of the few malaria free safari areas in Africa but also that it was the scene of one of the largest wildlife translocation operations in the world. Over 8000 animals were reintroduced to this area which was proclaimed a game reserve by the government in 1991 in an effort to uplift the poor in the area and repatriate poorly performing farmland. Now it has become a very sought after if lesser known South Africa safari destination.
| | |
| --- | --- |
| | Request full trip report » The Tau Game Lodge has rooms which front onto a waterhole which meant that Thom and Debra could watch a herd of about 25 elephant enjoying the water from the comfort of their patio. An amazing drama erupted on the morning game drive when the age old battle between lion and hyena played out right before their eyes... |
| | Request full trip report » Stephanie was presented with an enviable choice by the ranger on one of her South Africa safari game drives: lion and leopard had both been spotted but in different locations. Stephanie chose the leopard and was rewarded with the sight of the graceful feline stretched out on the branch of a tree... |
| | Request full trip report » Mosethla is a bush camp in all sense of the word which means no electricity or running water and also no fences. Showers are heated with a donkey boiler and paraffin lamps and the camp fire light the way at night. Carrie thought it was wonderful... |
Submit Your Own South Africa Safari Experience
Share your own story to help others still planning to go on an African trip like this.
More South Africa Safari Trip Reports
Click below to see contributions from past South Africa safari visitors...

Kruger park » We spent another magnificent weekend in the Kruger. Our first day was amazing and packed with really great wildlife sightings. The second day was much quieter and it rained most of the time. We also paid a visit to the newest branch of The Elephant Sanctuary in Hazyview town, conveniently close to the Phabeni Gate. After meeting the two gentle giants of the sanctuary, it was hard to imagine elephants can be dangerous, but they will always get my greatest respect in the wild...
Kruger park self drive » Ralph & Lenny wanted the freedom and independence of a self-drive safari but didn't have the time to plan it, so we arranged it for them. They were amazed at the amount and variety of wildlife they saw in the Kruger as well as the peace and tranquility they found there. They supplemented their self-driving South Africa safari with a few guided activities like night drives and a morning walk....
Wildlife bonanza » I thought our day was made when we spotted the elusive leopard taking a rest on an exposed rock... little did I know what was still in store for us. Our pictures and video shows that the Kruger can deliver a super South Africa safari even if your time is limited...
The "Big 5" Twice In One Day » The end of the dry season is an excellent time to visit the Kruger, like our day visit proved. This ranks as one of the best short trips to the Kruger Park in terms of wildlife sightings that we have ever been on and we visit the park often...
Hiking in the bush » Detailed account of a 3-night bush hike followed by a self-guided family tour, and a testament to the variety of wildlife in the Kruger. If you've ever wondered what would happen if you met lions while on foot, I shot some video footage of our lion encounter on this wilderness trail...
Amazing Kruger safari » How would you rate a South Africa safari where you see the elephant with the biggest tusks in the Park, leopard twice, lion close enough to touch and over 30 rhino? Just goes to prove again that September/October is one of the best times to visit the Kruger National Park for fantastic wildlife sightings...
Family journey » George arranged a week-long self catering holiday for his family to the Kruger and the nearby Panorama Route. There had been a bush fire in the park just before they arrived which was actually a bonus because it meant that they could see further into the bush to spot the wildlife...
Kruger diary » "At the Orpen dam we saw 2 giant plated lizards - really prehistoric. This is the advantage of going to the Kruger at a relatively quiet time." Includes a detailed description of the accommodation you can expect at some of the camps in the Kruger park...
Camping in the wild » Norman had an amazing South Africa safari, camping in the Kruger. He says no two days were alike. Even though getting up at 05:30 every morning can wear you out a bit, the varied wildlife sightings make up for it and leaves you wanting more. Norman vows to be back...
Travel review » Kim had a fun trip touring the park, meeting people from all over the world and seeing all the wildlife. Even though she now lives in South Africa and can do a self drive through the park with her own vehicle, she would rather use Bundu Bus again because she enjoyed it so much...
Skukuza camp insight » What's it like staying at the biggest South African safari camp in the Kruger Park? This report gives you a pretty good idea...
Holiday adventure » These two Aussie ladies had a fantastic time seeing South African safari wildlife for the first time in the Kruger as well as an adjacent private game reserve. Their highlight was seeing African elephants for the first time in the wild. They were amazed by the sheer size of the animal...
Amazing tour » Lion, leopard, getting close to a cheetah, charged by a rhino and whale watching in this action packed South African safari trip journal. The walking safari was a highlight of this trip even though they had to beat a hasty retreat when the rhino ran towards them at top speed...
Vacation to Africa » Listen to or read this trip report to find out where your chances are the best in Africa for finding leopard. Amazingly, Hilde saw six of the elusive cats in Simbambile and she really enjoyed her stay in Kings & Honeyguide camps in the Timbavati and Manyeleti game reserves too...
Connie Ebright's tour » Find out what the absolute pinnacle in luxury safari travel is like by reading Connie's trip report as she visits the most luxurious and up-market lodges that its possible to find in the South Africa safari game...
Edeni Game Reserve review » Lion cubs, a baby elephant and lazy cheetahs were only some of the game Maria saw during her safari at Edeni's Hoyo Lodge. There was also enough time to relax, making it a restful South Africa safari which she will not hesitate to recommend to others...
Spotted cats weekend » Lizette shares one of her most exciting self-drive trips to the park yet. She warns you should never go on a South Africa safari without your camera. If you are travelling on a budget it might be a better idea to find accommodation in the nearby town of St Lucia rather than staying in the park itself which can be more expensive...
Bakubung » Jodi loves the Pilanesberg so much that she goes back there every year. It's a small reserve in comparison to some of the other areas but it does pack a larger punch in terms of the wildlife that you can see. It does have a real wilderness feel to it none the less and if you want a change of pace the bright lights of Sun City are only a few kilometers away...
Scotia lion park » Julia made a brief stop at Addo on her South Africa safari, as well as a nearby lion park. She loved every minute of the action-packed day. She advises anyone who's planning a similar day trip to be well rested and not to forget to take in the moment and not get lost behind the camera lens...
Phinda Game Reserve » Along with some other pilots, Candy visited this top reserve and a local Zulu village. She says hearing a lion roar with your own ears moves your blood like nothing else. The leopard returning to a kill that it had made the previous day also captivated them and she became pretty aggressive towards the jeep because it was too close to her meal...
Mthethomusha Game Reserve » Detailed Bongani Mountain Lodge game drive descriptions including a lion family feeding on their kill. Other highlights were seeing ancient rock art and visiting the Vredefort Dome (a World Heritage Site) elsewhere in South Africa...