Private Game Reserve Safari
Maria booked most of her African holiday over the internet, including her safari at Edeni Game Reserve. I had a chat with her on the phone to get a review of how it all went...

Who did you book your travel with?
I booked directly with Edeni.
Was it a pre-designed game reserve itinerary or tailor-made for you?
Basically I told them how long we wanted to stay, and they just came back with a quote per night for the three of us.
Meals and a morning or afternoon drive and a walk were included in the daily price. If you wanted an extra game drive you had to pay for that separately, and drinks were also separate.
And how did you get to hear about them?
I found them on the internet. I just did a search for safari lodges in a game reserve and they popped up and then I booked everything directly with them over the internet.
How did they perform? Was there anything special you liked about the service they provided?
They were fabulous. Great staff... we had a ranger to ourselves, basically. They were fabulous and very helpful. Ronnie was our driver… he was great - very informative, knew the area very well… he was fabulous.
Was there anything you didn't you like about them?
No. I loved it, I only wish we had more time.
Would you recommend somebody else use Edeni Game Reserve for their safari?
Yes, I would.
It was different from what we expected in the landscape of the game reserve. After seeing Africa on TV we sort of expected big flat plains and the odd Acacia tree. But this was very bushy, a lot of scrub, which we weren't expecting at all, we were quite surprised.
How big was the group you travelled with and what vehicle(s) did you use for wildlife viewing?
Myself, my dad and my partner. The vehicle was a Land Rover.
We had it to ourselves for two game drives and the other times we shared the vehicle with some other people which was good as well. They'd seen different things to what we had, so it was always interesting to talk to them.
| | |
| --- | --- |
| Where in the Edeni Game Reserve did you stay and what was the accommodation like? | |
We were in the Hoyo Lodge. They have three different places - the Bush Lodge (3-star), the Hoyo Lodge (4-star) and the River Lodge (5-star).
We originally booked the Bush Lodge but they upgraded us to the Hoyo Lodge, it was really nice. I think it was because they didn't have many people at the Bush Lodge where as they had quite a few staying at the Hoyo Lodge, it was probably easier to feed us all as a group? It probably had to do with the food, that's my theory anyway!
The accommodations were really spacious tents on a raised decking and there was scattered all through the area where the lodge is.
There is a main area where you ate your meals and then they took us down to the River Lodge to the boma, where we had a really nice meal one night which was really good.
Really comfortable beds, a little en-suite with a shower, toilet and basin. More than adequate. It had a nice oil heater ... before we went to bed they'd turn the heater on and turn the beds down, so the service was really great.
Not that we wanted to swim in winter but there was a swimming pool there and a nice outdoor area where you can lounge around, which would be nice in summer I would imagine.
It was just normal fare, really. You could choose from different meat dishes, you had vegetables and that sort of thing. I can't remember anything that really stood out about the food. It was all really nice but just a general buffet offering.
It was good plain food, very tasty. It wasn't anything fancy but it was very tasty.
| | |
| --- | --- |
| How was the weather during your visit to Edeni game reserve? | |
It got quite cool at night and in the mornings on those trucks.
They supplied lots of blankets on the trucks, thankfully! We were a little unprepared for the coldness in the mornings. It was there on the truck the whole time, so if you felt cold during the day you could use them too. We used them in the mornings and the late afternoon drives.
We had fantastic brilliant weather. It was just cold in the morning and cool at night.
| | |
| --- | --- |
| What wildlife did you see? | |
It was very interesting to see an elephant just disappear into the rough!
We had sundowners during the afternoon drive, you'd stop somewhere in the game reserve. We stopped at a pond where there were hippos. They were making all sorts of noises ... they're unusual animals! We didn't see any out of the water and could only really see their eyes and their nostrils, but it was interesting to look at them anyway!
We saw two lion cubs, I think they had 6 lions in the pride in the park and we saw them quite a bit actually; saw the big male wandering along. We heard the females catching a warthog, we didn't see it but we heard it. They had the two little cubs which were just adorable, they were about 8 months old or a little bit younger.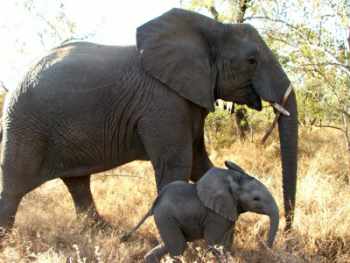 We saw a gorgeous little baby elephant, he was only 4 weeks old. And obviously the other elephants in the herd, they were amazing. They walked right past the Land Rover. We kind of held our breaths, to be honest! They're huge!
And they just push the trees over like a fly, have a bit of a chew on the roots and then move on. I didn't realise they were so destructive, I was amazed at what they could do.
Like the mother of the baby, we watched her push a tree over and she actually got a stick stuck between her tusk and her trunk.
We saw giraffe, they had quite a few. They were amazingly shy, I thought, quite skittish. We didn't get very close to them at all. And the same with zebra... we saw some but not many. I expected to see more zebra and giraffe and less lion but I saw more lion than anything, which was fantastic!
We saw a white rhino from afar; we had to go off the track a little bit to see it. Ronnie said they don't chase them off road in the Edeni Private Game Reserve because otherwise they'd just run away and end up scared. So we saw them from about 60m.
We were really surprised at how close we got to the animals. Like the lions walked straight past the Land Rover! We were astounded.
We saw two male cheetahs. We got out of the Land Rover and walked into the bush to where they were lying down having a rest. That was scary but it was fabulous! There was quite a big group of us because another truck had arrived as well. We were probably about 40m away from them. They looked up and looked at us and lay there and went to sleep again. They must be used to people… that was fabulous, we were stoked with that. Slightly apprehensive, but stoked at the same time. When we got back people couldn't believe what we were telling them.
We saw various birds like a stork and also saw bush babies with the big eyes, they were beautiful.
We also saw a lot of wildebeest in the game reserve and lots of impala - they're beautiful, just gorgeous. And we saw a jackal. We didn't see any hyenas.
We were amazed at how much we did see. We weren't expecting to see the amount of wildlife that we saw. We thought you probably have to sit for a couple of hours and wait for something to wander along but Ronnie was fabulous. He was really onto it and knows where to find the animals.
We had an absolutely fabulous time. Even when we weren't finding animals we had a great time fooling around in the game reserve.
What would you say was your wildlife spotting highlight?
That would have to be the cheetahs and probably the elephants with the baby just right next to the Land Rover. I've got a huge fondness for elephants anyway. That was definitely a highlight for me.
| | |
| --- | --- |
| Please describe a typical day of your safari. | |
We'd get up early in the morning, go on the early drive in the game reserve and then we would come back after we've been out for a couple of hours around 08:30, have some breakfast.
Then we went on a couple of walks with Ronnie not far from the camp where we were - he gave us a really informative talk about the trees, what the native people would use - really interesting.
Late morning we lazed around and read books. We spent a lot of time looking at the photographs we've taken (digital) around safari in the game reserve and spent time downloading them onto the laptops, also talking to the other people.
Then after a nice lunch, we'd get ready for the afternoon/early evening game drive, then we'd have sundowners around dusk which was really nice. Then we'd come back, have dinner and sit around chatting with everybody.
We'd retire reasonably early because we were really tired after a big day, it was absolutely fabulous.
We're definitely coming back for more. Next time I'd quite like to try the plains of Kenya; apparently it's quite different. I'd quite like to witness the migration but I suppose every man and his dog wants to see that!
That was another thing, it didn't feel crowded. Ronnie would radio the other trucks and tell them about a sighting and then maybe one other truck will come up and we'll move off. So there was never more than say two trucks at any one sighting. More often than not there was only just the one.
So you didn't feel like you were intruding on the poor animals. I assume they're really used to it but I've seen some on TV where the animals are just surrounded by these white mini vans and everyone's got their heads sticking out the top for taking photographs and I think it looks a bit zoo-ish.
At Edeni it felt a lot more wild. We had an absolutely fabulous time.
| | |
| --- | --- |
| Did you take anti-malaria medication? | |
My partner took anti-malaria tablets but I didn't end up taking mine. But we had no problems. We didn't find any mosquitoes in the game reserve actually.
It was a great time of the year to go because the days were great, really nice. And yeah, no mosquitoes was a bonus.
We had all our shots and stuff before we went, but you can't have a shot for malaria. My father didn't take the tablets either.
We just made sure that during those hours when mosquitoes are generally about, that we were well covered and we had insect repellent as well.
Can you offer any tips and advice to others planning a similar safari?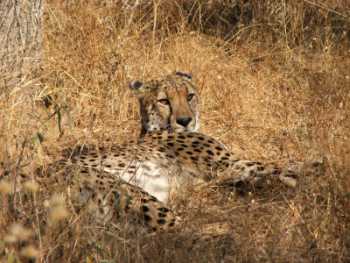 Talk to people like you! [sic]
Just really research it. I think there's so much you can do on your own without having to go through the travel agents. I found the travel agents were very restrictive and I found we could do so much more booking it ourselves on the internet.
Some people find that a bit of a risk but Edeni was fabulous.
Everywhere we stayed in Africa, actually. I booked our accommodation for Cape Town at Cape Heritage Hotel, they were outstanding. I booked our Zimbabwe accommodation on the internet… everything really.
We got such great value for money as opposed to what was available with the travel agents here [Australia]. We probably got twice as much for the same money.
So I would really recommend people researching it, finding out exactly what you want to see and where you want to go obviously. There just so much available on the internet; so much information. Like I read a lot of your stuff on your internet site and that was so helpful.
What was the most useful item in your luggage?
Probably my sneakers, my most comfortable normal pair of shoes. I used them for the walks too, I didn't take any boots or anything. They were fabulous.
How about binoculars?
I don't think we used binoculars at all. We got that close to the animals in the game reserve, probably we'd only have needed them for birds, but I'm not really a bird watcher.
| | |
| --- | --- |
| How would you rate your safari, on a scale of 1 to 10? | |
I would have to say 9.5! The .5 is only because we didn't see the leopard but I understand that they're extremely shy creatures.
We were really amazed and excited by what we did see at Edeni game reserve. We weren't putting our hopes on seeing all the big 5, we were just happy that we saw the 4 that we did. The cheetah made up for the leopard, really.
We had the best time.
| | |
| --- | --- |
| Safari Location: | South Africa: Edeni Private Game Reserve |
| Safari Company Used: | Booked directly |
| Duration: | 4 days in July |
| Traveller Details: | Maria Dodd, Australia |
| Rates & Availability: | Plan your own safari. Make a game reserve enquiry |
More South Africa Safari Reviews