Uganda safari trips are all about spotting one of the most endangered species left on the planet. The Mountain Gorilla.
There are only about 800 of these gentle giants (male silverbacks can tip the scales at over three hundred and fifty pounds) left in the world. About 340 live in the Bwindi Impenetrable Forest National Park in Uganda and about 460 inhabit the Virunga mountains of Rwanda and Congo (Zaire). None are to be found in captivity.
Their fate is still very uncertain with the threat of poaching, habitat encroachment by humans and regional instability constantly hanging over them. So if you are planning to see these magical creatures outside of history books and photographs, there is no time like the present, because soon they may be gone forever.
The one constant thread that seems to run through every travel review written about a Uganda safari to go and see the mountain gorillas is that all the participants agree that it is undoubtedly one of the best wildlife experiences that they have gone through.
There are also three other Uganda safari wildlife areas that are well worth your time to visit: Queen Elizabeth National Park for its unique resident tree climbing lions and bird life, Murchison Falls to see the origins of the Nile and Kibale to track the chimpanzees.
Browse through the travel reports below and you'll see what I mean. You will also pick up a wealth of advice and tips about how to undertake a trip like this yourself...
Uganda Safaris Trip Reviews
Bwindi Impenetrable National Park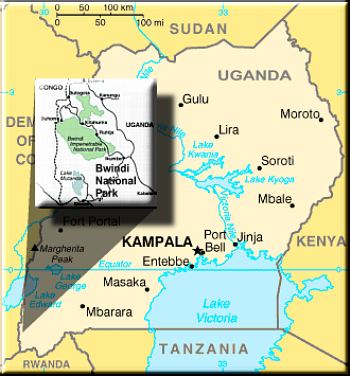 The national park where half of the worlds remaining population of mountain gorillas live is as dense and as vibrant with animal and plant life as can be found anywhere on the continent.
It's located in south western Uganda and covers 331 sq kilometres, making it one of the largest forests in East Africa.
East Africa review »
K.C. spent 3 weeks in total visiting Uganda, Rwanda and Kenya. While in Bwindi, not only did she do two gorilla treks, but also spent a night with a silverback snoring outside her tent window. She went chimpanzee tracking in Kibale Forest and visited the Ngamba Island Sanctuary, did a wildlife safari in the Queen Elizabeth National Park...

Bwindi Impenetrable Forest »
Dan and Nicola both went to Uganda to see the endangered mountain gorillas. Their reviews are useful as they talk about the company's service levels, the accommodations as well as what you can expect to experience in getting to and from the gorillas...

Mountain Gorilla »
The group visited two different gorilla families during their short visit. One of the huge primates actually made physical contact with Leanne on her amazing Uganda safari trip...

African Jungles Safaris review »
Karen visited a number of reserves in Uganda but for her the highlight of the whole safari was visiting and interacting with the gorillas...
Queen Elizabeth National Park

Request full trip report »
Shiela and her husband stayed in the luxury Mweya Safari Lodge which overlooks the Kazinga Channel and they were well pleased with the accommodation. Around the Ishasha tented camp they saw Topi and Kob and in the morning they found the pug marks of a leopard that had visited the camp during the night. They were also lucky enough to see seven of the famous tree climbing lions of Uganda sprawled out on the branches of a massive fig tree...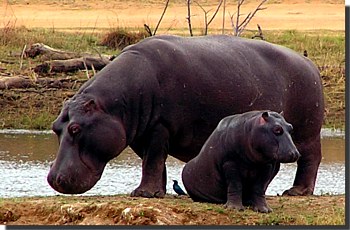 Request full trip report »
The lions in this park are famous for the fact that they often climb trees but even though Ron came across lions on two occasions they all had their feet planted firmly on the ground. The afternoon boat trip on the Kazinga channel delivered some amazing bird sightings and hippo. The Kyambura Gorge in the northeast of the Queen Elizabeth National Park is home to chimpanzee and these put in an appearance high up in the forest canopy...

Request full trip report »
Bill passed through a town called Fort Portal which is close to the park and after lunch they continued their journey on a road which was in pretty bad shape. They spent their first night at Mweya Lodge and then moved on to Jacana Lodge where they stayed in a cabin overlooking the water and watched Colobus monkeys playing in the treetops...
Murchison Falls National Park

Group Tour »
This safari experience made such an impact on Erin that she applied to join the Peace Corps in an attempt to get back to Africa again...

Request full trip report »
One of the highlights of Ryans Uganda safari trip was the boat cruise up the Victoria Nile to below Murchison falls which is not so impressive for its height but rather for the power with which the nile is forced through the six metre wide gap here. They also went on a number of game drives and a hike which brought them close to the falls for a magnificent view...

Request full trip report »
Accommodation was at the Nile Safari Camp which boasts luxury safari tents that even the monkeys seem to like because they spent a lot of time on the roof. On their first morning drive they came across a big male lion and later on two lioness hunting for oribi and kob...