African Jungles Safaris Review
by Karen Giesbrecht
(Canada)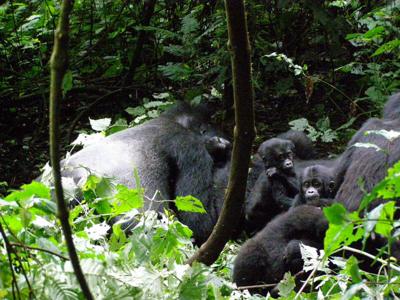 Habinyanja Gorillas
The gorilla trek was the main reason for my tour and also the wildlife highlight! Other highlights were the visit to the pygmy village, my great guide and Kampala market.
Safari Operator Performance
I researched different tour companies of Uganda via the internet, and decided on African Jungles Safaris Ltd.
I was on a private tour. I would have preferred to join on with an existing tour (for less cost) but due to specific dates that I had to travel after, I had to do a private tour – so only myself and my guide, Musa.
Company performance: very good.
Guide performance: excellent! Very knowledgeable, friendly and conscious of environment and tour safety.
I would definitely recommend this tour and the tour company.
Accommodation and Food
1) Bwindi Park accommodations: (Lake Kitandara) was not luxury tenting as described on website through the company that I booked with. I would grade that specific place as budget - moderate tenting. (I have stayed in Botswana with luxury camping safaris and this did not compare to it at all.) For two nights it was acceptable.
Also, upon our arrival there, they did not have our reservation. Food was only adequate.
My overall impression of that specific accommodation was below average – average; it was more of a budget type of accommodation and should be described as that.
2) Mweya Safari Lodge – Excellent.
3) Primate Lodge – Excellent food and this luxury tenting was what I would expect, when described as luxury tenting. They were still doing final renovations to the whole lodge when I was there (Nov 2008).
Only one improvement I suggested to the Manager was they needed more light on the path back to the tents. Friendly people & great food.
All the food was all very good. I tried some typical traditional food – Matooke. Fish in Uganda is excellent!
Wildlife
The highlight was definitely the gorillas!
Also saw elephants, hippos, zebras, giraffes, cape buffalo, rhinos, warthogs, antelope, monkeys, mongoose, lions and many bird varieties.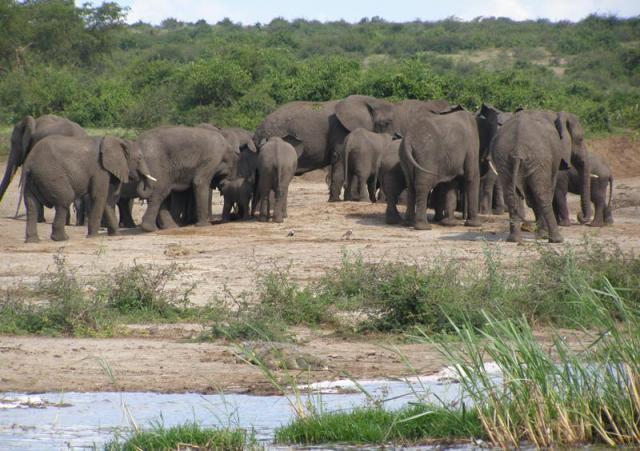 Typical Day
Early wake up calls, breakfast, safari in the AM – lunch either back at lodge or packed lunch.
Safari in the afternoon. Back to lodge, rest/relax time. Dinner, visit with other guests then off to bed.
Other Activities
After the mountain gorilla trek, I joined a small group to do a short tour to a pygmy village - it was excellent! (same day as Gorilla trek).
Also upon my arrival in Kampala the Tour Company Proprietor (Maria) took me to Kampala's largest market – this was a great experience; to feel the local tradition. Also Maria took me to my company's site in Kampala. This was great.
Best 4 wildlife parks in Uganda »
Tips and Advice
Make sure you have proper foot wear (for the for the Gorilla trek) and adequate clothing as it can be cool at night.
The most useful items I took along were my Nike runners/hikers and my small alarm light clock (it was my mini flashlight in a very dark tent).
More Uganda Safari Reviews