Uganda Photo Safari
by Dominic J Nardi, Jr.
(USA)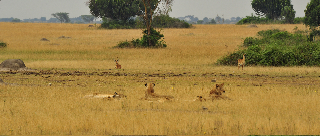 Lions in Queen Elizabeth National Park, Uganda
We saw a pride of lions lying down in the grassland. There were no other tourists around and the area was eerily still. A few kob and buffalo stood nearby eyeing the lions intently, as if scared to turn their backs.

It seemed like a moment frozen in time and I got some great photos of the lions and the entire scene.
Safari Operator Performance
I booked with Great Lakes Safari through Go2Africa, which I found online.
We loved their service. We had a jeep all to ourselves, a knowledgeable and kind guide, and a decent amount of flexibility in what we saw and did.
I thought the itinerary they provided was great. The company recommended Lake Mburo, which was a nice break in the drive from Entebbe to Bwindi.
Accommodation and Food
Entebbe Airport Hotel (Entebbe)
Great service, nice rooms. This seemed like a good place for a layover before or after a safari. Just be careful about dinner – they need to take your order earlier in the day and don't start serving until 6:30 or so.
Mantana Safari Tents (Lake Mburo)
These luxury tents were well designed and kept out any bugs. The shower was a bit awkward – you have to call a porter to fill a bucket of water for each shower (and often need more than one bucket). The staff were very nice and the food very good.
Engagi Lodge (Bwindi)
Nice rooms, great view of the forest from the dining area. We loved the food and the staff were very kind. The location is not too far from the gorilla trekking. As with many hotels in Uganda, it did not have 24-hour electricity. Occasionally, we did find bugs or spiders in the bathroom.
Simba Safari Lodge (Queen Elizabeth)
Very nice staff, decent rooms. The hotel is located outside the park and not really near anything, so there isn't much to do once you arrive. While I like the hotel personally, I wish we had actually stayed inside the park.
Primate Lodge (Kibale)
Situated inside the national park, so it is sometimes possible to see monkeys. The rooms were nice and well-furnished, but rather dark (even when the electricity was running). Also, when we stayed, the hotel had problems with its water system and the shower had almost no water pressure. Food was good, but not as good as the other hotels in Uganda.
Wildlife
I was very happy with the wildlife viewing overall. I counted that we saw over 90 species of bird and 55 species of mammal (probably closer to 110 birds since I did not keep careful track of the smaller ones), during the total two weeks across Uganda and
Kenya
(read Dominic's Kenya safari review)
.
We went to Uganda primarily for the primates and weren't disappointed.
At Bwindi, we saw gorillas. It only took us an hour's hike to reach them. It was great to just see them relaxing in the forest. A brother and sister were sleeping while hugging each other, which was adorable.
At Kibale, we saw chimps scurrying about the trees. They eventually came down to the ground, but moved so quickly on the ground that we had to run through the forest off the path just to keep up.
While the other parks we originally a supplement to the primates, they each held their own charms.
At Lake Mburo, we got closer to warthogs and hippos than we did anywhere else in East Africa. It also provided the only chance we had for a walking safari in the park.
Queen Elizabeth of course has the famous lions that sleep in trees – we saw two of them, which was a unique sight (and great for photography since they don't move!).
Typical Day
There really was no typical day. Especially the gorilla and chimp tracking were atypical since we spent several hours hiking.
However, on most other days, we generally had breakfast and then headed out to the cars (around 7:00). We would drive around for 2.5-3 hours looking for wildlife.
The initial and return parts of the drives were very quick as we tried to get deeper into the park, then we slowed and stopped as we saw wildlife. We returned and, depending on the day, had 4-5 hours break for lunch and relaxing.
Around 3:30-4, we went out for another drive. After that, we had dinner.
However, as I said above, there really was no typical day. In Queen Elizabeth NP, we left early and stayed in the park for a good 7 hours (taking lunch by a river).
Lake Mburo and Kazinga Channel involved boat rides rather than drives. I also sometimes filled the downtime in between drives with a nature walk.
I'd say we were fairly busy each day until 6:00, except for the last day when we got sick.
Photography
Learning how to photograph wildlife was a highlight for me.
Despite the great mammals we saw, the highlight of the trip for me was the bird life. I hadn't expected to be so fascinated with the birds, but East Africa has a great variety.
I was very happy whenever I took a clear, colourful shot of a bird, particularly one in motion. Often, out of 10 pictures, only one would turn out really well – but that one was worth the price of admission.
I am particularly proud of one picture I took of a pied kingfisher in flight, and another of an Africa spoonbill wading through a channel. I also got a clear shot of a lilac-breasted roller's back and its array of colours.
I found myself playing with the ISO and compensation settings on the camera quite a bit.
The trip inspired me to take photography courses from a local company so I can take even better pictures on my next safari.
Read Dominic's Kenya safari review »
Dominic's Safari Details:

Rating: 8.75/10

Safari operator used: Great Lakes Safaris (make an enquiry)

Parks visited: Lake Mburo National Park, Bwindi Impenetrable Forest, Queen Elizabeth National Park (and Kazinga Channel) and Kibale Forest National Park

Date of safari: August 13-26 (14 days) - Uganda and Kenya

More Uganda Safari Reviews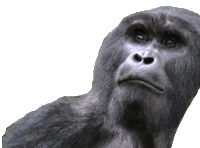 Join in and write your own page! It's easy to do. How? Simply click here to return to Africa Tour Operators Reviews.