Group Safari Uganda
by Erin Lubeck
(USA)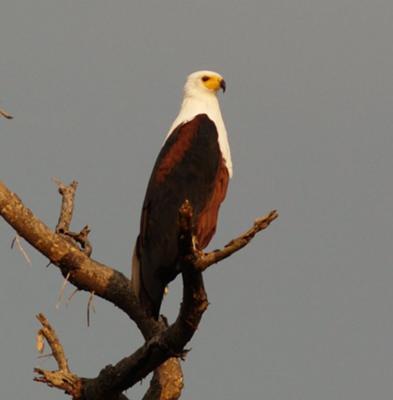 African Fish Eagle ©Erin Lubeck
I am an amateur birder and the different species were fabulous. I saw fish eagles, grey crowned crane, bee-eaters and so many more. The birds in Africa are absolutely gorgeous; they are so many different colors.
Food and Accommodation
We stayed at the Paraa Safari Lodge.
It was gorgeous. It was eco friendly and it was awesome to be right on the Nile.
I spent a month working in Uganda prior to the safari, during that time I did get to try local food but during the actual safari period I did not.
For breakfast we had peanuts, bananas and tea.
For lunch and dinner we had goat meat, cassava and sweet potato.
Wildlife Highlights
The wildlife I saw was amazing!
Along with the birds we saw, elephants, giraffes, hartebeest and most importantly a lioness.
We actually saw her standing around a bunch of possible prey. But instead of attacking she yawned and lay down.
Overall it was a great trip where I got to see many different wildlife!
Typical Day
Getting an early start for the safari was crucial. We were up before the sun, we grabbed some breakfast and then headed out.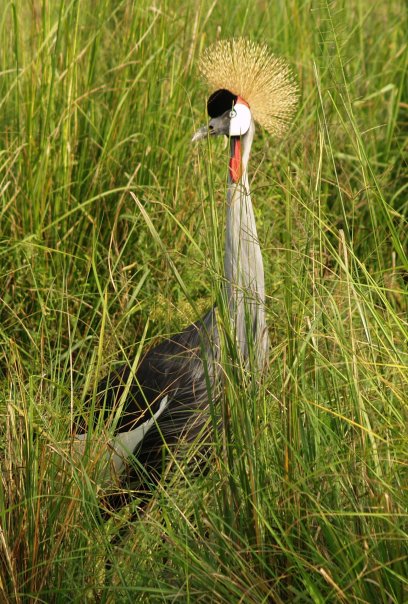 Sitting on top of the van we were able to see all across the plains. We'd spend a few hours driving through the park taking as many pictures as one can!
When it got too hot for not only us but the animals as well, we'd head back to the lodge. Grabbing some lunch, the group of us would head to the pool.
It over looked the Nile so even here we were able to see a few different animals, especially the hippo that came to our back window.
A few hours before sunset we would head out again for another safari. A few hours into that, we would return back to the lodge, grab some dinner and pretty much go to sleep because we were exhausted!
Other Activities
We spent almost three weeks working with two native tribes.
In Closing
I travelled with friends, drove through park without a safari company. We were 10 and we travelled in a van that you could sit on top of.
I have no disappointments! It was the greatest trip of my life and has lead me to apply to the Peace Corps in hope of returning to Africa.
Remember to take lots and lots of sunscreen!
Erin's Safari Details:

Rating: 9/10. It would be a 10 if I got to stay a bit longer!

Safari company used: Independent travel

Parks visited:
Murchison National Park, Uganda

Date of safari: 20 August for 3 days

More Uganda Safari Reviews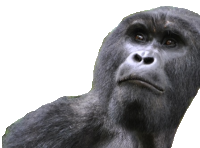 Join in and write your own page! It's easy to do. How? Simply click here to return to Africa Tour Operators Reviews.