Trip Review: Variety Safari In East Africa
K.C. returned to safari in East Africa a second time and upon her return answered some questions via e-mail so that you can share in her all-round safari experience: from endangered mountain gorillas to the spectacular wildebeest migration to spending quality time with a local tribe...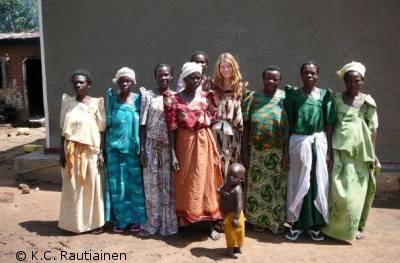 Which company did you travel with for your safari in East Africa and how did they perform?
I travelled with Another Land when I went on safari in East Africa (Tanzania and Zanzibar) in 2003. I found them on the internet while researching many different companies.
Another Land treated me as a person and not just another customer. Everything was personal and direct. They didn't just send me literature or refer me to a website when I initially made contact with them (like most other companies did). I immediately received a phone call from them so that they could find out what kind of person I was and what I wanted to gain from my trip. The rapport was built, my first trip with them was perfect, and now they will always be my travel source for a safari in East Africa.
Safari operators: how to pick a good one for your safari in East Africa »
Like my Tanzania trip, this was another tailor made adventure and they didn't miss a beat. Once again, it was the perfect safari in East Africa.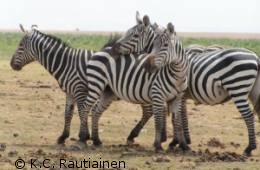 It was an amazing blend of animals and culture. They offer the best cultural immersion programs possible. You don't just sit back and observe what villagers/African tribes are doing, you actually participate.
As mentioned in the "food" section, I was actually able to prep and cook with the women. I was taught how to play their 6 person xylophone and was able to "jam" with their extremely talented band. I spent time with their local healer and visited their "clinic". I was invited into people's homes, played with their children, learned how to weave, etc.
Nobody does a safari in East Africa like Another Land. This company has also never failed when setting up the safari portion of the trips. I have had the best, friendliest and knowledgable safari guides who went out of their way to provide a great experience.
Was there anything you didn't you like about them?
Not a thing!
This is a company that cares…not only about their customers but also about Africa and its people. Your village portion of the trip ($) goes directly back to that community which is a huge deal for me.
The villagers talk so warmly about Another Land's president, Nichole Smaglick, because she travels there frequently. She spends time doing everything that her customers will then do on a safari in East Africa.
I can't say enough good things about Another Land.
How was the guide(s) you had during your safari in East Africa?
For my Uganda safari and Rwanda, I had the same guide. His name was Ben and he worked for Classic Africa Safaris. He was funny, kind, expressive and really knew his stuff. I was told, by the owner of one of the lodges, that I had one of the best guides in all of Uganda. I agree with that.
Ben always made sure I knew exactly when, what and where things would take place. He was always where he should be ahead of time, he kept the vehicle clean, he would stay out on a game drive longer if things were going really well, etc. I would happily request Ben again if I return to Uganda and I would recommend him to anyone.
In Kenya, I had Nizar from Pollman's Safaris. Once I figured out his sense of humour, we had the best time. He cracks bad jokes but was a sweetheart. Nizar was a teacher at heart. You never left a game drive without having learned something new, and he would test you the next time out so that you'd actually remember things. It was great to learn so much about the animals and their behaviour.
Would you recommend somebody else use them for their safari?
I would definitely recommend both Ben and Nizar for their safari in East Africa.
How big was the group you travelled with and what vehicle(s) did you use for wildlife viewing?
I travelled on my own…with my guide. In Uganda/Rwanda, I was in a Land Rover (type) vehicle. The roof opened right up like a trap door. In Kenya, I was in a van and the roof popped up for viewing.
| | |
| --- | --- |
| Where did you stay during your safari in East Africa and what was it like? | |
Safari in East Africa: Uganda Accommodation
Ngamba Island Chimpanzee Sanctuary - tented camp on the island. It was lovely and quaint and they take very good care of you. The chimps wake you up around 5:00 a.m. though so you need a good sense of humour!
Ndali Lodge (Kibale Forest area) - a beautiful, separate cabins on a cliff with some stunning scenery on all sides. Friendly, courteous staff.
Mweya Safari Lodge (Queen Elizabeth National Park) - a lovely resort overlooking the Kasinga Channel. Don't be surprised if you come across grazing warthogs or even a hippo.
Gorilla Forest Camp (Bwindi Impenetrable Park) - a luxurious tented camp with each huge tent completely secluded from the others. This tented camp is inside the park therefore the mountain gorillas can come and go as they please…and they did.
Mihingo Lodge (Lake Mburu) - another stunning tented camp with each tent up on rocks overlooking the park. Amazing staff and lovely surroundings.
Gately on the Nile Guest House (Jinja) - a lovely guest house right on the Nile River. The staff was very friendly and the meals were delicious.
Safari in East Africa: Rwanda Accommodation
Umubano Novotel (Kigali) - a hotel like most other hotels with a clean and friendly atmosphere. The grounds were very pretty.
Safari in East Africa: Kenya Accommodation
Mara Sopa Lodge (Masai Mara) - I loved this place although the walls are paper thin between cabins. It had a warm feeling about it.
Lake Nakuru Lodge - lovely grounds and clean place. I was only there late at night and left in the morning so it was hard to judge.
Amboseli Sopa Lodge (Amboseli National Park) - the grounds were beautiful with many vervet monkeys and an impala wandering around. The rooms were small but clean. The dining area had a spectacular view of Mount Kilimanjaro. You can go on a great nature walk with a Masai guide.
| | |
| --- | --- |
| How about food… what did a typical breakfast, lunch and dinner consist of? Did you eat any local or traditional food? | |
In the majority of the hotels and lodges I stayed at during my safari in East Africa, there were buffet meals. Although there was a variety of food at each place, it was always similar food from lodge to lodge.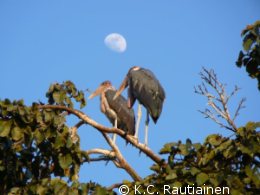 I am a vegetarian and it was a little more difficult to find variety in the protein sources but I didn't go hungry. Lots of delicious soups and a lot of the food had an East Indian influence.
Gately on the Nile had a small menu you could choose from which was a welcome change from buffets.
The meals at Gorilla Forest Camp were spectacular.
Packed "picnic" lunches are very basic, particularly for a vegetarian.
While in Jinja, Uganda, I had the opportunity to spend a couple of days in a traditional village (Busoga). The women took me under their belt and taught me traditional Ugandan cooking (well, at least the vegetarian portion). We went into the fields and dug up the vegetables, peeled them, mashed green bananas, wrapped them for steaming, made sauces, built a fire, etc. It was delicious.
| | |
| --- | --- |
| How was the weather during your safari in East Africa? | |
The weather in Uganda was great. It was very hot and sunny on most days with rain on only 1 of the days. It was also beautiful in Rwanda.
Kenya was another matter. So much for it being the "dry" season. While I was there, they had rain every day but 1 (my last thankfully!). There were sunny breaks but it rained a lot.
| | |
| --- | --- |
| What wildlife did you see? | |
Safari in East Africa: Uganda Wildlife
Primate paradise - mountain gorilla tours (saw about 25 in total); also chimpanzee, red colobus monkey, black and white colobus monkey, red-tailed monkey, Grey-cheeked mangabey, Olive baboon, Vervet monkey, l'Hoest's monkey, blue monkey
Water buck, bush buck, lion (including tree climbing lion), kob, impala, eland, monitor lizard, nile crocodile, cape buffalo, warthog, duiker, elephant, mongoose, hippopotamus, zebra, huge number of different birds
Article: The top 4 wildlife destinations for Uganda tours »
Safari in East Africa: Kenya Wildlife
Water buck, bush buck, lion, leopard, cheetah, impala, gazelle, eland, topi, hartebeest, wildebeest, cape buffalo, warthog, elephant, giraffe, zebra, hippopotamus, baboon, vervet monkey, dikdik, hyena, serval cat, jackal, black and white rhinoceros, bush baby, huge number of different birds
What would you say was your safari in East Africa wildlife spotting highlight?
I'll have to name more than one!
At the Gorilla Forest Camp, which is right inside Bwindi National Park, the silverback of the "R" group made his nest outside my tent window one night while the rest of the group nested on the camp property. He grunted and snored all night long.
At the Mweya Lodge inside Queen Elizabeth National Park, I knelt 4 feet away from an adult hippo who wandered up the hill to eat outside of the dining area.
Through special arrangement with Another Land I was taken inside the cheetah enclosure at the Nairobi animal orphanage. I got to snuggle and play with 3 fully-grown cheetahs. Hearing one purr up close while you rub its belly is amazing.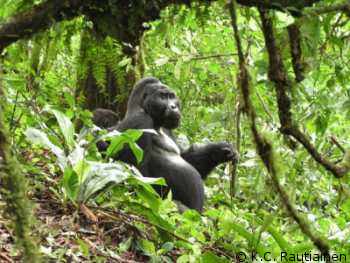 We were lucky enough to find the "M" group of mountain gorillas in a clearing. We saw 7 out of 10 of the group. It was a privilege that the silverback of this group allowed us within 7 feet of a 2½ month old and a 5 month old baby gorilla.
When I was visiting the "H" mountain gorilla group, we found the group deep in the forest (thank goodness for the trackers and their machetes). At one point, we were literally surrounded by gorillas. Every direction you looked, you could see a gorilla. The silverback always kept his eye on the humans though. At one point, a juvenile gorilla climbed up a very small tree (more like a branch in the ground) and it broke. The branch hit me in the face and the gorilla landed right at my feet. I don't know which of us was more startled.
Viewing the wildebeest migration from the air (hot air balloon) and then driving through the same HUGE herd was amazing.
Although we saw lots of white rhinos in Kenya, we were also lucky enough to find a black rhino who had wandered out of the bush in the Mara. He was there in all his glory, posed for a picture and then went back into the deep bush. Apparently this is a real treat to see a black rhino in the open like that.
Having 41 chimpanzees as your alarm clock at 5am.
While out walking in Entebbe, a baby vervet monkey came over to me and held my hand.
I could go on and on. Every wildlife experience on my safari in East Africa was amazing from the showdown with an elephant in heat to the large, supposedly poisonous snake crossing my path while out hiking.
Were you satisfied with the amount of wildlife you saw?
Absolutely. Seeing any animals thriving in their natural environment is a blessing so I'd be happy even if I saw only one elephant on this safari in East Africa!
| | |
| --- | --- |
| Describe a typical day of your safari from the moment you woke up until you went to bed. | |
I did so many different types of activities on my safari in East Africa so this is a tough one. I'll try to describe a typical day for the different kinds of things I did on this trip.
Wildlife Safari in East Africa: Uganda and Kenya
You get up at the crack of dawn if you want to go on the early morning game drives. Early morning is a great time to spot animals because it's not too hot yet. This was the only time we saw a male lion strutting his stuff. Usually we just found the male lions sleeping but in the early morning, you could usually find one wandering about. The birds are starting to wake up, the monkeys are becoming active. It's a lovely, peaceful time of day of a safari in East Africa.
After a couple of hours, you go back to the lodge for breakfast and some personal time. Then you go out on a lengthy afternoon game drive.
We had great luck spotting animals at all times of day. Hopefully your guide is accommodating as mine were.
The one thing about traveling on your own is that you can spend as much time looking at the same baboon as you like.
The guides I had on safari in East Africa really know how to spot animals and how to read their behaviour. We had a great experience with a not-so-happy elephant because the guide knew exactly how to react to her signals. I've got some fun video footage of a little showdown between this big mamma and us.
The guides do a good job at keeping in touch with each other so if something exciting is happening, they let each other know. You might be enjoying the view when suddenly the guide takes off in a hurry. The next thing you know, you are face to face with a leopard that someone else had spotted. It's great that they share information so that everyone gets to see as much as possible.
When it started to get dark, we headed back to the lodge for supper and free time in the evening. I enjoyed local dance or musical performances when offered at the lodge and chatted with other travellers about their days festivities.
Gorilla Trek/Chimpanzee Trek: Uganda
I did chimpanzee tracking in Kibale forest and trekked the mountain gorilla 2 days in a row in Bwindi. What a great experience.
Once again you are up fairly early for breakfast and then you go to park headquarters for your briefing. Your guide is in constant communication with the trackers who have been tracing the "steps" of the gorillas or chimps since early in the morning.
Your route is determined by where the gorillas or chimps are. You could have an easy hike (one gang that I met found their gorillas down the road in about 10 minutes, this was the group that slept outside my tent). Others, like myself, end up hiking over VERY difficult terrain for hours. Physical fitness is a definite plus when in Bwindi.
The chimp tracking was far easier in Kibale as it is mostly flat. We had a very tough time in Bwindi on both days of tracking. The first day was a lot of very steep climbing while the second day was spent forging a new trail through the deep forest.
It's all worth it in the end though.
I got to stand not more than 7 feet away from a silverback who was "spooning" with one of his ladies. She was holding a 2 month old baby while another mom and 5 month old baby was right beside them. Awesome!
| | |
| --- | --- |
| Did you do any other activities during your safari in East Africa? | |
Hot Air Balloon Safari - Masai Mara
Just like in Tanzania, I went on a hot air balloon. I was picked up at 5am and driven to the balloon. After a briefing from our pilot (who was Canadian!), 12 passengers and the pilot climbed on board.
3 balloons went up together. We floated over the Mara for about an hour. It was spectacular, so peaceful and beautiful.
The wildebeest migration was in full swing so we flew over thousands upon thousands of wildebeest. It was amazing.
The pilot gave us a good variety of really low flying and really high flying so it was a well rounded trip. Afterwards, the staff served us an amazing breakfast in the middle of the Mara. It was great.
Village - Uganda - the land of the Busoga
On day 1 of my village stay, I arrived at the village and was introduced to a group of 5 women. We chatted a little through my guide as they don't speak English. They fed me a traditional meal and advised that I would be learning how to cook that same meal the next day.
We then went for a walk in the village, periodically stopping by people's homes to chat with them. We found a group of men in a clearing. They were building a 6 person xylophone over a dug-out pit in the ground (for resonance). This would be my "music classroom" the next day.
I was then brought to meet Patrick, the village's healer. I learned about traditional healing practices and was shown their "clinic". It was all very interesting.
On day 2, I met up with the ladies and they taught me the art of Ugandan food preparation (at least the vegetarian portion). They even had me out in the field picking corn and digging up sweet potatoes. Boy those ladies are good with their carving knives.
Once again, my guide was so helpful with translation. He taught me some phrases in their dialect so I wasn't completely a fish out of water. We giggled and told stories about life in our own countries. It was always fun to see their reaction to the cultural differences.
I was wearing capris length pants that day and the women said that village women did not wear pants. And so, they wrapped me up in one of their dresses and I wore it for the rest of the day.
When we finally had the food steaming on the fire, I was brought back to the xylophone. I learned the ins and outs of playing their instruments, had interpretations of their Ugandan songs and enjoyed an amazing performance of music and dancing.
Some of the younger children were, at first, scared of the "mzunga" (white person) but we quickly made friends. They were soon all wearing Canadian stickers on their shirts and proudly showing them to their friends. I went from being the scary white person to the person the children wanted to play and hold hands with.
I spent time in a village while in Tanzania as well and it is one of the best experiences you can have. The people are so warm and friendly. You truly feel like you have become one of the family by the end. Nothing about the experience feels "fake" or "forced". The Busoga people were amazing.
Rwanda
While in Rwanda for a couple of days, I wanted to learn about their history. What better way to do this than to go to the genocide memorial museum in Kigali.
It was emotional, educational and extremely powerful. It was a very difficult journey but at the same time one that I was so glad I did. The stories and visuals are very haunting but it gives you such insight into this country. It's amazing to see how things have turned around.
The country is beautiful and spotless (I didn't see a piece of litter anywhere) and the people were so welcoming.
| | |
| --- | --- |
| Did you get in touch with, or meet any, local people? | |
As noted above, I spent a couple of days during my safari in East Africa with the Busoga, an African tribe. It is an amazing experience to actually work and play along with the people instead of JUST visiting their country. You learn and appreciate so much from these warm-hearted people.
I highly recommend true cultural immersion. I also spent time with a Masai gentleman on a nature walk. It was lovely getting to know him and learning more about his culture and traditions.
| | |
| --- | --- |
| Was there anything that didn't meet your expectations about the safari in East Africa, any disappointments or regrets? | |
I try not to have disappointments or regrets when I travel. Just being in another country is amazing so I like to soak it all in. I appreciate what I see and do and never get disappointed by what I may have missed. It's all good!
Animals are not going to follow your schedule so just enjoy any opportunity you have to see them in their natural environment, even if it's another bush buck.
One man I met was so upset because he came across ANOTHER bush buck. He said he was tired of seeing them and wanted a lion. I asked him if he had bush buck back home and he said he didn't…and then he said "oh, yeah, I guess that's true". Appreciate what's there!
| | |
| --- | --- |
| What was the highlights of your safari in East Africa? | |
My top 10 list (in no particular order):
Giggling with the village women
Winning over the children
Ikuru, my grooming chimpanzee, put her head and my shoulder and we just sat like that on the shoreline
Snuggling with cheetahs
Falling asleep with a silverback snoring outside my tent window
Playing music with the Busoga band
Being adorned with jewellery and then invited to live in his village by my Masai nature walk guide (I think he took a shine to me…probably because I was the only one who tried to communicate with him!).
Being able to come back home and sharing positive stories. Family and friends were concerned that I was going to Rwanda and Uganda, particularly because I was travelling by myself (only ever having heard the bad media from days gone by). It was wonderful to be able to tell people that these countries are beautiful and safe and friendly.
Standing 7 feet away from a silverback, 2 "moms" and 2 small baby gorillas.
Learning by doing!
| | |
| --- | --- |
| Do you have any tips or advice to give to people planning a similar safari? | |
Do your research and know what you are getting. Don't settle for the "typical" safari in East Africa if that's not all you want out of a trip. Explore your options and find a company who knows the area (e.g. Another Land only deals in East Africa travel) and who has relationships with the local people.
I am the biggest animal lover in the world but the cultural components have always been what lingers the most. Make sure you get the most out of your trip. Don't be afraid to ask questions and go after what your dreams are.
What was the most useful item in your luggage?
I said it in my last safari journal and I'll say it again, my eyes, my ears and my heart. I keep them all open and don't worry about the small things. Clothing, bandages, travel sized soap, etc, are all good but those things aren't really what is going to get you the most out of your trip.
Learn and do as much as you can. I have amazing photographs but even more amazing memories because I actually allowed myself to put down the camera and dive right in and experience it all. If you just film it, you didn't really do it!
| | |
| --- | --- |
| How would you rate your safari in East Africa overall (on a scale of 1-10)? | |
20! It's already a 10 when I step off the plane. I stay positive and enjoy the fact that I'm travelling, and not at work!
K.C.'s 2003 safari trip report: more time spent with the animals and people of Africa »
| | |
| --- | --- |
| Safari in East Africa Locations: | UGANDA - Entebbe, Ngamba Island, Kibale Forest, Queen Elizabeth National Park, Bwindi Impenetrable Forest, Lake Mburu National Park, Jinja; RWANDA - Kigale; KENYA - Nairobi, Masai Mara, Lake Nakuru, Lake Naivasha, Amboseli |
| Safari Company Used: | Another Land |
| Duration: | 3 weeks: 12 July - 3 August, 2007 |
| Traveller Details: | K.C. Rautiainen, Canada - travelled alone on a tailor-made safari |
| Rates & Availability: | Plan your own safari in East Africa - make an enquiry » |
More Uganda Safari Reviews