Uganda Wildlife and People - Review
by Nicole Divitcoff
(Canada)
African Jungles Safaris exceeded our expectations and I cannot wait to book another safari with them in the near future!! My father was apprehensive at first about booking with a local Ugandan tour company, however he was beyond impressed with Geoffrey and his company and looks forward to traveling with them again!
Safari Operator Performance
After much research and contacting what seemed like hundreds of safari operators we chose to travel with African Jungles Safaris and found them through the Uganda Tourism Association website.
They were EXCELLENT!!! We were more than thrilled with the service we received from African Jungle Safaris! Geoffrey tailor-made our safari and included any experiences we wanted to do in Uganda.
Our guide Musa was very knowledgeable, always kept us safe and knew the special places to visit!
AJS purchased school books and pencils and allowed us to hand them out to many children throughout our travels! This was definitely a special treat and I am sure they are the only company in Uganda that does this. They were so generous.
You will always be treated like VIP's with the wonderful staff, drivers and guides!
Accommodation
Our accommodations were:
in Kampala - Metropole Hotel,
Ishasha - Savannah Hotel,
Queen Elizabeth NP - Simba Safari Lodge,
Kibale NP - Chimpanzee Guest House,
Murchison Falls - Red Chili Camp.
Food
We ate very well and it consisted of many North American type dishes.
For lunch you can expect many sandwiches (tomato and cheese) and dinner can range from pizza to a steak - whatever your choice.
We were pleasantly surprised with the food choices and never got sick from eating anything.
Wildlife
We saw lots of wonderful wildlife! We had the honour of seeing Gorillas, Chimpanzees, the shoebill stork (in Mabamba Swamp), female lions, tree-climbing lions (in Ishasha), leopard, vervet monkeys, kob, zebra, spitting cobra, many birds and other savannah wildlife.
The highlight was definitely the gorillas, chimpanzees and the very rare tree-climbing lions of Ishasha!
Typical Day
Wake up at approximately 7am, have breakfast at the hotel.
Depending on the day you might get straight into the car and drive to the next destination or you might go on an early morning game drive to view the wildlife that is just waking up.
Have lunch at a guest-house or restaurant at approximately 12pm and dinner was usually eaten around 6pm at the hotel or guesthouse
Other Activities
We tracked the mountain gorillas in Bwindi NP - wish we could have stayed with the gorillas for a longer period of time (the limit is 1 hour) and see them a bit better (there are lots of trees and branches obviously).
More Bwindi gorilla safari reviews...
We also tracked Chimpanzees in Kibale NP; visited the Kampala USPCA where we brought donations and supplies; visited a nursery school (a highlight) and stopped to meet with children along the way.
Tips and Advice
Always remember TIA!!! (This Is Africa) there could be road closures, bad restaurant service, peeing in the bush and lots of bumpy roads!
It was useful to have little toys to give to the local children all across the country.
Also, biodegradable shampoos and soaps were great, a sweater for the cooler evenings, a reusable water bottle and lots of laughter!
Safari packing list...
Nicole's Safari Details:

Rating: 10/10!!!

Safari company used: African Jungles Safaris (make an enquiry)

Parks visited: Lake Mburo, Bwindi, Queen Elizabeth, Kibale and Murchison Falls National Parks in Uganda

Date of safari: July 2 for 13 days

More African Jungles Safaris reviews »

More Uganda Safari Reviews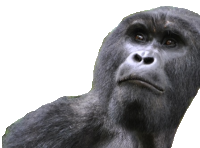 Join in and write your own page! It's easy to do. How? Simply click here to return to Africa Tour Operators Reviews.