Safari Zimbabwe trip reports and reviews, written and photographed by people who have already been on Zimbabwe safaris will provide you with an informed and unbiased opinions about their trips.
You might also pick up some tips and advice that you won't find anywhere else. And it will probably save you some money too.
You can find out where the best wildlife spotting locations are, what the accommodation is like, quality of the food, knowledge of the guides, what to take with and answers to many of the questions you may have about an experience like this.
And probably some answers to questions you haven't even thought of yet. A huge advantage of trip reports is that they are unbiased and objective because they have been written by people who have actually been through a safari Zimbabwe experience themselves. So read through a couple of them below to get some inside information...
Victoria Falls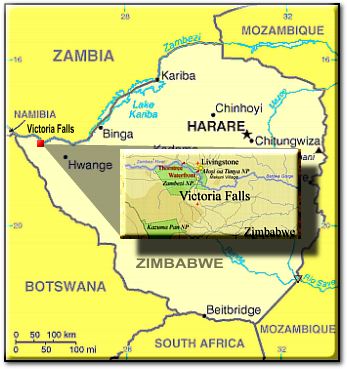 One of the world's great attractions, the Victoria Falls plummets over 100 metres into the Zambezi gorge at a staggering rate of about five million cubic metres per minute during the flood season.
Take your raincoat, because you will get soaked to the skin by great swathes of spray flung from the torrent of water thundering over the falls.
The wildlife around the Victoria Falls is limited to bushbuck and baboon so tame you virtually have to walk over them to get along the footpath. But this paucity of game is more than made up for by the awesome spectacle of the Falls.

Victoria Falls visit »
The waterfalls were very full and the spray wet us down. We loved the helicopter flight over the falls as you could see how enormous and powerful they were...

Matetsi Water Lodge »
We went to Victoria Falls, zip lined over the gorge which must count as the single most terrifying moment of my life but I'm very glad that I did it...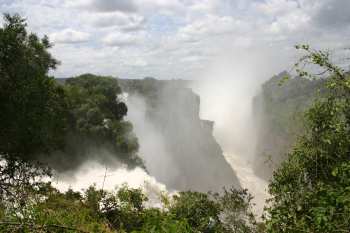 Vic falls honeymoon »
The perfect spot to spend a few days of honeymoon at. Vic Falls is a unique place in Africa offering astonishing beauty and lots of activities too. I spotted wildlife from the lodge veranda and swung across a gorge and this was just for starters...
Request full trip report » Weixia found the people of Zimbabwe to be warm, friendly and patient - despite the economic situation. The Falls were the highlight of her trip...
Hwange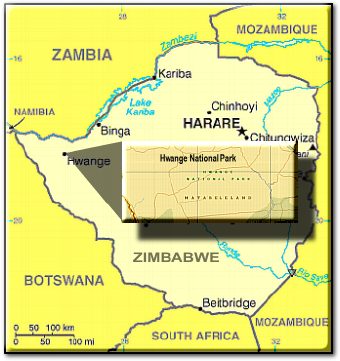 The Hwange Park, spread across 14650 sq kilometres, is one of Zimbabwe's finest reserves.
There is a fair amount of wildlife to be spotted here and the best places to find them are around the water holes which are pumped with petrol-powered compressors. So what can you see? Vast herds of antelope, zebra, buffalo, elephant and baboon.
Harder to spot are the predators: lion, leopard, cheetah, hyena, jackal and wild dog.

Hwange safari »
In Zimbabwe, I stayed at Ivory Lodge, bordering the Hwange National Park. Dumi, the guide, was excellent. The camp had seen better days but it was comfortable and the staff were exceptionally friendly...

Lion hunt »
In Hwange we saw big herds of elephants and shy kudus. Later on that day we saw a group of eight lions hunting a baby elephant and they were busy eating when a small antelope came near the safari vehicle as a warning...

Hwange hyena adventure »
Self-driving through Zimbabwe is quite an adventure. Hwange is an easy distance from Vic Falls and we decided to pay it a visit. I also found out what to do when your tent is surrounded by hyena, while I was camping at Robin's camp...
Antelope Park
Although you will find giraffe, zebra and as the name suggests, various species of antelope in this park, its claim to fame is the activities on offer.
It is most well known for the opportunity to walk with lions and swim with elephants. Other options are game viewing on horseback, foot or vehicle; fishing, boating, sundowner cruises, gliding and polo crossing.

Southern Africa safari »
As part of a 3-week safari Zimbabwe, Botswana and South Africa holiday, Wendy spent a few nights at Antelope Park. It was the highlight of her entire holiday not least of all because lions were the main drawing force to bring her to Africa in the first place...

Request full trip report »
At Antelope Park Jo was able to interact with lion cubs, go swimming with elephants and even join a pride of lions on their nightly hunt. No hunting took place however, as the lions seemed uninterested in their prey that night...
Mana Pools
Declared a World Heritage Site in 1984, this remote park in the far north of Zimbabwe is located right on the mighty Zambezi River (Zambia's Lower Zambezi Park being on the other bank).
It's one of the very few (if not the only) parks where you can do self-guided hikes among big (and dangerous!) game. For the less brave but equally adventurous, take a guided walk or canoe trip and enjoy the stunning untouched nature and plentiful wildlife and fantastic bird life. All in all, a fantastic safari Zimbabwe location.

Mana Pools safari »
Nick found peace of mind in the Mana Pools where he safari'd by canoe, foot and Land Rover amongst animals like lions, wild dog, hyena, elephant, zebra, hippos, crocs, baboons and more not to mention the multi coloured birds...

Natureways safari review »
Some of Clare's highlights were getting close to elephant bulls as well as hunting wild dogs. She saw many more animals and also enjoyed the spectacular scenery. It was her first trip to Africa and she doesn't regret picking a safari Zimbabwe tour as destination...