Zimbabwe Safari - African Encounters Reviewed
by Hazary Bozorgzadeh
(Iran)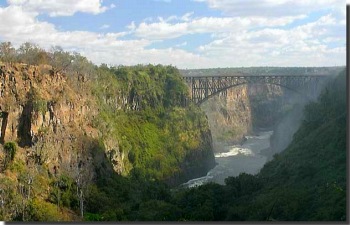 Victoria Falls railway bridge in Zimbabwe
Hazary went on tour to Zimbabwe with the African Encounters safari company and gives a detailed trip opinion of what the experience was like and comments on the current situation in the country...
How did your safari company perform?
Very well. The guides were experienced, the hospitality was excellent and the people were very friendly.
What were the highlights of your trip?
First in Victoria Falls we walked with the lions which was a very unique experience. To walk and hug the big cats was really great.
And it's hard for me to express the feelings of seeing the smoke that thunders (
Victoria Falls
). It's something that is really near your soul!
In Hwange we saw big herds of elephants and shy kudus. Later on that day we saw a group of eight lions hunting a baby elephant and they were busy eating when a small antelope came near the safari vehicle as a warning, or just for protection as the lions continued their feast.
It was really amazing although I was thinking that a baby elephant is not the right prey for these huge, great cats.
And later we drove to a waterhole to watch other wildlife drinking at sunset. There were some hippo outside the water and some of them were swimming lazily. It was a great day!
Where did you stay and what was the accommodation like?
In Hwange the first night we slept at Sikumi Tree Lodge and it was marvelous as it overlooks the waterhole which means you can almost touch the wild. It was a real Africa experience.
We also spent one night in Hwange Safari Lodge and it was a more luxurious town type lodge very good for big groups.
And we spent a night in Camp Amalinda at the Matopos Hills. The camp was so amazing as everything is natural. The atmosphere and environment plus the accommodation in the stone mountains is something which really touches your spirit. You have to be there to feel, touch and experience it. It's really heaven on earth.
Do you have tips for people planning their own safari?
Well, you need your best quality sun screen (
at least a factor 15
), your camera and binoculars, creams for insects bites and malaria tablets. I never take tablets while I am anywhere in Africa as I believe I have a good resistance but it is advisable to use them.
You also have to carry light backpacks and the weather is always a bit colder in the evenings on the savannah so you better have a light jacket or a sweater with you.
Any disappointments on your trip?
The worst is, or I won't call it the worst because it's almost the same in most African countries, is the delays.
When you're told to be ready by 10am it usually means you will start at 12 noon. But when you get used to it as something natural to Africa then you can be relaxed and take it as it comes. There is nothing to be done about it so rather just enjoy it.
Anything else you want to add?
I will say the people of Zimbabwe are so kind and welcoming, you can't imagine that they have sanctions, it's as if nothing happened.
As one of them told me, "It's a problem for Zimbabweans but not for our visitors". They try to provide the best for the tourists and most of the tour operators are succeeding in this.
Hazary Bozorgzadeh's Safari Details:

Safari company used: African Encounters (make an enquiry)

Parks visited: Victoria Falls, Hwange National Park and Matopo Hills.

Date of safari: 13 days, 11th Oct to 23rd Oct

More Zimbabwe Safari Reviews