Zimbabwe and Botswana Safari
by Claire Kerr
(England)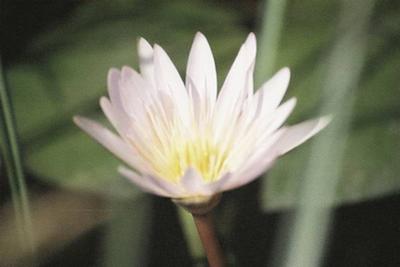 Water lily in the Okavango Delta
The small aircraft flights were great. The people of Botswana and Zimbabwe were very warm and provided us with some great food and a comfortable stay. We had the best holiday of our lives and really look forward to returning to Africa again.
Safari Company Performance
We spent a couple of days in Cape Town (South Africa) before heading off through Livingstone (Zambia) to Zimbabwe and stayed in a lodge for 3 nights then travelled into Botswana on the Okavanga Delta and stayed at a further 2 camps for 3 nights each.
At all three camps the staff looked after our every need.
In Zimbabwe the staff were so keen to please and just seemed to want us to say positive things about them when we returned home.
The guides at all 3 camps had very good local knowledge but different styles.
Some had better plant and insect knowledge others were more about the big 5.
We had no complaints about any of the staff.
Accommodation
We stayed at the Matetsi Lodge Zimbabwe which is near a river with individual thatched bungalows.
The Khwai Lodge was an Orient Express lodge, which had luxury tents with ensuites and covered porches with hammocks.
The last lodge was Nxabega which was again tented but with ensuites and a swimming pool on site.
Food
Breakfast was a choice of porridge or cooked English.
Lunch and dinner were cooked and often you could choose from local meats like ostrich.
All were to a very high standard, all the more amazing when you looked at the standard of living that the locals were used to.
Wildlife Highlights
We were lucky that across the three sites we saw elephants, lions, zebra, hippo, crocodile, wild boar
(warthog - Ed)
, hyena pups, giraffe, baboons, python, buffalo, fish eagle, impala and lots of other deer like animals.
The third camp guide spent a long time pointing out many insects and birds, he gave us lots of information about the termite hills and other things that make up the landscape.
Typical Day
The day always started with an early call for tea/coffee and into the jeep for the first trip out on safari.
After a couple of hours in the jeep and stopping for coffee and biscuits at an interesting point, we would head back for breakfast.
The main part of the day would be free time to chill, read a book, swim and generally relax.
The afternoon would then move onto afternoon tea and biscuits then out for the second trip of the day in the jeep.
We would stop for sundowners next to a river perhaps to watch the hippo. Then back to the lodge for a quick wash and then dinner.
After dinner we were usually tired and ready for an early night to start the non stop eating, drinking and animal watching the next day.
Other Activities
We went to Livingstone falls
(Victoria Falls - Ed)
which was mind blowing. The volume of water falling over the edge from the Zimbabwe side has to be seen to be believed. This will stay in our minds for a long time.
We also went out in canoes in the Khwai river which was very peaceful.
Tips and Advice
The best advice I can give is to take US Dollars. The lack of Dollars was a real problem for us.
Also take a good mobile and insect repellant.
My trainers were very useful.
Prevent getting malaria ...
More Zimbabwe Safari Reviews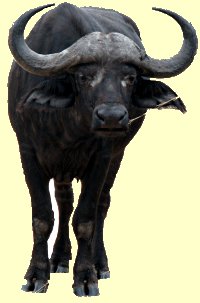 Join in and write your own page! It's easy to do. How? Simply click here to return to Africa Tour Operators Reviews.