Hwange Travel Journal Diary
Hwange is a unique place for going on an African safari. I was there for two days and it was a great experience. The park itself is beautiful but the roads could do with an upgrade. The potholes on some of the tar roads had potholes of their own but the dirt roads were in better condition. It pays to have a 4x4 vehicle here.
Accommodation:
Robin's camp which is situated in the northern area of the park and has camping facilities as well as chalets. There is a small shop where you can buy provisions.
Trip Highlights
My wife and I arrived at Robin's camp just after dark and after pitching camp had a meal around the fire. We were climbing into the tent to get some sleep when a heard a noise to my right. There was a hyena standing about 15 feet away looking at me in that uncertain way they have and then I saw another one further back.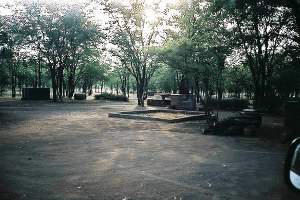 I had no idea how they got there because these camps normally have fences around them. But I hoped that the rumour that wild animals perceive tents to be solid was true. After settling down inside we heard footsteps and deep breathing circling the tent and then a rattling noise at the front where the zip is situated.
We held our breath and prepared to receive a most unwelcome visitor. But fortunately he gave up quickly and moved away to the barbeque area looking for scraps. We didn't get much sleep that night because we could hear them around the tent at regular intervals. I have no idea how many there were and wasn't going to stick my head out of the tent to find out.
The next morning in the light of day we saw that the camp had a semblance of a fence but it had so many holes in that it may as well not even have been there. When I told the camp ranger about the hyenas he just shrugged his shoulders indifferently and said they were there every night. Ahhh Africa.
Game viewing was very good for elephants and antelope and strangely enough butterflies. There must have been thousands of them. We drove from Robin's Camp to Main Camp on the potholed road and saw game every now and then. Unfortunately didn't see any of the cat family.
There is a hide overlooking a waterhole that is a must visit. We saw a number of animals come down for a drink including a massive elephant that coated himself with sprays of water. And because the park was relatively quiet we could have the hide all to ourselves.
Hwange Tips & Recommendations:
Make sure you visit as many of the waterholes as you can because you will see a lot more wildlife that way. In the dry season these are often the only places they have to get a drink.

If you're planning a self-guided safari, make sure you have enough cash for camps like Robin's. We had no choice but to exchange money at the camp manager's (inflated) exchange rate.
| | |
| --- | --- |
| Safari Location: | Hwange, Zimbabwe |
| Safari Company Used: | Independent Self-Drive |
| Duration: | May 16 to 17 |
| Traveller Details: | Bruce Whittaker |
| Rates & Availability: | Plan your own safari. Make an enquiry |
More Zimbabwe Safari Reviews