Natureways Safari Review
by Clare Zappala
(Sydney NSW Australia)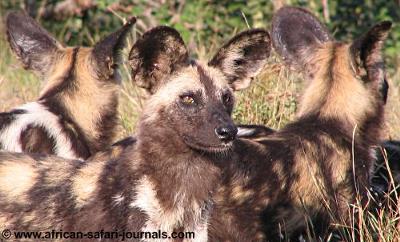 Alert Wild Dogs
The best Mana Pools National Park game experience was watching the wild dog hunt as the sun was rising and the big bull elephant coming to dinner, this wonderful beast was so relaxed as it came to investigate.

Mana is famous for the relaxed nature of these big bulls. These experiences I will never forget, how fortunate we were to see this. All this happened near our camp which was also lovely.
Safari Company Performance
Firstly I would like to say that despite Zimbabwe's recent bad press we felt totally safe at all times. A group of us travelled from Australia, Scotland and Mexico.
I would have to say that the highlight of the trip was Mana Pools National Park with Natureways Safaris and guide James Varden.
The staff and guides worked tirelessly to ensure that our first trip to Africa was memorable. From the day that we got there to the time we left all the guys in camp were still smiling. The guides were so knowledgeable and made our trip so much more exciting.
Mana Pools National Park
This park is a world heritage site, and I understand why, it is such an amazing place that words can't describe, you truly need to experience it for yourself to really appreciate it. You have the Zambezi on one side with the Zambian escarpment and then beautiful Mopane woodlands, and Acacia trees, which draw so many different animals.
Game was in abundance and we were able to get close to it on foot, in canoes and on game drives. From hippo, elands, impalas, zebra, waterbucks, baboons, leopard, wild dogs, serval, elephant, buffalos, kudu, lion, hyena, massive Zambezi crocodiles and the abundance of bird life.
Mana Pools has over 400 different species of birdlife, we were lucky to see the Carmine bee eaters and Pel's Fishing owl. The wonderful colours of these animals with an amazing backdrop is truly memorable.
Accommodation & Food
Tents are spread apart from each other and are non-invasive on the environment. They are A-frame tents with windows on the roof so you can watch the stars as you fall asleep listening to the sounds of the African bush. Beds were very comfortable and clean.
Food was amazing all cooked on an open fire. I mean the cakes and meals were like eating in a fancy restaurant, I take my hat off to these guys as I can hardly cook on a normal stove.
Safari Traveller Advice
I would advise that people use Natureways Safaris as they sorted out our whole trip and ensured that our first time experience to Africa was memorable.
The bonus is that the company is owner operated and has over 20 years experience in Mana so you are not just a number and are given the more personalised touch, which makes the world of difference.
They run several different types of trips to cater for all people from canoeing to walking trips. Basically you tell them what you want to do and they can help in all aspects. They even sorted us out with transfers, charters etc.
I sit at my desk and dream about when I will next be going back to Mana Pools National Park again.
More Zimbabwe Safari Reviews