Kalahari, Delta and Hwange
by Peggy Blackwell
(USA)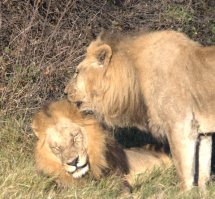 Okavango Delta - lions
The Delta has by far the most wildlife. It was flooded and beautiful. My highlight was 4 black maned lions just resting - we watched for about an hour. The brothers nuzzled one another and slept on one another.
Safari Operator Performance
Zambezi did the arrangements to match my budget. A write-up in the Dubai Gulf News was a major factor in my choosing Zambezi.
I had to reschedule the trip and they arranged it at no loss of funds.
The Botswana safari was hosted by Kwando Safaris who was superior. They provided all services. The guides were just outstanding especially the General at Kwara and his spotter, Sherlock Homes. All 3 camp guides were very flexible during the drives and would let you stay however long you wanted to watch. The only negative was the poor lighting in the spacious tent at Tau Pan.
In Zimbabwe, I stayed at Ivory Lodge, bordering the Hwange National Park. Dumi, the guide, was excellent. The camp had seen better days but it was comfortable and the staff was exceptionally friendly.
Accommodation
Tau Pan - a small water hole was visible from my tent and the main building. My tent's indoor and outdoor showers ran on solar power so no hot water in the mornings. The main building had seated areas, a large dining table, small shop and large deck with fire pit.
Kwara, on a lagoon in the northern Okavango Delta, had hippos for entertainment. The setting was exquisite, the shop had good souvenirs. Both camps had swimming pools.
Ivory Lodge - the rooms were built on platforms on stilts. The lodge had electricity and provided mattress warmers. The tents overlooked a large water hole where elephants and other wildlife gathered every day I was there, up to about 500 elephants one day. Amazing!
The majority of staff at Tau Pan and Kwara were locals; at Tau Pan, my last night they danced and sung for us!
Food
First rate and plentiful at Tau Pan and Kwara - buffet style. At Tau Pan we had a local menu my first day – an excellent touch.
Wake-up was around the fire; tea/coffee/juice, freshly baked muffins/bread and porridge cooked on the fire. Freshly baked goodies, cold drinks and coffee/tea supplied on the morning drive.
Lunch was buffet: freshly baked breads, eggs cooked to order, beans, meats, cereal, fruit...
We had snacks before the afternoon drive, which had a sundowner drink plus snacks and dinner after the drive was soup/salad, main course with vegetables, and dessert. Wine and other liquor was available.
Ivory Lodge's food was good, but certainly not on par with Kwando camps...
Wildlife
At Ivory Lodge my highlight was watching elephants at the water hole from the viewing hide or my tent in the afternoons. They just kept coming out of the wooded hills with so many babies. Other wildlife came also – buffalo, baboons, giraffe, and sable antelope.
On drives I saw more elephants on the land held by the Hwange Safari Lodge (a huge hotel). This was a true highlight because of Sharon Pincott's work with trying to save the elephants in Zimbabwe and my guide knew the elephants she had worked with by name and called them to our jeep. He told me not to be afraid, and one came right up to me to smell. I have this wonderful photo of all I could see - her trunk - she was so close.
We saw waterbuck, bushbuck and kudu, many giraffe and Burchell's zebra. We also saw wild dogs in rehab at a preserve close to Ivory.
Among the birds: sandpipers, plovers, lourie, lilacbreasted rollers, bee-eaters, yellow & red billed hornbills.
We saw 4 cheetah brothers one morning; they had made a kill and we found them stuffed to the gills. Later that afternoon, they were still lying around.
A lion sound asleep on his back, paws in the air, bat-eared fox, jackals, oryx, and one night a large spotted genet, giraffe, springbok, impala, the tsessebe antelope.
Birds were everywhere — hamerkop, egrets, plovers, vultures, hornbills. We saw a tawny eagle sitting on a nest and a giant eagle owl where we stopped for sundowners. We also saw a black mamba sunning; our spotter almost stepped on her. Did he jump high and backward fast!
At Kwara, I heard a noise by the main building and saw a young elephant happily browsing. I went to join him (at a safe distance of course) — no one else was around. He wandered toward my tent, then turned and looked at me (8-10' away). I went up the porch where I took his picture. This was an awesome experience.
In the Kalahari, you can't drive off road (nor in Zimbabwe) so game viewing was usually at a distance except the walk with our bushman spotter (a real highlight). I enjoyed seeing the Kalahari and the Deception Pan. Saw Springbok, Steenbok, Gemsbok, Hartebeest, Kudu, giraffe, Duiker, Honey Badgers (one came on my porch one night and had a loud encounter with the deck chair), Ground Squirrels, ostrich and kori bustard.
Typical Day
It was cold - Tau Pan and Kwara gave us hot water bottles for bed, so getting up was very hard. A guard would come to the tent to wake you up. To the fire for breakfast. 30 min later, into the very open vehicle (low sides, no top) to wrap in two provided blankets (I had a beanie and fleece jacket) for a game drive. The guides were great at pointing out animals (and birds after I asked — most folk are not too interested in birds) for +-2 hours, stopping for us to take pictures and watch, then 30min for refreshments and a bush break, and continue the drive for another +-2 hours.
Back to camp, brunch, free time and shower from about 2-4. I usually went to the viewing platform/deck/hide. Later, a snack then the afternoon drive with sundowner, usually returning after dark. The guides use spotlights, but we didn't pick up many animals that way. Back to camp for dinner, then sit by the fire or go to your tent.
Photography
I studied your free
wildlife photography e-book
before I left. I was especially needy in the area of shutter speed/aperture to stop action of birds and animals but still get good lighting. I used ISO between 400 and 1600, depending on the action. I also wanted to learn about taking shots of birds in flight. After reading, I was more confident about how to do the settings and more willing to experiment. I often just left the ISO on 1600 because animals/birds were so unpredictable so I tried to "stay ready" all the time. I took 3 batteries for my Nikon D60 and 2 for the Canon back-up camera. I used a 70-300mm lens on the Nikon (vibration reduction). I saw some folk with much bigger zoom lenses but they really couldn't take pictures of anything that was close up. I took pictures in raw plus jpeg, but the jpeg was not necessary and has only cluttered my photo library. I used a daylight filter. I had 6 64mg memory cards and took about 3300 pictures — I did a lot of continuous shooting.
I didn't take a laptop with me. Bean bags would not have been usable with those vehicles. I also looked at the wildlife pictures at African-Safari-Pictures.com to get an idea about composition and that was very helpful. I looked at several sites for photography tips and settled on Better Safari Photography as the most comprehensive.
Tips & Advice
I'd been told it would be cold but somehow my image of safari of people in shorts influenced my packing. I needed hat, gloves, scarves, wool layers. Layering is good advice for any safari – you can always shed them, but freezing is not pleasant.
Ask if you can drive off road so you won't be disappointed if you can't.
I recommend 3 nights at each camp if possible.
Take all the cash you think you might need. Zimbabwe takes South African Rand in addition to dollars. The lodges in Zimbabwe don't take credit cards or have ATMs.
Take more memory sticks than you imagine you'll need and extra batteries and the charger. Use an outdoor filter on your lens and take a back-up camera.
Take a flashlight.
Peggy's Safari Details:

Rating: 9/10

Safari agent used: Zambezi (make an enquiry)

Parks visited: Botswana: Kalahari Central Game Reserve, Okavango Delta - Moremi; Zimbabwe: Hwange NP, Vic Falls

Date of safari: June 19–30

More Zimbabwe Safari Reviews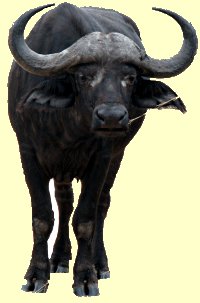 Join in and write your own page! It's easy to do. How? Simply click here to return to Africa Tour Operators Reviews.