Your Safari Review Travel Opinions
Have you been on safari anywhere in Africa in the past 5 years?
If you have then you can share your travel opinions here by writing a safari review about your experience which will be posted on this website.
And then your safari trip report will become your entry into the contest to win a guided safari in the Kruger National Park in South Africa (learn more about the prize).
In your review, it will be helpful to answer the questions that appear in the submission box below, but feel free to add anything else that might not be covered in the answers.
Try and make your answers as accurate and useful as possible so that others can learn from them. Please note that all the questions need to be answered to qualify your review for entry into the contest.
What Was Your Safari Experience Like?
Simply answer the questions below to enter the competition to win a wilderness trail safari in the Kruger National Park in South Africa...
Example Safari Review Entries
Click below to see the reviews other safari travellers...

| | |
| --- | --- |
| Review Posting Guidelines | |
Must be over the age of 16 to post.

No profanity or non-family friendly content.

Original content experienced personally by you. No hearsay or someone else's travel opinions.

No self promoting reviews or URL's. We reserve the right to reject URL's for any reason.

English safari reviews only.
African Safari Journals reserves the right not to post a safari review for any reason and to edit posts if warranted. The travel opinions expressed in safari reviews are those of the poster and not of African Safari Journals.
| | |
| --- | --- |
| More About the Safari Trip Prize and How You Can Win It | |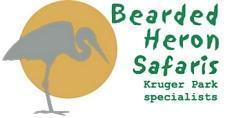 A 5-day guided safari for two in the Kruger National Park (value approx US$3500).
Transfer from OR Tambo International Airport (Johannesburg, South Africa) to the Malelane Gate at the Kruger National Park where your guide, Neil Heron from Bearded Heron Safaris - who is passionate about and highly experienced in wildlife and Kruger - will meet you.
Enjoy game viewing from an open-sided safari vehicle while Neil identifies species, interprets behaviour, ecology and relationships between them.
His hospitality chef will provide all your wholesome South African meals in a wonderful outdoor setting. Your private accommodation is a fully serviced (fresh linen and towels) en-suite cottage.
The Safari Prize Includes:
Kruger conservation and entrance fees.
Two game drives every day - no schedule for the length or diversity of the game drives except your needs, and what the bush delivers.
On one of the nights a nocturnal drive (night drive) with spotlights.
All meals (breakfast, lunch, dinner) and refreshments such as South African wine, beer, bottled water and fresh juice.
Accommodation within the Kruger Park in private en-suite units.
To whet your appetite have a look at this video which Neil took during one of his safaris:
The Kruger National Park, established in 1898, is world famous and plays host to approximately 147 mammal, 507 bird, 114 reptile, 34 amphibian, 49 and 336 tree species - not to mention bushman rock paintings and archaeological sites which are conserved along with the park's natural assets.
You can win this amazing 5-day guided safari by entering this competition...
How To Enter
Your safari trip review/report is your entry into the contest. Try and make it as detailed and as helpful as possible so that it can be a valuable aid to others who are planning their own African safari. Your previous experience gives you unique insights and travel opinions that can improve a safari trip for others.
I review every entry to make sure that it is useful enough to be entered into the competition and will let you know either way so please double check to make sure that your contact details are correct.
Before entering please read the rules of the competition and then complete the travel opinions form above with your safari review to enter the contest.