Kenya Wildlife Trails Review
by Bryan Pereira
(Canada)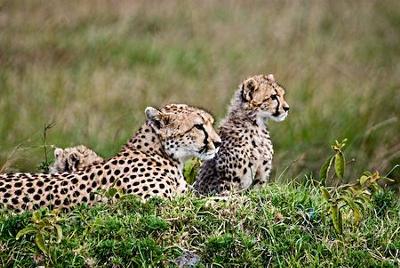 Cheetah Family
On the game drive we came across a cheetah and her cubs. To our surprise she came directly toward our vehicle which had no windows or roof. She sat on a mound beside us, now she was at eye level less than five feet away. I managed do take several shots before reality set in and I froze. No one including the driver could speak; the cheetah looked straight into my eyes than glanced down at the seat beside me.
Safari Company Performance and Accommodation
Kenya Wildlife Trails provided very good personal service.
More options for transport tours would have been good. The guides were excellent.
The first place we visited was Aberdare Country Club. Kimberly (
my daughter
) couldn't get over how quiet it was. She enjoyed seeing the dik-diks wondering around and I think would be quite happy to take one home as a pet.
Later in the day we travelled to the Ark Lodge, accessible only by a suspended rope and wood bridge. The lake and lush vegetation provided some wonderful animal viewing and we even discovered a hardly used underground bunker to get closer still to the animals at ground level. One evening under a full moon we watched as two elephants come together from opposite sides. The way their trunks touched was like old friends finally meeting and hugging each other after many years.
An early rise at the lodge rewarded us with a wonderful sunrise view over Mt Kenya. From the mountain region we travelled to Samburu to spend some time at the River Lodge. The landscape in this part of the country is dry and arid. Still, the local children and villages offer a smile and a wave as they walk many hours to their destination.
Several morning and afternoon game drives yielded some wonderful experiences. One was when a baby elephant became lost from the herd. As a result 20 or so elephants turned around and backtracked, the mother rushed ahead (
this is what alerted me to the event
) when she found the lost young one she gave out a load trumpet to alert the group all was well. The little one waved its trunk and run to its mother in joy.
The same game drive gave us our first view of a cheetah stalking its prey in the long grass. Being able to stand in the van provided a great viewpoint to watch. In the evening we watched local village dances and later a crocodile feeding session.
We also stayed at the Mt Kenya Safari Club. Who could imagine such a place in the middle of the wilderness with manicured grounds containing a maze, crocket and bowls green. Not to mention the wonderful assortment of food and tea time delights such as scones and fresh cream. The service was impeccable and rooms were beautifully appointed with double sided fireplaces and hot tubs.
Food
The food was mostly buffet western style and local as well as international.
Wildlife Highlights
We started out with breakfast by the river, bone china and all. We soon came across a cheetah and her family.
Another van parked on the other side of us and we later found out that because of the angle they actually thought the cheetah was sitting with us.
After what seemed like an eternity the cheetah moved off the mound she was sitting on, rounded up her cubs and went peacefully on her way. However, our close encounter with nature wasn't over yet.
As the sun was setting we were allowed out of the vehicle to enjoy a sundowner. The guide had asked us for our favourite drinks before we left and now took out the various cocktails and mixes for us to enjoy as we watched the sun set over the Mara. The road back to the camp was rough even for a 4WD vehicle.
We passed some bushes and spotted two lions we had seen earlier as we came up beside them I heard a grinding sound, the driver tried to back up but we didn't move. We were now stuck on a rut with no traction on any wheel.
It was getting dark and there was nothing between us and the lions that were now looking at us curiously, I wondered how hungry they were and thought, this is it, we're done. Then the driver got on his radio and called for help. In a few minutes we saw some bright lights behind us.
Another vehicle had come to our aid and pushed us off the rut. As it did so the lions got up, scratched, then disappeared into the darkness. We all gave a sigh of relief. At the camp fire we recalled our adventures. Our relief though, was short lived.
When we returned to our tent we found a large hairy spider some 4 inches from tip to tip inside our tent. I wanted to get a photo of it but was too scared it would move and we would lose track of it. In the darkness I made my way back to the main tent following the sounds of people talking and joking by the fire, hoping I was going in the right direction.
I found a guide and took him to our tent, when he saw the spider he looked more scared than me. We managed to make it drop from the tent side onto a sheet which he rolled up and took out. Needless to say my daughter slept with us that night and had quite a lot to write in her travel journal.
After our adventures in the Mara we visited Lake Nakuru expecting to see only flamingos. Within 10 minutes of our arrival in the park we were greeted with a truly unique sight. At the base of a tall tree were two large female lions and at the top of the same tree was a leopard.
Our driver said in all his many years of being a guide he had only ever witnessed a similar sight once before.
Other Activities
One afternoon we visited an animal sanctuary where rare species such as a zeboid can be seen. We also spent some time visiting villages.
Disappointments and highlights
More time in Mara by flying there instead would have been good. The main highlight would have to be the ever changing landscape.
Tips, Advice and useful luggage
Do lots of research before hand and make sure you have a camera and many extra memory cards.
More Masai Mara Safari Reviews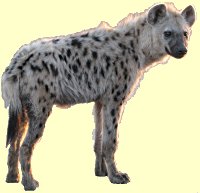 Join in and write your own page! It's easy to do. How? Simply click here to return to Safari Review.