Gamewatchers Safaris Trip Report
by Kevin Guidera
(UK)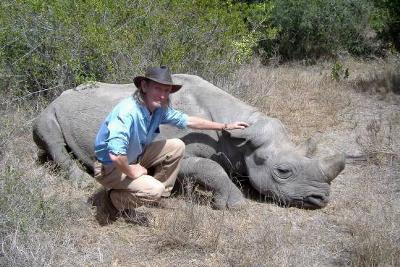 Morani and Me
Although Morani was classed as tame, all animals are unpredictable so, with that comforting thought in mind I went and met the animal today and considered the possibility of meeting my Maker too!
Safari Company Performance
Gamewatchers Safaris is a long established, excellent organisation, amazing venues and excellent staff and management.
Accommodation and Food
We (we were a group of 6) stayed at Porini Lion Camp, Masai Mara reserve, Porini Amboseli, Porini Rhino Camp, Ol Pejeta reserve, and The Mayfair Hotel, Nairobi.
Breakfast was a mix of buffet and waiter service in the camps with juice, cereals, yoghurt, bacon & egg, tomatoes, beans, mushrooms, toast and muffins.
Lunch varied from healthy salads and meat options at the camps or picnic lunches out in the bush which included drinks and the best scenery you can imagine.
The dinners were delectable, slow-paced and on a par with good four star hotels, as was the service.
One evening we requested Ugali: a side dish of maize porridge and meat which was very tasty (some of us got the recipe - available on some websites). It is very similar to mealie pap, that I tried in South Africa. In the Caribbean, some may have sampled a derivative snack called Funjie.
Wildlife
We saw lion, cheetah, thousands of elephant! Cape buffalo, rhino (black and white) hyena, wildebeest, zebra, a variety of zntelope, including a few rare gerenuks, ('giraffe neck' in French, I was told) and Grant's and Thomson's gazelle, Rothchilld's, Masai and Reticulated giraffe, warthog, hippo, crocodile, Coke's hartebeest, waterbuck, amazing birdlife including kori bustard, secretary bird, malachite kingfisher, Hildebrandt's starling, superb starling, blacksmith plover, vultures and owls, a very full-bellied African python and a very friendly chameleon! (and hundreds more besides)
The highlight was
definitely
stroking an orphaned black rhino on Ol Pejeta Conservancy, towards the end of the trip! (
Video
of this rhino, Morani)
Typical Day
Before dawn, one would hear a Masai warrior announcing his approach to your tent with coffee and biscuits, being delivered to your private porch and shortly afterwards he would return with your 20 litres of hot water for your bush shower, filled up from outside your tent and after a quick splash and scrub, everyone meets in the main tent for breakfast before heading out for the early morning game drive (ALWAYS dress like an onion, with layers, as you need to wrap up warm for the first hour or so and when the sun hits the sky, you can perform your 'safari striptease' as you go, stopping when you are down to shorts and t-shirt please!).
If not returning to camp for lunch, you may have the pleasure of a bush picnic on the banks of a river, watching crocs & hippos side by side, or ascend to a vantage point to take in the stunning scenery.
Afternoon game drives may take in a different location and different animals, breaking for a while for your sundowner (we had a couple in full view of Kilimanjaro, which was ideal).
On the way back to camp after sunset (striptease in reverse now!) you may be fortunate to see the cats come out to hunt, in particular a pride of lions either stalking or having secured their dinner, possibly trying to ward off the attention of a pack of noisy hyenas. This is a definite highlight of any safari experience.
Heading back for a sumptuous dinner and a fireside chat under the stunning African, ink black, star filled sky, I can think of no better way to let the experiences of the day sink in and be stored in one's mind and heart before heading off to one's tent (escorted to the 'door' by a Masai warrior) before dreaming about tomorrow's delights.
Tips and Advice
In Africa, forget clock-watching. Things happen when they happen. Be prepared to be patient and savour each moment instead of trying to rush through your experience.
The most useful item in my luggage was definitely my digital camera - allows me to carry accurate memories home with me.
---
Somewhere south, just above and below the equator: There are dreams, hungry dreams being fed. There are waiting visions to challenge one's imagination. There are sacred places in these timeless lands that that will lovingly invade one's senses and quietly demolish all of one's doomed preconceptions.

The wonders that await will ask the traveller many questions for which, right now, there are no readily apparent answers. However, do not fret. Africa is not a harsh disciplinarian. On the contrary, she can deliver answers even before you may have formed the question in your mind.

Africa weaves magic.

So, go there. Stop, Look and Listen. You will be grateful that you did. And if you recommend it to other travellers she and they will thank you.

For the seeking spirit, you never have to leave her behind. You will take her with you and carry her fondly in your heart wherever you may go.

Africa delivers your dreams!
Read Kevin's full version trip report »
More Masai Mara Safari Reviews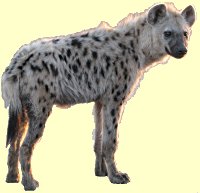 Join in and write your own page! It's easy to do. How? Simply click here to return to Kenya Safari.