Big Five In East Africa
by Bernard D. Steinberg
(USA)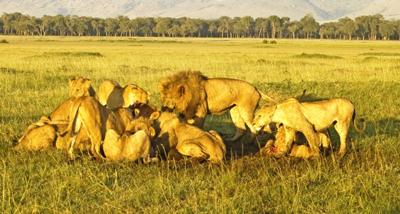 Lion Pride Feeding
One highlight was seeing more than a dozen lions having a feeding frenzy on the carcass of a cape buffalo (the photos and video captured the sights and sounds, but nothing could capture the stench).
Safari Operator Performance
We learned of Big Five Tours & Expeditions from either a travel agent or the Frommers or Fodors books.
They performed well: responded quickly to any questions or problems we had and resolved them quickly.
They had friendly and efficient personnel meet and care for us at every transfer point, even when we were whipsawed between various "airlines".
Their guides were excellent drivers, knowledgeable guides and fun companions, as were the local guides we had to use in the conservancies.
Accommodation
In Kenya: the Nairobi Serena hotel, Sweetwaters Tented Camp (Sweetwaters Game Reserve), Lewa House and Lewa Safari Camp (Lewa Wildlife Conservancy), Larsens Camp (Samburu National Reserve), Little Governors Tented Camp (Masai Mara), and Campi ya Kanzi (Chyulu Hills).
In Tanzania: Plantation Lodge in Karatu (near Lake Manyara), The Manor at Ngorongoro, and the Dunia Camp in the Serengeti, a seasonal mobile camp.
Except for Nairobi, Lewa House, and the lodges at Lake Manyara and Ngorongoro, we stayed in tented camps.
The tents were equivalent to 4-star hotel rooms with en suite bathrooms and permanent floors, but canvas and screened walls, doors and ceilings.
Only Dunia, being a mobile camp, was all canvas but still had an en suite bathroom (with a bucket shower — we learned to take quick showers).
All lodgings except for one had electricity in the room/tent for at least part of each day. At Little Governors, we could charge the batteries at the office, so we never had any problem anywhere with inability to charge our camera batteries.
Food
Most tour-package-provided breakfasts were buffets, with all of the hot and cold selections one would expect at American or European hotels.
At the tented camps, we could arrange for "bush breakfasts" which were boxed meals. We'd get an early start, and after a game drive the guide would find a beautiful spot to set up the breakfast, and the experience was wonderful.
Lunches and dinners varied, with some being buffets, some being several courses served family style, and some being ala carte.
Our only concern about the meal packages was the inconsistency about what beverages were included in the tour package. We would have preferred to know that information in advance.
Some of the properties included all beverages and hard alcoholic beverages in the package; other properties assessed separate extra charges for soft drinks, wine, and hard alcoholic beverages, some even for bottled water.
We felt that charging extra for water and soft drinks was petty, given the overall once-in-a-lifetime significant expense of this kind of tour.
Wildlife
We saw the Big Five: lion, leopard, buffalo, elephant, and rhino; three kinds of giraffe: Rothschild, Reticulated, and Masai; two kinds of zebra: common and Grevy's.
Also about 20 kinds of antelope: tiny dik-dik, Thompson and Grant's gazelle, graceful impala, blue-jean-wearing topi, kudu, sleek long-necked gerenuk, oryx and waterbuck, to the lumbering eland.
Chimpanzee, baboon and monkey; cheetah, crocodile, agama and other lizards, tortoise, hippo, and gnu (wildebeest); warthog, jackal, hyena, and rock hyrax.
We saw more birds than we could count, from the tiny multicolored little bee-eater, friendly red-headed weaver, lilac-breasted roller, graceful European white stork, beautiful grey-crowned crane, ungainly marabou stork, oddball secretary bird, vulturine guinea fowl, the fearsome and majestic tawny and martial eagles (one having just snagged a hapless mongoose for lunch), strutting kori bustard, the ubiquitous vultures, to the gigantic ostrich.
Apart from the feeding pride of lions, two other sightings qualified as highlights for us:
1) the migration of the wildebeest, with the calm and collected zebras acting as guides and police for hundreds of thousands of wildebeest on their way across the Serengeti; and
2) a pair of lions mating.
Typical Day
Before dawn, one of the camp personnel would come and wake us, and leave a tray with cookies, tea and coffee.
If an early game drive was scheduled before breakfast, we had a snack, departed on that drive, and returned mid-morning for a full breakfast.
If we had arranged a bush breakfast, we met our guide and headed out for a game drive with a stop later for breakfast in the bush, and return to the camp sometime in the early afternoon, when we would have lunch.
We'd relax in the afternoon, or take a guided bird walk, head out on another game drive, stopping for a "sundowner" (drinks and hors d'oeuvres) at a spectacular location.
Then we would return for dinner at the camp. We had one exquisite (and personal) bush dinner at the Little Governors Tented Camp.
On a few occasions after dinner we went on a night game drive to look for nocturnal animals.
In the tented camps we were always escorted from our tent to dinner and back by a guide. One night at Little Governors a hippo was grazing between our tent and the next tent as we went to dinner.
Other Activities
In Samburu we visited a native village (at $50/person for the privilege).
At Campi ya Kanzi (no additional charge) we visited a Maasai native village that had schools and medical facilities built and supported by the Campi ya Kanzi trust.
Photography
The free
wildlife photography e-book
gave us many useful hints. We had decent photo equipment and some experience with travel photography, so the book was a good review and consciousness-raiser for us.
Disappointments
The drinks situation.
We had to sign comprehensive waiver, release, and disclaimer documents at each of the tented camps. We did not mind doing that, but we assumed that the camps would meet their stated responsibilities.
At Dunia, the camp did not respond to emergency calls from our tent. It was only a nighttime invasion of thousands (literally) of army safari ants into our tent, but if it had been a serious health issue or a predator attacking the tent, the results could have been much more serious.
We were not prepared to be shuffled around between local flights and airlines in Kenya and Tanzania, because schedules on those airlines do not mean much.
If we had received a little more orientation to that practice we would not have been surprised, and would have been better prepared to roll with the punches.
We also did not expect the shakedown for cash money for "overweight bags" from an Air Kenya agent at the Kilimanjaro airport (he would not take a credit card.) It was our 7th flight in Kenya and Tanzania with the same baggage, and no one previously had said anything about being overweight.
When I told the agent that I did not have the amount of cash he demanded, he asked me how much cash I had. I counted the change and bills I had in my pocket, and he took all but one dollar.
Tips and Advice
Relative to the airline agent shakedown, I would advise having a small amount of "mug money" handy, as one is advised to have when walking in New York City.
The collectors of the US$100 p/person entrance fee to Tanzania from Kenya took only cash, only $20 bills, and then only $20 bills dated 2006 or newer.
A plastic shower cap serves beautifully as a dust protector for a camera (lots of dust on the game drives). Powerful
binoculars
and a good camera with long lenses are very important.
Bernard's Safari Details:

Rating: 9/10

Safari company used: Big Five Tours & Expeditions (make an enquiry)

Parks visited: Samburu, Masai Mara, Lewa Wildlife Conservancy - Kenya; Lake Manyara, Ngorongoro Crater, Olduvai Gorge, Serengeti - Tanzania

Safari date: February 2-23

More Big 5 Tours reviews »

More Masai Mara Safari Reviews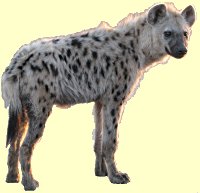 Join in and write your own page! It's easy to do. How? Simply click here to return to Kenya Safari.