Rhino Safaris Review
by Samantha Fenn
(England UK)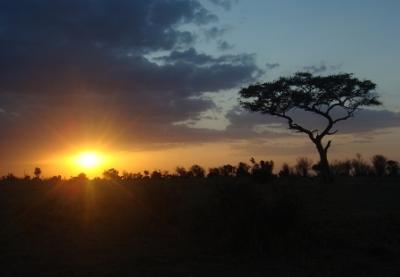 Amazing sunset
I'd rate my holiday at a 9. The wildlife was a 10, the lodges were a 10, the guide was a 10, the balloon safari was a 10... but the vehicle and the amount of travelling knocks the overall rating down to a 9.

Part 1:
Safari Operator Performance
We booked with Virgin as a friend recommended them, however we would book with a different company next time in the hope that it would be less group orientated and a bit more personal.
The actual safari company was Rhino Safaris which was fantastic, the vehicles aren't so good but this was our first safari and we didn't know what to expect.
I'm guessing they were conforming to group bookings by following other vans in the company everywhere but on the whole they were really friendly and helpful.
I would have preferred to have been in a 4x4 for the entire safari instead of a mini bus, but fortunately we did a balloon safari which was followed by a game drive! The game drive was in a 4x4 and the difference of the drive was unbelievable!
Our guide, Jack, was fantastic! He had such a good eye for spotting the wildlife, we couldn't figure out how he could tell whether a grey dot in the distance was a rock or an elephant (he very rarely had to use
binoculars
!), but somehow he managed it!
Accommodation
In Nairobi we stayed in the Jacaranda hotel. It was ok as an overnight stop but no good as a full week's stay. The hotel was very badly situated, there was nothing around it to see.
We arrived at Naivasha Simba Lodge near Lake Nakuru before evening dinner and it looked beautiful. The porters couldn't do enough to help you and although they do expect tips, we found that the actual Masai tribesmen were much more grateful for the money than the non-tribesmen so we tried to aim our bags at them!
There was a small river a short walk from our room where you could view some hippos and giraffe if you were lucky. We sat outside the bar having a nice (expensive!) drink that night when a giraffe strolled along past us through the grounds; amazing!
Next we stayed at was the Mara Simba Lodge. Again the service was amazing, the people were friendly and the surroundings were out of this world. When we arrived we walked into an open plan reception/bar. You really felt like you were truly on safari.
The atmosphere instantly relaxed you and we were ready to go explore after the 4 hour drive!
The bar looks over the Talek River which is the home to hippos, we saw 3 whilst we were staying there, and some crocodile.
Our room overlooked the river too. When we first walked into our room there were eland drinking from the river and monkeys swinging through the trees. We sat on the deck for a while just taking in the noises and the scenery, it really is breathtaking.
There is a swimming pool which is kept nice and clean but is very cold, which is actually quite nice in the Mara sun after a game drive!
The two shops are reasonably priced, I'd suggest remembering prices from the shops and try and barter with the locals in their craft shops later in the holiday if you get the chance. They will try to charge you 5x more so be careful!
Food
The food at both lodges was basically the same. All meals were buffet style with the waiters serving you soup at the main evening meal.
Breakfasts were fantastic and my personal favourite meal of the day. There were always a wide range of different tastes to experience! From fruit to pancakes, omelettes, cereals and a full cooked breakfast! The pancakes, omelettes and eggs were cooked to your liking right in front of you which was a nice touch...not to mention worth the wait!
Lunch and dinner were very similar, lunch having lighter variations of meals than the evening meal. There were always lots of salad with dressings and there was always curry on the menu. I loved trying the different types of fish that were on offer, they were always cooked to perfection and tasted much nicer than the fish I cook at home!
The desserts were to die for! Chocolate cake, lemon cake, jelly and crumble to name a few! Although my favourite was the passion fruit mousse/delight. It was delicious! It looks a little strange but it tastes soooooo good, I had seconds...or maybe even thirds!
The only downside was that because the meals were all buffet style, if you didn't get in there first then the presentation wasn't too good and neither was the food's temperature. We never had a bad experience but from what other travelers told us the buffets towards the end of the meals wasn't at its best standard so I suggest getting there early!
Typical Day
A typical day on safari for us started rather early! We woke up at 6am by a knock on the door by the lodges' porters as we requested a wake up call.
We then had breakfast at 7am and checked out at 8am (apart from the morning we had a balloon ride).
Then it was usually a 3 hour drive to where ever our next port of call, followed by a game drive and lunch. We were usually given between 2 and 4 hours for lunch, depending on where we were, before going on another 3 hour game drive in the afternoon, arriving back at the lodge in time to shower and have dinner at 8pm.
We had a couple of drinks in the bar, taking in the surroundings then called it a night at around 10- 10:30pm ready for the next day of adventure!
Tips and Advice
Save the money up to do a
balloon safari
, they're expensive but well worth the money, and let's face it... you may never go on a safari again!
Try to get a 4x4. Pricey, but they are less restricted on where they are allowed to go and you will see much more and different wildlife. We were disappointed with the vehicle we had for the safari.
Try and do a flying safari. We spent nearly 4 hours a day on the road traveling from one lodge to another (apart from where we stayed in the same lodge for 2 nights).
Try and get hold of a proper SLR camera... point and shoot cameras really don't get that good of pictures in this environment. We were lucky enough to borrow a friend's SLR camera but another couple on our safari hired one.
Take plenty of storage for your pictures and a spare battery just in case... you never know when you will come across that once-in-a-lifetime shot... it would be terrible for your camera to run out of power at the most inconvenient time!
Our solar powered charger was very useful. It charged our camera batteries, our mobile phones and ...dare I say it... my partner's PSP throughout the holiday. When our camera battery ran out halfway through a game drive we were able to swap the battery for our spare and charge that one up on whilst on our travels for when we needed it next. Also, the lodges switch their power supplies off at selected times throughout the day so power isn't always available to charge your electrical items.
I could go on forever on how fantastic my holiday was but I won't say anymore... It's time to go and experience it for yourself!
Part 2 of Samantha's safari review »
Part 3 of Samantha's safari review »
More Masai Mara Safari Reviews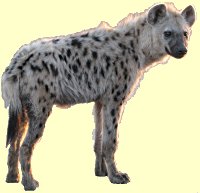 Join in and write your own page! It's easy to do. How? Simply click here to return to Kenya Safari.