Big Cats In Masai Mara
by Margarete Ardell
(Germany/UK/Kenya)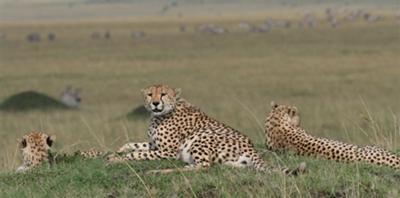 Three cheetah brothers
I was very lucky and had some spectacular game viewing. Certainly the big cats were around and I got some great photographs of leopard and lion both with cubs.
Safari Operator Performance
I have used Sunworld Safaris for many years and for many safaris and heard about them through friends.
My most recent safari was excellent, as were all others arranged during the past seven years. Although I only went to the Maasai Mara on this trip I have used Sunworld to organize trips all over Kenya.
The attention to detail is excellent and the ability to create tailor-made safaris and deliver is second to none. If things do go wrong (this is Africa) the back-up is first class; a very important point to consider when booking a safari.
The guides are very good (all have at least the KPSGA Bronze Level Guiding Badge) and if you request a birding specialist you will get one.
The fact that Sunworld is very popular with photographers (including me) and film-makers speaks volumes for the experience of the guides.
Accommodation
I stayed at Mara Bush Camp in the Maasai Mara. Consisting of ten tents located along the Olare Oruk river, a tributary of the Talek river, this camp is perfectly situated in the middle of Big Cat country.
I have stayed at Mara Bush Camp every year since it opened and it has gone from strength to strength. Now it is a wonderful combination of understated luxury with rustic touches.
Sleeping in four poster beds with duvets and a hot water bottle is very civilized. The wash-hand basins in the en-suite bathrooms are made of glass. There is plenty of wardrobe space and a writing desk with a stool should you feel like writing up your travel journal.
In front of the tent are two deck chairs and also two safari style chairs and table where you can drink your early morning coffee or tea which is brought to you by your tent steward.
There is also a cow bell which you ring to summon the Maasai Askari (guard) to escort you to dinner in the evening. As the camp is unfenced this is a necessary precaution.
Solar power is used for the lights and for heating the water.
There is one large dining tent (Mess tent) and another large tent, with the bar at one end, which serves as lounge, library and laptop and camera recharging point (ok for this there is a generator but located some distance away so you won't hear it). It's fun to sit here or around the campfire outside before dinner and enjoy a glass of something good and some snacks.
The staff are all very helpful and friendly and interested in what you have seen.
Food
At Mara Bush Camp you can opt to either take packed breakfast and/or lunch with you. I always had a packed breakfast and discussed what I would like to have in it with my guide the evening before.
I asked for porridge and I got it (sorry that is the Brit in me!). Also on offer were fresh fruit such as mango, pineapple, oranges, melon and sausages, bacon, hard-boiled eggs, pancakes, toast, yoghurts, cereals as well as probably much more and of course tea and coffee.
Lunch was a buffet style affair and usually consisted of a salad, various hot dishes for example one day we had Lebanese cuisine, another day it was Italian.
In the evenings dinner was either offered buffet style in the mess tent or weather permitting a cooking station was set up outside and we ate under the stars, a truly wonderful experience.
There was an African evening where we could sample local dishes - the Zanzibar fish soup was divine! Both lunch and dinner always consisted of three courses!
The bar is well-stocked and the wine-list interesting. I mostly drank the red Mara house wine out of the stylish Kitengela glasses. Mara wine is South African but the bead decoration on the bottle is made by women in northern Kenya.
Wildlife
I saw silver backed jackals chasing and eventually bringing down a Thompson gazelle fawn, hyenas bathing in the river, a huge flock of yellow billed storks digging for catfish in the mud, elephants on the horizon at sunset, a gnu jumping over a crocodile in the Mara river, a cheetah sitting on a termite mound bathed in the golden light of late afternoon. The list is endless.
I think the highlight was a lioness standing in the Talek river eating a buffalo surrounded by yellow billed storks!
Typical Day
I am awoken at six am by my tent steward who brings me some coffee and biscuits which he leaves on the table outside my tent. I set off on safari at around six thirty every morning. James my guide has already collected the packed breakfast from the kitchen.
We then decide which direction we will drive - usually towards the Talek to check for leopard activity. If we see leopard then we stay there, all morning if need be. If nothing much is happening then head to the area where we had seen a lioness with very small cubs the evening before.
Then down to the Mara river to check for wildebeest crossing. Will they, won't they...we are lucky, they do.
Stopping somewhere in the shade of a tree with views of the plains to enjoy breakfast. Check through the binoculars every now and then for activity.
Usually go back to camp for lunch around one. It's a chance to download pictures, recharge batteries and have a nice cold Tusker beer. I normally eat something small and try and rest for half an hour in one of the hammocks or in my tent.
By three thirty we are off again. Someone else has seen a hyena den so go to check if there are pups, on the way we come across a herd of elephant feeding.
One of the young ones mock charges us, trunk waving, ears at full sail and screeching. The elephant move on and so do we.
Out of the corner of his eye James spots a leopard. It is sitting in a bush enjoying the evening sun on its face. It gives us a large yawn and then turns tail and vanishes into the undergrowth.
It is time to return to camp and have a nice hot shower.
As we all sit around the campfire and talk about our day, drink in hand and listen to the sounds of the African night, we all agree life could be a great deal worse! High above the Milky Way decorates the sky and in the distance, somewhere towards Rhino Ridge, a lion is roaring.
Soon it's time for dinner and we descend on the buffet like ravenous predators (how can we be that hungry?). After dinner some people are checking their photographs on their laptops, others are having a nightcap.
By ten everyone is in bed tucked up under duvets with a nice hot water bottle. By five past ten everyone is asleep exhausted by the fresh air, the amazing things we have seen and probably all the delicious food we have eaten.
Tips and Advice
Read up about your destination before you go and the type of flora and fauna that exist here. It is no good searching for reticulated giraffe in the Maasai Mara; they live further north!
Do take
binoculars
.
Don't put your guide under pressure to conjure up leopards out of thin air. Not every day will be like a TV documentary, but every day will be different, there is always something to see.
Don't rush around with a list to tick off. Spend some time with what you have found. I have seen seemingly fast asleep cheetahs get up and hunt once the noisy minibuses have sped off!
My only regret is that I couldn't stay for a month!
More Masai Mara Safari Reviews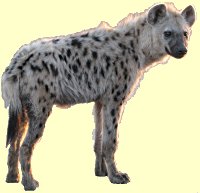 Join in and write your own page! It's easy to do. How? Simply click here to return to Sunworld Safaris.