Mara Gates Safaris Review
by Urda Rapsch
(Namibia)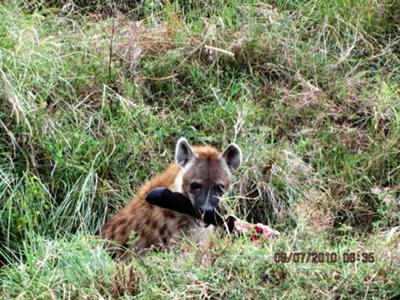 Hyena chewing on bones - Masai Mara
Especially the Kenyan guide was excellent. He was well informed of plants and animals. Had a good balance when to talk and when not. Was an excellent driver on bad roads.
Safari Operator Performance
I found Mara Gates on the internet.
They performed well. Being a new company with very little reference to be obtained I was sceptical and scared to send a 50% deposit to confirm the booking. They understood the problem and changed their requirements.
Very good service, very sensitive to customer's needs. The guides were reliable and on time every time.
The vehicle to pick us up on the Tanzanian border broke down, but arrangements were made for somebody else to pick us up and drive us to the camp outside Serengeti.
It was sometimes impossible to stick to the itinerary due to the distance or mostly the condition of the roads. Alternatives were always made to accommodate us, always to our advantage.
Both drivers had good ideas and alternatives if the itinerary did not work out.
We had to remind the Tanzanian driver at times to let the dust settle behind the car in front of us and to clean the windscreens. He started the car when we were still taking photos. (This sounds petty, but can be irritating)
We had a very experienced guide on our 1 day walk to base camp on Kilimanjaro.
Accommodation
Silversprings Hotel
in Nairobi – ok – too noisy for my taste.
Kembu Cottages
– Lake Nakuru – quite a distance from Lake Nakuru – on a white owned farm in an absolutely magnificent setting. We had a whole bungalow separate from the Farmhouse. Lovely family. We were treated with fresh muffins and coffee on our arrival and had a good meal with other tourists and a very entertaining evening. Unfortunately we only arrived just before dark and had to leave before sunrise.
Olmoran tented Camp
– Masai Mara – Was clean and quiet. The food was good and the staff friendly. The tents are a bit dark, but then you only sleep there.
Ikoma Safari tented camp
– outside Serengeti – lovely very clean camp in beautiful surroundings. Only uses solar energy. The huts are built on poles. The shower is a bit of a challenge, but otherwise we enjoyed the camp.
Rhino lodge
in Ngongoro. No running water in the first room, but without a problem we moved into another better room. Ok - but nothing special.
Kiboko Safari Camp
– at Lake Manyara – absolute a
NO GO
place. The tent was full of fungi. The bathroom (if you can call it bathroom) bare cement floors and walls, very dirty, on arrival no running water, later only cold water. The oven for hot water smoked (wet wood) right into the tent (but no hot water). The bit of plumbing was either not functioning or was broken. The toilet was leaking. Half a plastic bottle was placed on the ground to catch some of the water. The wash basin was grey of old chalk and dirt. The toilet door couldn't close.
Although we were the only guests and complained heavily we were not offered another tent and according to the guide none of the other tents had hot water (neither did we). You had to get outside the tent to switch the light off and no electricity inside to charge cameras or phones. The owner is the most thick skinned person I have seen. The food was good but the person serving had no idea how to serve food or of western eating habits.
Frijdom Lodge
in Arusha – Beautiful setting surrounded by high walls, but next to/in a very poor area where dogs barked all night.
Nice big light room. Unfortunately only hot water for one person to shower and the drains were blocked, otherwise clean and well maintained. We were the only guests, the food was good the staff was friendly.
Amboseli Sopa lodge
– About 20-30km outside Amboseli Park. Very good spacious rooms in a very nice setting. Excellent service and really good food. To be recommended.
Food
Food was basic but good and was basically the same except Sopa Lodge and Kembu Cottage.
Breakfast: Mainly English breakfast
Lunch: either a lunch box prepared by the hotel that consisted of a bit of fruit, boiled egg, sandwich, a piece of chicken and a cooldrink
Dinner: always meat, rice/potatoes and cooked vegetables.
Wildlife
We saw everything.
All antelopes,
Big Cats: lions, hyenas, leopard, cheetah
Elephants, hippos, black and white rhinos, and crocodile
Lots of birds, which are a bit underrated by the guides who seem to concentrate on lions
Baboons/monkeys a wide variety
Where do I start - we had so many great and nice sightings and it was not only the wildlife but the beautiful scenery especially Masai Mara and Amboseli.
We saw 2 cheetahs hunting a young wildebeest in Ngorongoro. The calf was between adults walking in a row with a bit of a gap between the adults and the young and the cheetahs took the opportunity to catch the calf, but within minutes after the kill, the first hyena appeared on the scene and then they came from all directions. We counted 8 hyenas. Needless to say the cheetahs hardly got a bite.
In Masai Mara we saw an adult hyena with 4 young ones next to the road chewing on bones (see photo). Very cute.
The moving herds of wildebeest and the sheer numbers of these herds and the sounds are just fantastic.
So are the big herds of buffalo and a number of species together.
Typical Day
Get up breakfast go for game drive or to the next destination. Had lunch either at the next destination or lunch box when the guide offered to take us for a whole day out instead of coming back for lunch or after a few hours. Arrived in the camp before sunset, had a shower a meal and then to bed.
Other Activities
We walked Kilimanjaro to base camp and back. The initial idea was to move a bit and not only sit, but the walk was certainly one of the highlights. The guide of many years experience walked the right pace, had a good idea of fauna and flora.
Disappointments / Regrets
Lake Manyara wasn't very exciting, combined with the lousy accommodation.
The condition of the roads especially in Kenya is certainly a negative point as it takes many hours of the very precious and limited time one has. We only saw very little of the migration although we were told that is the right time and area.
Tips and Advice
Know your camera before you leave and ensure the settings haven't changed.
If you can afford it not to travel with more than 4 people in the car (8-9 seater) could become crowded when the action is on the other side of the car.
The most useful items in my luggage were my camera and extra card and sunglasses.
What I would do differently next time:
- Spend a little more time in Serengeti and Masai Mara (we spent 2 days in each) and walk the Kilimanjaro for 2 – 4 days not 1 day (not to the top).
- Book into the typical tourist hotels, camps and lodges even if they are small. Management and state of repair seems to be better (e.g. don't laugh, but a blocked drain in the shower or bath in an otherwise good hotel is irritating, or hot water only for one person, or no place and space for the suitcase).
Urda's Safari Details:

Rating: 8/10

Safari company used: Mara Gates Safaris (make an enquiry)

Parks visited: Lake Nakuru, Masai Mara and Amboseli - Kenya; Serengeti, Ngorongoro and Lake Manyara - Tanzania

Date of safari: 4 July for 10 days

More Kenya and Tanzania safari reviews »

More Masai Mara Safari Reviews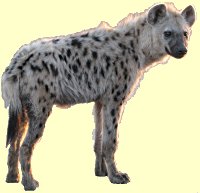 Join in and write your own page! It's easy to do. How? Simply click here to return to Kenya Safari.