Fox Vakanties Review
by Nathan van Seters
(The Netherlands)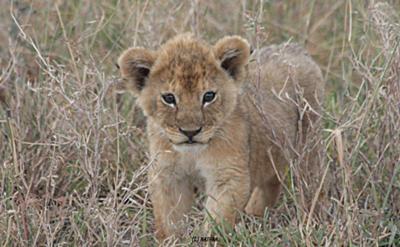 We would have missed the highlight of our tour (3 lion cubs (1 month old) playing around) if we had not been looking behind us. Everybody was focussing on a lioness laying on a big rock, while on the other side of the car the 3 cubs were playing close to the car (not more then 5 meters away from the car). Several cars had already passed this location without noticing the cubs.
Safari Operator Performance
We used Fox Vakanties (The Netherlands) to arrange everything. The local agents were Liberty in Kenya and Leopard Tours in Tanzania.
We asked brochures from several companies and this safari was the most attractive.
Fox performed as expected, it's a big and well known company, so everything went well.
And the local agents were very good. The chauffeurs/guides were excellent, I was feeling safe even during rush hour in for example Nairobi/Arusha/Dar es Salaam.
They seemed to know most of the animals (or they had a book for backup).
Accommodation
Lake Nakuru Lodge, within Lake Nakuru Game Reserve and with beautiful view over Lake Nakuru. Nice lodge, good food, friendly staff and big rooms/bathrooms.
Mara Simba Lodge, within Masai Mara Game Reserve. Beautiful lodge with good restaurant (food as well as ambience), friendly staff, big room/bathroom. Good start for game drives.
Sopa Lodge Tarangire, within Tarangire Game Reserve. Beautiful lodge, big room/bathroom with king size bed. Excellent restaurant, friendly staff.
Sopa Lodge Serengeti, within Serengeti Game Reserve. Beautiful lodge with excellent view over Serengeti, good restaurant, friendly staff (also great performers, sometimes they will sing for the guests during dinner, and it sounds beautiful). Big room/bathroom.
Sopa Lodge Ngorongoro, within Ngorongoro Game Reserve. Only lodge at east side of the Ngorongoro crater, so a beautiful sunset in the evening. Beautiful lodge with excellent view over the crater, big room/bathroom, good restaurant.
Zanzibar, Breezes Beach Club. Excellent lodge for some lazy days at the beach. Very good food and the staff was very friendly.
The lodges were perfect, no regrets at all.
Food
Overall the food is international.
Breakfast: pancakes, toast, eggs (scrambled, boiled, etc), pastry, cereals, juice, tea, coffee, milk, yoghurt.
Lunch/dinner: buffet with rice, potatoes, pasta, vegetables, meat, fish, salads or a la carte with 3 or 4 choices from a menu. Sometimes there was African food.
We had 3 lunches that were not that good. Other than these, the food was excellent.
Wildlife
It exceeded our expectations - we saw all the animals we wanted to see, we saw some action.
Lions, leopards, cheetahs, elephants, giraffes, buffalo, rhino, hippo, baboon, vervet monkey, waterbuck, gazelle (Thomson & Grants), wildebeest, jackals, hyena, reedbuck, mongoose, zebras, squirrel, hyrax, hartebeest, impala, dikdik, leopard tortoise, topi, warthog, ostrich, pelican, flamingo, marabou stork, eagles, vultures, skimmer, fowls, hornbill, oxpecker and many more birds.
Highlights:
3 lion cubs (1 month old) playing only 5 meters from car.
Cheetah hunt: 4 cheetahs successfully hunting down a reedbuck.
Leopard in a tree: less then a minute after we arrive at the scene a leopard climbs out a tree, sits on a branch looking towards us and then disappears in the bush.
Black rhino: seen only from a great distance, but special because they are rare.
Little rhino crossing the road.
Typical Day
All our days were different, sometimes we had an early game drive, or we had to leave. So there is no typical day.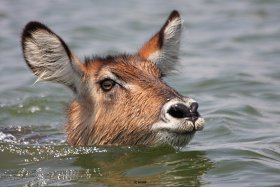 A day without travelling to another lodge looks like:
5:30 wake up
6:00/6:30 - 9:00 game drive
9:00 breakfast
10:00 game drive
14:00 lunch
16:00 game drive
19:30 dinner
21:30 to bed
Other Activities
Other activities were a visit to a Masai village. First they welcome us with dances and 'singing'. Also they performed their jump ritual. Because we were only with 4 persons it felt a little bit uncomfortable.
Then they showed us a 'typical' Masai house, were we also could ask questions. That was very interesting. Then they showed us how to make a fire, and we could try also. The visit to the Masai village was definitely not a highlight of the trip, but when you don't go you think you missed something.
We also went on a dolphin safari when we were at Zanzibar. It was a little bit disappointing because when you see a dolphin and prepare for a dive into the ocean, the dolphins have already disappeared.
There was also some time for snorkelling at a reef, so overall it was a nice break during the lazy days on Zanzibar.
Tips and Advice
I have some advice for everybody on safari. Always look behind you! Especially when there is something special to see on one side (lions, cheetah, leopard). At several occasions we have seen beautiful animals/sceneries just by looking behind us.
When we were near cheetahs (with more than 30 other cars), we saw behind us an elephant against a dark sky and yellow grass... a beautiful scene.
So always look behind you (or at the other side of the car).
The most useful items I took along on safari were mosquito repellent + my camera.
I read "
Better Safari Photography
" before the safari - thanks for the tips in your book.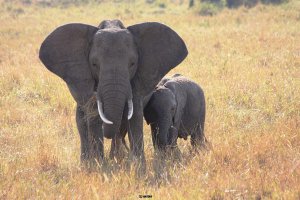 However I have some comments on your first tip: 'go on self drive safari'. Although I understand the advantages of self drive safari, I am happy that we were on a guided tour. First of all, the traffic in Kenya and Tanzania is very, very chaotic. Because we visited many game reserves we had to drive through many villages and especially during rush hour that's no fun.
Secondly we would have seen less animals on a self drive safari. All the guides/chauffeurs use radio to talk to each other, and so guide us to a hotspot. The guides speak Swahili to each other so your own radio is no option here, because I don't understand Swahili (only karibu and jambo).
I think we would not have seen any leopard (now we have seen 3).
Because a safari is for most a once in a lifetime experience it is probably more important to see all animals than to wait a couple of hours to make that brilliant picture. But when you go more often on a safari I endorse this tip.
Fortunately we had only 4 people in our jeep, and we decided when the guide could move on, so for us it was a great mix. We were driven, so the traffic didn't bother us, and the guide was in touch with other guides so we missed no action/animals. But we could take more time at a spot, and decide for ourselves when to go and where to go.
The other tips were useful, especially the beanbag was very useful to take great pictures.
I used a Canon 40D with mostly a 70-300mm lens. We also used a Canon S3 IS.
More Masai Mara Safari Reviews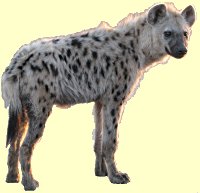 Join in and write your own page! It's easy to do. How? Simply click here to return to Kenya Safari.