Pollmans Safaris Review
by Dominic J Nardi, Jr.
(USA)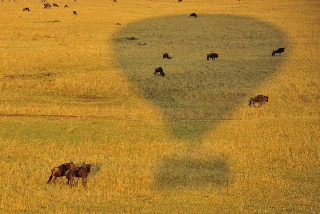 We took a hot air balloon in the Masai Mara. It was one of the highlights of the entire trip. I initially worried it would just be an expensive touristy gimmick, but it actually provides an amazing vantage point to witness the migration.
Safari Operator Performance
I went with Pollman's Safaris, booked through Go2Africa, which I found online.
I was not very enthusiastic about Pollmans in Kenya. The company seemed like a mass tourism operation, and we travelled with a fleet of 2 other minibuses.
The game drives were shorter than I expected (generally 2.5-3 hours each) and the drivers seemed unwilling to extend them or go off the script, even when all tourists in our bus agreed.
Also, the hotels were nice but not the best (see below).
However, the itinerary was great and we saw a lot of wildlife, so I can't complain too much. But I would recommend a different company (or self-guided safari).
Accommodation and Food
Mara Sopa Lodge (Masai Mara)
This hotel (and the Sopa Lodges more generally) seemed large and overly touristy. The hotel, like many in the Mara, is located in the eastern part of the park and therefore very far away from the Mara River, the best place to see wildlife.
We did take a hot air balloon to see the river, but still wish we had been closer. They do provide nice nature walks.
We had one night at the Mara Sopa Lodge with an African dinner buffet. I don't know how authentic it was, but it claimed to be traditional foods. Otherwise, we didn't really go out of our way to eat local foods.
Lake Nakuru Lodge (Lake Nakuru)
Rooms and facilities were very nice. The poolside area provides a decent view of the lake and some wildlife (buffalo, baboons). Would definitely recommend.
Despite this, the service in the restaurant was terrible, as management would not allow guests to choose their own seats but rather assigned them by safari company.
Amboseli Sopa Lodge (Amboseli)
Beautiful hotel grounds. We occasionally saw monkeys and impalas wandering the grounds. Service and food was good. The hotel is large and covers a vast area, so walking to your room could take some time, but not too inconvenient.
Wildlife
I was very happy with the wildlife viewing overall. I counted that we saw (in total for Kenya and Uganda*) over 90 species of bird and 55 species of mammal (probably closer to 110 birds since I did not keep careful track of the smaller ones).
*
Read Dominic's Uganda photo safari trip report »
Even though the game drives were shorter than I had hoped, we still saw an incredible amount (although it was my first safari and I have nothing against which to judge it).
However, we saw all of the Big 5, four of which we saw up close (within 5 meters) with few other tourist minibuses around – the exception being the leopard.
In the Mara, we saw one pride hiding under a bush with an adorable young cub playing around – for 10 minutes with no other tourists in sight! It was really magical to see such a young animal in such peace.
We also saw a cheetah eating an impala, dozens of giraffes, and of course the great migration – meaning we drove by thousands of wildebeest and zebra.
We saw a leopard in a tree, but never got a great view of him.
The Mara does have a lot of tourists, but it still does have a lot of wildlife and can provide you with some amazing experiences.
At Lake Nakuru, we saw rhinos up close. The lake itself was amazing, with hundreds of thousands of flamingo. Unfortunately, the day we went the lighting wasn't great, but at the end of the day we did see a rainbow over the lake behind the flamingos.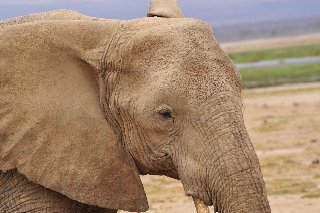 Amboseli is famous for its elephants, and we weren't disappointed. Every game drive we took, we were within a few meters of these giants.
At one point, an old matriarch approached our bus and I stopped taking pictures – out of a mixture of fear and respect. I usually don't boast about my pictures, but the ones I took in Amboseli have an amazing mixture of colours and great elephant facial expressions.
We also saw hyenas near the side of the road, as well as a hyena chase in the distance. And we did see several lions copulate, albeit from a respectable distance.
Perhaps the highlight (or "a" highlight) was spotting oryx in the park. I've loved these beautiful antelope and often watch a pair we have at a local zoo in the U.S. However, I didn't think we'd see any, and indeed our guide was shocked to see oryx in Amboseli.
I was disappointed that the game drives in Kenya were so short. I think this is partly because we went on a group tour. Given what we saw, I can't say this ruined the trip by any means, but it would have been nice to see more.
Other Activities
The hot air balloon flight. The migration involves millions of animals, and from the balloon you can actually see all of the wildlife lining the horizon. The lighting that morning was perfect and my pictures have a lively brownish-gold glow.
It was also a good chance to do some game drives by the Mara River, especially since my hotel was located so far away. We saw our only cheetah by the river, which we wouldn't have seen otherwise. Also, hundreds of wildebeest and zebra lined the roads back.
I would highly recommend the balloon, even if it isn't part of your official itinerary. It is worth the (admittedly expensive) price.
Tips and Advice
Check in advance how long each game drive is. Try to go with a small group and hire the driver personally (or go with a small tour operator) who might be more flexible.
How to pick a good safari company »
While not really necessary for your first safari, the second safari I take I am going to try to find an expert guide who has a degree in wildlife biology. I learned that occasionally professors from top universities lead trips, and that seems like it would add to the experience.
Finally, don't ignore the antelope. They are not "junk" animals and are interesting in their own right. However, often people simply overlook them. Same with birds – there are a lot of beautiful birds that most safari-goers don't even realize exist.
Get the free Safari Journal Diary e-Book with wildlife tick list »
The most useful items in our luggage were our guidebooks. I used Princeton's East African Wildlife as a sort of checklist for wildlife. Richard Estes has a longer book on the biology and behaviour of some of the larger mammals, which I found very useful. I found our guides did know a decent amount about wildlife, but even so you'll probably want to know more (and may not necessarily want a lecture on animal biology while you're trying to take pictures).
*
Read Dominic's Uganda review...
Dominic's Safari Details:

Rating: 8.25/10

Safari company used: Pollmans Tours & Safaris (make an enquiry)

Parks visited: Masai Mara Game Reserve, Lake Nakuru National Park, Lake Naivasha, Amboseli National Park - Kenya

Date of safari: August 13-26, (14 days) in total for Kenya and Uganda

More Kenya safari reviews »

More Masai Mara Safari Reviews