Kenya Safari and Mombassa
by Nina Hunt
(United Kingdom)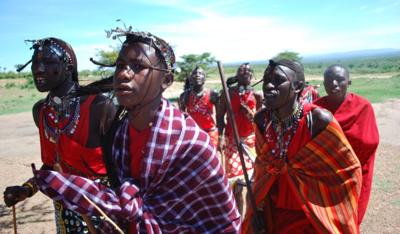 The definite highlight for me was when Julius our guide found a family of elephants with a new born calf. They mingled all around our vehicle; could have stayed there all night watching them but stayed for about an hour as no one wanted to leave but we had to in the end as the park was closing.
Safari Operator Performance
My safari was with Rhino Safaris and was allocated by Virgin Holidays as part of an all inclusive safari and beach holiday.
The vehicles were 4x4s which was a definite plus as we see many other operators get stranded in the water and mud and in fact had to assist a few as well.
Our guide Julius was amazing and nothing was too much trouble - he was friendly, informative, helpful - really went out of his way to make the trip an amazing experience.
Accommodation
On arrival in Nairobi we stayed at the Jacaranda Hotel - it was clean, pleasant and friendly.
The only down side was that we had booked all inclusive and yet had to pay for meals and drinks except breakfast. Although food orders and drinks arrived quite promptly, waiting for your change took forever - on one occasion half hour!
Shopping center was just across the road where you could get an assortment of meals such as pizza and also a supermarket. Be advised you do get hassled walking to it but once inside you're left alone.
Day one of the safari we stopped at Simba Lodge for lunch - food was great as was the staff. For the night stayed at Simba Lodge Lake Naivasha - beautiful rooms and facilities, food varied - tasty buffet style.
Boat trip to see the hippos definitely worthwhile as you see loads of them. The boat guide made it even more interesting by throwing fish for the fish eagle to swoop down - got great shots of this.
The lodge itself had great views and surroundings.
Then on to Masai Mara - the Mara Simba Lodge - food was not great... savoury far better than desserts. The view from our room wasn't great but others had a view of the river. You went to sleep to the sound of hippos; baboons tried to get into the room during the night so make sure your doors are locked.
The pool was nice - just the ticket after your morning safari and we were able to watch hippos, crocs and lizards from the bar and restaurant which had friendly staff and good service.
After 3 days we went to south Mombassa - stayed at the Pappilion Reef Hotel. After a rocky start i.e. they had mucked room booking up, the next day they sorted everything out and were given fruit and flowers to say sorry... the staff were most apologetic.
When in our proper room it was beautiful. The hotel was excellent, had everything you could need. Security was good to prevent locals approaching hotel guests, food was good - it did get a little repetitive after a while but occasionally you got a real treat: had the best stir fry I've ever tasted there.
Bottled water incurred a charge, staff were very funny and really made you feel welcome. There was a small shop in the hotel and hairdressers, supermarket isn't that far by taxi and inexpensive.
Then we went to get our flight home to find a volcano had erupted and were moved to north Mombassa, the Nyali Beach Hotel. At first this was a real shock - food, décor, staff and pool were bad... but found out the hotel was not supposed to be open as it had recently come under new management.
After two days you could see the improvements: the staff that we had initially had been borrowed from other hotels, the renovations moved at speed, the food got much better and it became a real friendly environment. I have to say it ended up being quite a highlight, so much so we're planning on going back October 2010 as I know great work has been done.
It has a shopping arcade, British looking pub; it has a nightclub but didn't get to use this as being renovated. Three pools one of which is a kids one, restaurant, good security, cafe by the pool, complimentary towels at poolside and most of all a welcoming smile always.
Wildlife
I was pleasantly surprised by the amount of wildlife I did see, so here's my list:
Zebras, flamingos, hyenas. Baboons as well as three other types of monkeys, cheetahs, black rhinos, white rhinos. Elephants, giraffes, lions, lionesses, crocodiles, lizards, warthogs, emus. Buffalo, antelope, impala, wildebeest - in fact everything apart from leopard.
I was really lucky to see some lionesses make a kill, and two male lions walked around the side of the vehicle close enough if you reached out your hand you could have touched them.
The black rhino was a family with a baby - felt privileged to have seen them as they're usually so shy.
Typical Day
Wake around 5am, breakfast then out for the morning safari as sun began to rise - breathtaking sunrise and sunsets.
Then return to the lodge for lunch, have a swim, then out for evening safari return around 6.30pm for dinner. Then drinks with the friends we met. Our guide Julius would join us too then go to bed around 10 exhausted to get up and do the same next day.
Apart from one day we went to a Masai village which was interesting watching them do the welcome dance and going into the chief's hut and meeting the children to give them our gifts of pencils and pads.
Disappointments
Only disappointment was the fact that we didn't realise the extent to which tipping is expected and although we went with fully inclusive, this was not actually the case until we went to beach holiday side in Mombassa as all drinks apart from tea/coffee/juice with meals had to be paid for. If we had known we would have incorporated it into the budget.
I was surprised at how many Masai villages were in close proximity to each other; I expected them to be miles apart. Also how easy to spot wildlife it was; also because of time of year we went it was very green and grass quite long totally unexpected after watching TV programs.
Photography
The tips in your wildlife photography e-book were extremely useful, i.e. what to pack what kind of lens etc it helped me to get some amazing shots!
Tips and Advice
When buying souvenirs start at a ridiculously low price - they will not be insulted as they start ridiculously high.
Take pens, paper hats etc for the kids as it can be heart wrenching if you have none to give.
Make sure you take water with you wherever you go.
Don't wear expensive jewellery if going to Mombassa.
Make sure your vehicle is air conditioned - ours was not and we melted.
Be warned roads are more mud and rocks... if you have bad back you will suffer after being tossed around.
Sun block is a must and after-sun - even on overcast day I did not take long to go red.
The whole experience from safari to beach holiday was amazing. The people the warmest I have ever met. You do get some people that think you are from UK so must be rich: I was looking to sponsor a child through school whilst over there and this took me to near the end of my holiday to find someone, as you do find some people are not particularly honest or trustworthy... same the world over.
I fell in love with Kenya whilst there and really look forward to my return in 3 weeks this time staying at a village and working in a school.
Have fun and learn a few basic Swahili greetings before going and you will be rewarded by a real genuine smile.
Nina's Safari Details:

Rating: 10/10

Safari company used: Rhino Safaris booked via Virgin Holidays (make an enquiry)

Parks visited: Kenya: Mombasa, Masai Mara and Lake Nakuru

Date of safari: April 5-10

More Kenya safari reviews »

More Masai Mara Safari Reviews