Kgalagadi Review
by Karen Dreyer
(Melkbosstrand, South Africa)
Sunset in the Kalahari
We spent two nights in Twee Rivieren, one night in Kalahari Tented camp and two nights at Nossob. We saw lion twice and also had a sighting of a leopard and three cheetahs.
Logistics of the Trip
We went to the Kgalagadi Transfrontier Park in South Africa and Botswana.
It was a self drive safari that I organised myself.
We left Cape Town on Friday 2 April and stayed over in Okiep.
On the 3rd of April we drove to the Augrabies National Park where we stayed over for one night. The falls were of average volume, and again it was very hot.
(This year the Augrabies reached its peak on 9 February - Ed. Source Go! Magazine - see video)
We entered KTP on Sunday 4 April and left on Friday 9 April.
On Friday night we stayed over on a farm near Brandvlei in the Upper Karoo. We returned home on Saturday 10 April.
Accommodation
Okiep Hotel - nice, clean and neat. It was 36°C but fortunately our room had air-conditioning.
Twee Rivieren - we had a chalet with four single beds, air conditioning, shower and separate toilet. Very clean and fully equipped with crockery, cutlery, two plate stove, fridge/freezer and microwave.
Kalahari Tented camp - A safari tent with four single beds, shower, toilet and a fan. Separate, fully equipped kitchen area with two plate stove, fridge with small freezing compartment. The camp is not fenced and one should be very careful of the animals. We were visited by a hyena - approximately 10 meters away.
Nossob - We had two separate two bed chalets. Fully equipped with a fan. Nossob turns off all power after 11pm and it seems to turn on again around 6am. It can be very hot but all the doors have bug screens and it helps to sleep with them open. Nossob has a waterhole and hide that is lit at night.
Wildlife
Apart from the cats, we saw oryx, blue wildebeest (gnu) and springbok which were daily occurences as well as ostriches and black-backed jackal.
There are plenty raptors and the birdlife is prolific.
A highlight for me was definitely the mating puff adders in the road near Nossob. This time of the year there are many snakes ... we had four sightings of snakes in the road.
Tips and Advice
All the chalets have their own braai area and come fully equipped with bath towels, dishwashing liquid, tea towels, etc. No need to take all that along.
Twee Rivieren has a very good shop and Nossob has a basic shop for water, cold drinks, etc. No shop at Kalahari Tented camp but all three these camps have swimming pools.
It can become very hot ... we had maximum temperatures of 35°C on three days.
At night you must spray an insect repellent - plenty of insects!
For this time of the year I would only pack light
clothes
that can be layered. The morning drive with the field guide at Nossob was very cold - open vehicle and very informative!!
The park is very big and all roads are gravel. Allow enough time to travel between camps. Although the speed limit is 50km per hour the roads may not be in good condition depending on the weather and whether the roads have been scraped. It gets done once a month. It took us four hours to travel 60 km even though the roads were in good condition. There is so much to see and we also had various picnic breakfasts at the picnic spots.
Always carry at least 10 litres of water with you. Sometimes you are the only person on a road for hours. In case of breakdown stay with your vehicle! At all times you have to have a permit for driving out. It ensures that people know in which direction you are heading in case of breakdown - do not ignore this precaution!!
I would also carry extra toilet tissue with me at all times. All the picnic spots have toilet facilities but because of the distances they are only serviced once a week.
Always drink bottled water - the park water is very brackish and not really good enough for human consumption. All the chalets are equipped with filtered water but at the picnic spots water is not fit for consumption even when boiled.
The access road to the park is now a tarred road and it makes travelling to the park very easy. Enjoy!!
Satellite map and distance calculator for Kgalagadi...
More South Africa Safari Reviews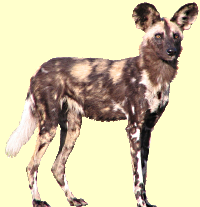 Join in and write your own page! It's easy to do. How? Simply click here to return to Safari Review.