Rhinos and Battlefields in KZN
This was definitely the trip for rhinos, we saw 33 individuals in total: 6 in St Lucia, 3 in Ithala and 24 in Hluhluwe-Umfolozi. Most we saw from fairly close quarters and so it was easy to identify them as white rhinos.

Accommodation and Food
July 14: AfricaSky Lodge, Jo'burg
We've stayed here before and weren't disappointed as it's an excellent place to stay. We picked a hire car up at the airport and it was an easy, short 10 minute drive to AfricaSky. Described as a guest house with about 16 rooms, again the rooms are excellent and so are the welcome and the service.
We had dinner here, a great fillet steak. Breakfast included a choice of cereals etc and cooked breakfast made to order.
July 15: Tendele Camp, Royal Natal Park, Drakensberg
We drove down from Jo'burg and stopped one night here to see the Amphitheatre.
The chalets here were quite nice if a little basic but that's more than made up for with the views, which are spectacular.
The baboons can be a real problem if you forget to keep an eye on them and make sure the doors are all locked. After we parked up and unloaded they tried all the doors and the windows on the car. We had to unscrew the short arial to save it from being chewed beyond recognition. The baboons also know how to get in the sliding doors and how to try the door handles. They won't come in if you're inside but they are so intelligent that if they see you round the back of the chalet they'll zip round the front and get inside in a flash, even if you think you can out run them! Fortunately, they only pinched a packet of tissues!
This was a self-catering chalet and there is no restaurant here so you need to bring all your food with you. The chalets are fairly well equipped though and have a fire grate so it's nice and cosy, especially if you visit in the winter like we did. Wood is available in the site shop. The nights and early mornings can be very chilly.
This was really a bit too far off the main road for a one night stay but I'm glad we saw the amphitheatre and the baboons were quite amusing.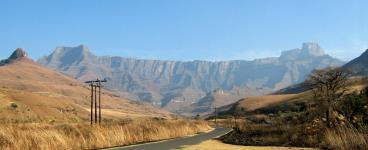 July 16-17: Zeranka Lodge, Umhlanga Rocks
We drove down to stop just north of Durban for a couple of nights. We stopped off on the way at Karkloof Reserve to do a zip-line through the forest with Karkloof Canopy Tours. This was great fun and took a couple of hours.
We got to Zeranka Lodge about 4pm. Another excellent guesthouse, just back from the beach and only a short drive from Umhlanga Rocks and the Gateway Shopping Mall. The rooms are very nicely appointed and some have self-catering facilities. The guesthouse provides a good breakfast but not dinner. There are plenty of options for dinner in Umhlanga though; we had great steaks at the Butcher Boys restaurant.
The Gateway Shopping Mall is huge and definitely enough to keep anyone busy for half a day and the Natal Sharks Board is also worth a visit. The tour, including the shark dissection, is very interesting.
Umhlanga Rocks has a nice promenade for a leisurely stroll.
July 18: Log cabins, Cape Vidal
We drove up the coast past lots of sugar cane plantations to St Lucia. We drove through the St Lucia Reserve and got some good sightings on the way to Cape Vidal, including a group of 6 white rhino.
We were booked into the KZN Wildlife log cabins for two nights but sadly the one we had was quite run down and so we only stayed for one night.
The glass in the veranda door was badly broken and taped up with brown packing tape. The rings on the cooker top were completely rusted, as were the ceiling fans. The furniture was very rickety and everything looked and felt grubby. The bed linens were clean but very old.
I wouldn't recommend these cabins.
The location, however, is lovely, just back from the beach you can hear the surf constantly. I was a little freaked by the squeaking and scratching in the cabin roof but once I realised this was bats (and not mice) I was ok and we spent the evening watching them as they swooped in and out of the veranda light.
The forest was also alive with fire-flies which made it look quite magical. In the morning we were visited by a lovely samango monkey, then a troop of banded mongooses and a red duiker.
We decided to look for some accommodation in St Lucia town for our second night and did another drive through the reserve on the way out, sighting a pod of hippos in the lake.
July 19: Amazulu Lodge, St Lucia
In St Lucia there is a huge range of accommodation and we decided on a room at the Amazulu Lodge. This looks like a new lodge and it has a small swimming pool surrounded by a tiered garden and it was nice to spend a relaxing afternoon sunbathing by the pool.
The room was very clean and nice and the price included breakfast in the Lapa; cereals, fruit, pastries and eggs to order. There are plenty of places to eat in St Lucia for lunch and dinner.
July 20: Hilltop, Hluhluwe
From St Lucia it's a relatively short drive to the Hluhluwe-Umfolozi Reserve. We drove through up to Hilltop camp to stay the night in a 2-person chalet.
The views from Hilltop are great and there's a short walking trail from the camp. It was quite exciting to hear an elephant browsing just a few feet away from the path, then to catch a glimpse of him through the trees.
The restaurant here was a nice change from self-catering, although the chalet was really well-equipped and well-maintained. I would definitely recommend them.
We watched the samango monkeys, baboons and saw bush-babies from the veranda and also heard the lions calling. Bushbucks seem to be common around the camp.
July 21 - 22: Mpila Camp, Umfolozi
We drove to Mpila Camp in the Umfolozi side of the reserve where we stayed in one of the safari tents. This was great fun. The tents were brilliant, although the kitchen had seen better days. There were lots of nyala around, even a mother and fawn walking right next to the tent.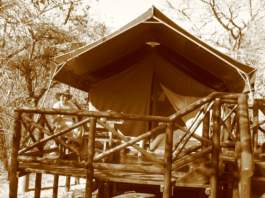 It was quite disconcerting when we booked in to be told don't leave the meat unattended on the braai as the hyenas might pinch it. I didn't really believe we would see the hyenas until I saw the fridge door with all the teeth marks down the edge!
Later that night, after we'd eaten and the braai had died down we were visited by a hyena which was actually quite shy and disappeared into the dark as soon as we shone the torch on him. Later we were surprised to see a very large bush pig which did a loop round the whole tent area looking for food and was quite unconcerned by our presence. Then, a genet came to call.
The second night we got another very large hyena (probably a female) and the genet again but sadly no bush pig.
You need to be prepared here to bring all your food with you (and remember to lock the fridge and the cupboard). Also a must is a torch as the electricity generator is turned off at 10pm each night until 8am the next morning. Although, on our second night the lights went off just after 8 o'clock (right after we'd seen the hyena) and that was it for the night.
July 23 - 24: Ntshondwe, Ithala Reserve
We drove north to Pongola and then to Ithala Reserve for our next two nights in a self-catering chalet at Ntshondwe. This was a lovely chalet, well looked after and with a TV and fire grate (good for the chilly nights again). There were lots of dassies (rock hyrax) around soaking up the sun.
This was a very nice site with a restaurant, coffee shop, curio shop and swimming pool. We ate in the restaurant both nights and the food was very good; one night a buffet and the second a la carte (beautiful sole). Self-catered for breakfast and lunch.
We took two if the short walking trials from the camp up to view points and my, what a view. The scenery here is spectacular.
July 25 - 27: Dundee
After Ithala we spent three nights staying with friends in Dundee but while we were here we visited the Talana Museum, which had an interesting mix of exhibits and kept us busy for a couple of hours.
We went to the battlefields with a registered KZN guide, Mike Nel, who was absolutely brilliant. We visited Isandlhawana and Rorkes Drift, both battle sites from the Zulu-British war. Mike recounted the events of the time in a very moving and totally absorbing way. It was very atmospheric actually sitting on the very battlefields and hearing the stories told from both the British and the Zulu perspective. I would highly recommend this.
More KZN battlefields reviews »
July 28: AfricaSky Lodge, Jo'burg
Final night here to chill out before our flight home.
Guide your own safari (how to do it, where to book, when to go...)
Wildlife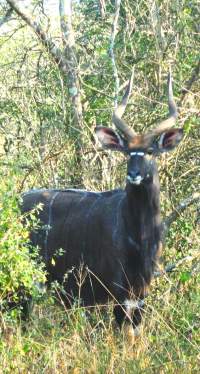 As mentioned above, we saw a lot of white rhinos. Three we saw from a fair distance and in heavy bush so it was impossible to get a positive ID, they may have been black but we'll never know.
New sighting for us were the samango monkeys, giant bush-babies, nyala and the bushpig. We were really pleased to see samango monkeys, as they are only found in a few places. The nyala were also a highlight as the females are so pretty and the males are colourful and impressive.
We saw lots of zebra, wildebeest, waterbuck, impala, buffalo and warthogs.
In Ithala we watched two male giraffes do some neck bashing and also encountered a very young giraffe with his mother. We also saw eland at Ithala, and of course the dassies.
Seeing elephants is always a highlight for me and we saw three different elephant herds in Hluhluwe. We also saw tsessebe, reedbuck, red duiker, bushbuck, blesbok, hippo, hyena, baboon and vervet monkeys.
We saw lots of birds (too many to list) and bats (too fast to identify).
Although we heard the lions on a number of occasions we didn't see any of the big cats which was a shame but we did see lots of other wildlife.
Typical Day
No two days were the same. We tried to do our game drives as early as possible but sometimes we couldn't always do that. Unusually, most of our best sighting were not actually during the early mornings or late afternoons.
Other Activities
We did the zip-lining described above and I can totally recommend it. We also visited a Zulu village with our KZN guide. This was also very interesting, seeing how they mix modern with ancient. We saw the hut built especially for the ancestor's spirits.
I was surprised to find that visiting the battlefields was a highlight. I think this was because we had such a brilliant guide. Also the zip-line canopy tour.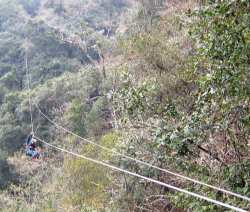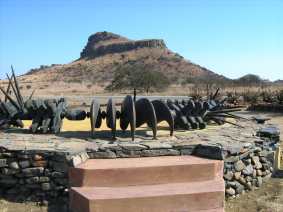 Disappointments
We were very disappointed by the condition of the log cabin at Cape Vidal and subsequently changed our plans so we didn't have to stay two nights as one was enough.
As usual we planned a little too much into our time and on reflection we should have stayed in fewer places and for longer periods as it ends up being quite tiring constantly moving on and living out of a suitcase.
Everything we read indicated that the roads in the reserves are generally ok for saloon cars (except for designated 4 x 4 trails). However, we found a lot of them only barely drivable in a saloon and the constant rattling over the rough ground was quite wearing after a few days. My advice would be to hire a 4x4 if you can as this would be much more comfortable.
Tips and Advice
I was a little worried about driving ourselves around but needn't have worried as we didn't have any problems (apart from a slow puncture in Ithala). The main roads were all in pretty good condition and outside of Jo'burg just so quiet compared to UK standards. From that respect they are a dream to drive. We did think the dirt roads in Hluhluwe-Umfolozi and Ithala were quite rough on the saloon car - we hired a Nissan Tiida. In some places we were only just able to manage as there were some really deep ruts. To this end I would advise you hire a 4x4.
Remember to pack: binoculars and for Mpila, a torch.
FULL SAFARI PACKING LIST for your own rhinos and battlefields safari »
Rating
8/10.
We had a great holiday and thoroughly enjoyed ourselves. SA is such a beautiful and diverse country.
| | |
| --- | --- |
| Safari Location: | South Africa: Johannesburg, Greater St Lucia Wetlands*, Hluhluwe-Umfolozi Reserve, Ithala and the battlefields in KwaZulu-Natal (KZN) |
| Safari Company Used: | Self-drive tour |
| Duration: | 14-28 July for 2 weeks |
| Traveller Details: | Yvonne Fox and her husband from the UK |
| Rates & Availability: | Plan your own safari. enquire about a self-drive |
More Kruger Park Safari Reviews