Passionate Guide Makes All The Difference
by Julia Sullivan
(Australia)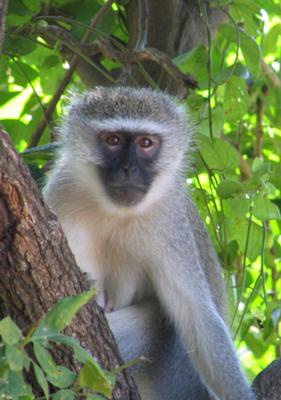 Vervet monkey - ©www.african-safari-journals.com
One of the leopard sightings was particularly amazing because we were the ones to find it! Our guide told us that the monkeys were using alarm calls which mean that a predator must be around. We all then had our eyes peeled and were lucky enough to spot the leopard.
Safari Operator Performance
We used Bearded Heron Safaris. We found them online.
They performed brilliantly from the initial contact right through to the end of the safari.
Communication via email was excellent, always prompt and efficient.
Gordon (the safari chef) an all round good guy was always waiting back at camp with a lovely meal or snack and our favourite drink ready to go.
Neil (the guide) was passionate, knowledgeable, witty and extremely funny. He was always intuitive to the needs of the group and went the extra mile to ensure we all achieved what we wanted on the safari.
The highlight was the rest of the group! Travelling with strangers can be a worry, but on safari you automatically have lots in common with your new friends.
Our group had 4 Australians, 2 from England and 2 from the USA. The group got on famously and lots of laughs were had!
Tears were even shed when saying our final goodbyes at the end of the trip!
Another highlight was the excellent accommodation in the Kruger.
Finally, I would have to say that Neil the guide and Gordon the chef were truly amazing and made the trip for all of us.
Accommodation
Berg en Dal, Satara, Talamiti, Byamiti. All camps situated in the Kruger.
My favourites were the bushveld camps (Talamati & Byamiti) as they were smaller, had heaps of character and just lovely settings.
Food
We always got the day off to a great start with hot tea and coffee and the most delicious rusks prepared by the guide's mother!
Breakfast was served after our morning game drives.
We feasted on eggs, bacon, beans, bacon, sausages, pancakes, toast & juice. Yum!!!
A light lunch was served usually around mid afternoon before our afternoon game drive.
Dinner (all traditional South African fare) was cooked on the braai and always delicious!
Wildlife
What wildlife did we not see????
We saw soooooo many beautiful animals.
Heaps of elephants and rhinos which was a real treat.
One day we were enthralled for at least an hour watching a standoff between three elephant bulls that appeared to be interested in the same cow. One of the bulls ended up walking off after a while and it was down to two bulls. Eventually the larger bull charged the (slightly smaller – but still enormous) bull. He ran off but copped a tusk in his rear end for his trouble.
Another highlight was the birdlife! It was amazing!!!! Having not previously been interested in birds at all, I was so surprised to find myself actually looking out for new and interesting species.
We saw huge herds of buffalo, including a massive herd at sunrise one day which was a spectacular sight!
We were blessed to see lots and lots of lions and even managed 3 leopards!
I think my wildlife spotting highlight would be when I and another guest stayed up until the early hours sitting in the hide at Talamati camp. The hide overlooked a floodlit waterhole.
During our time in the hide we saw heaps of elephants (I think the count was 26!), waterbuck, impala, rhinos, hyena, honey badger, duiker, LIONS!!!! and LOTS more animals.
It was an amazing night, each time we thought we should retire for the night more animals came in and we just couldn't leave.
Typical Day
Early to rise, coffee and rusks, heading off on our morning game drive as the gates to the camp opened.
More drinks and rusks at a rest stop during the morning game drive (or in the vehicle if we were watching something special).
Head back to camp anything from mid to late morning and enjoy a lovely cooked breakfast. Then there was some down time at the camp until mid afternoon, a light lunch and then head off for an afternoon game drive.
Return to camp happy and hungry and ready for a delicious dinner!
Tips and Advice
Look no further than Bearded Heron!
The most useful item in my luggage? I guess most would say their camera, but I will say a good sports bra! It can get a little bumpy in the truck!
More Kruger Park Safari Reviews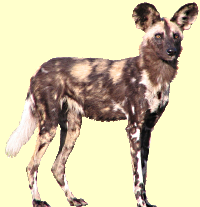 Join in and write your own page! It's easy to do. How? Simply click here to return to Africa Tour Operators Reviews.