First Time Self Drive Safari
by Skye Kenney
(South Africa)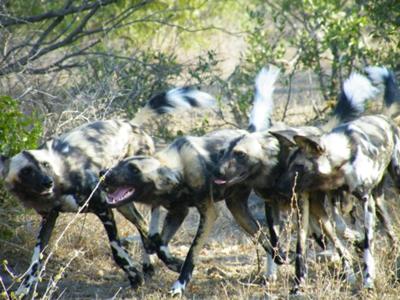 Close encounter with wild dogs
The freedom of a self-drive safari was great!! It allows you to go when you want, where you want. We could stop when we wanted and it was fabulous. We made our own plans and then changed them as we felt like it.
Logistics
We did a self drive safari.
We stayed at the park rest camps Berg en Dal, Skukuza, Letaba, Satara, Biyamiti.
Food
The restaurants are quite terrible, so we did self catering.
We had local biltong - kudu and impala.
Wildlife
What didn't we see!! By 8am on our very first day we had seen all the big 5 except rhino, which we later saw at 11am!
I wanted to see the big 5, but also the very rare animals and nocturnal animals that aren't always spotted!
We saw side striped jackal, honey badger, civets, and genets!
Our first day was just amazing - big 5 by 11am and then the wild dogs!
We had already seen a leopard get chased up a tree by a wild dog, but it was very far away and not possible to get any photos.
We spotted a pack of wild dogs at about mid day that were quite close to the road, but fast asleep under some trees, and difficult to see - they just lay there and didn't move an inch.
On our way back to camp later that afternoon we decided to check if the dogs were still there. They were!! And they were getting ready to go hunting and were all excited and jumping around and playing. They make such an amazing noise, not like any domestic dog!! There were about 7 of them, and three of them were playing and actually bumped into our car!! We were so close to them that we could hear and even smell them- unbelievable!
This was my first trip to a game park - and the very first day!!
On our final day as we were exiting the park we saw a leopard in a tree literally 1km before the exit gate - what luck!
Typical Day
A combination of excitement and hyenas laughing wakes me up at about 4:30am, it's just starting to get light.
I prepare some sandwiches for the days' drive and make some tea.
A few minutes relaxing on the patio listening to the sounds and looking for bushbabies in the trees, and then it's time to pack the car for the day's drive - cameras, water, food, flask, animal and bird books, and
binoculars
.
The gates open at 5:30 and the sun is just starting to peak through.
First a hyena mum and two babies cross the road right in front of us! We drive slowly and can see that they are lying just off the road - their big tummies tell of a fortunate night's hunting.
There aren't a lot of cars on the road and it feels like we have the park to ourselves. We pass the usual - impala, kudu, zebra, wildebeest, elephants, duiker, giraffe, steenbok, nyala, buffalo, warthog. We have been so spoilt at the park so far that we no longer stop at the sightings of what we call the "usuals".
It's breakfast time and we stop off at one of the many stunning dams that Kruger has to offer.
It's tea and rusks for breakfast, while we watch the crocs and hippos in the water. There is a stunning fish eagle on a dead tree in the middle of the dam, and a kingfisher flying around overhead.
30 mins later we head off towards in search of more.
It's not long before we hit a traffic jam and ask what everyone is looking at - it's a pride of lions on the rocks ahead and they have cubs!! We wait and finally get a good parking space and switch off the engine to have a look. The cubs are so adorable, trying to play with mum, who just wants some peace and quiet!!
It's now almost lunch time, and the temperature is getting higher and higher, about 33°C so far - thank goodness for aircon!
Lunch is at one of the many great picnic spots in Kruger where you can either bring your own or buy some food there. We opt for the famous Buffalo pies - delicious and something different!
On the road again and we spot some cars on the side of the road - a lion kill!! There are 3 lionesses and two young males are asleep under a tree, but they are keeping an eye on the giraffe carcass lying just a few feet away. A hyena is getting too close and out of nowhere a huge male lion chases it away. We didn't even see the lion in all of the tall grass.
We spend a while at the lions, watching them take it in turns to get up and have a nibble on the carcass, and at one stage 3 of them are having a tug of war with a piece of the thigh - this is real Africa! But it's getting late and it's time to head home - the camp gates close at 6pm.
On our way home we see 4 different pairs of white rhino, one with a small baby!
Then just 500m from camp we hit a massive herd of elephant crossing the road. We've had a few of these before and we know that there is nothing to do but be patient and let them cross. Before we know it there are elephants crossing in front and behind our car - we are literally in the middle of the herd and there's nothing we can do!!
We just stay calm and quiet because if we upset them then it could mean trouble! We can't even see anything out of our windows except big grey legs and trunks!! You can feel the vibrations of them walking! It was both exhilarating and terrifying, and as soon as it's clear we head for home!
Back at camp we relax on our wonderful patio and take in the stunning views of the river in front of us and having a look at the day's photos.
Across the river a family of baboons is playing and there is the tiniest baby I have ever seen. We can also see waterbuck and nyala having a last drink for the evening.
A quick steak on the fire and it's bedtime. I'm asleep by 20:30!! But in the Kruger you need to get a good night's sleep, and we have an early morning guided game drive organised for tomorrow morning at 5am!
Other Activities
Guided night time and early morning safaris - absolutely amazing.
Because the camp gates close at 6pm and open at about 5:30 am, the only way to see the nocturnal and more elusive animals is to go out with a ranger in the evening or early morning.
They are fabulous and so exciting.
Tips and Advice
This was our first time staying in the Kruger park, and my best bit of advice is to do some research - go onto websites and forums/blogs, and
ask the experts
.
Kruger
is a huge place, and a bit of forward planning goes a long way. There is a lot of
info available
and a lot of people who are happy to help.
Buy most of your food outside of the park. The groceries available inside the park are not always great, and the prices are higher.
Although there are ATM's in the park, always carry a bit of cash in case of power failures or problems with the machines. Not all petrol stations accept cards.
Obey the
park rules
or be fined heavily. They are there for a reason and there is always someone watching, so don't break the rules.
The best game viewing time is early in the morning and early evening.
Remember useful items such as a sharp kitchen knife and a good book!
All of the
accommodation
is self catering. Although you are supplied with the essentials, there is nothing worse than preparing a meal with a blunt knife!!
Anna's Safari Details:

Rating: 9/10

Safari company used: Self drive

Parks visited: Kruger National Park in South Africa

Date of safari: November

More Kruger Park Safari Reviews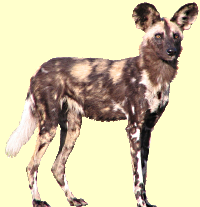 Join in and write your own page! It's easy to do. How? Simply click here to return to South Africa Safari.