Private Group Self-Drive Safari
by Joni Sharps
(USA)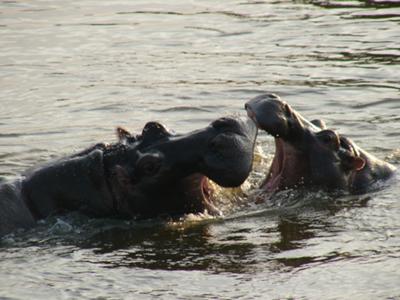 Hippos in our back yard
Trying to get out of the park at sundown going toward the Orpen gate was stressful yet amazing. Every breed seemed to parade right across the road in front of our car, making it impossible to get out on time. The baboons were lying all over the road, the elephants, giraffe, wildebeest, etc. decided this was time to cross the road! It was great!
Safari Company Performance
Wilma (
African Safari Journals
) arranged for us to have both a guided morning and a sundowner game drive in Sabi Sands through Big 5 Country Tourism. Then we did a "self drive" safari through Kruger - one full day and two half days.
They were very informative, easy to understand, and thoroughly likeable. We would have like to have seen a different area on the second outing.
Our group consisted of 10 people. Most (8) of us arrived first and rented small Toyota SUV's. The last two to arrive rented another small sedan.
Accommodation and Food
We stayed at Sabi River Sun in Hazyview. It was wonderful. Hippos, monkeys and crocs in the back yard!
Usually we had a snack bar or rusk for the early morning followed by breakfast around 9-10, then made sandwiches for afternoon snack and dinner in Hazyview.
We dined at a wonderful steak house with Wilma & Bruce in Hazyview called Pioneers Butcher Grill. It was so nice my husband and I went back alone for our anniversary, when I was unable to go on the sun downer.
We dined for dinner two nights at Sabi River Sun (where we were staying) which was also very nice, especially the warthog!
We also went to the Shangana Evening Festival. We had what I think was traditional Soshanga food in a small round hut. The dancing and entertainment was very good.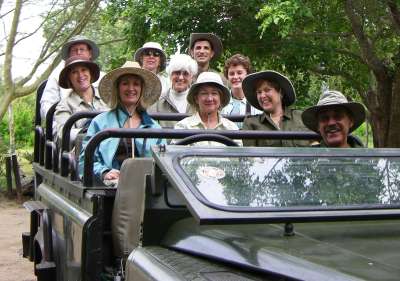 Wildlife Highlights
The hippos at Sabi River Sun put on a wonderful sundown show for us the last evening. Every day was full of surprise sightings.
I think we were very lucky the first day, we saw everything except a leopard. In fact, the leopard was the only one of the big five that we did not see at all (so sad, we were very disappointed).
Our lion sighting could have been better, but a lady in the middle of the road with a huge camera lens was tying up traffic and totally inconsiderate of anyone else around.
I suppose we should have been more patient, but she was ridiculous, we waited at least 10 minutes for her to move even an inch and she never moved at all.
We had great sightings of warthogs, Cape buffalo, hyena, giraffe, zebra, kudu, rhinos, impala, baboons, monkeys, birds, crocs, and more.
An added bonus was the fact that we saw babies of every breed except for crocs, birds and turtles. The babies were adorable!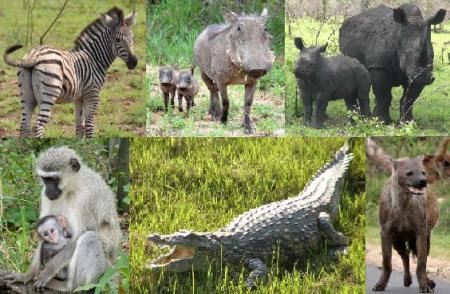 Typical Day
We woke up around 4-4:30 every morning, got to the gate or Sabi Sands about 5:30-6:00. We drove around sighting animals only breaking for meals or restrooms.
We usually got back into Hazyview after dark. Had dinner, drinks, conversation and went to bed so we could do it all over again the next day!
Other Activities
We also visited Camp Jabulani for an elephant back safari, Bourke's Luck Potholes, Blyde Canyon and the Shangana Village.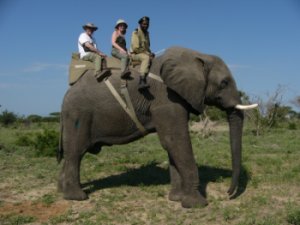 Tips and Advice
Allow plenty of time to get out the gate in the evening!
Eat at Pioneer Butcher's Grill, stay at Sabi River Sun, stay longer (we wish we had stayed a whole 7 days in Kruger area).
Ask Wilma
for help. She is a wealth of information and so helpful.
If any one goes to Camp Jabulani, they should know that they make a video of your outing and then show it to you afterwards. You can purchase it for a souvenir. But this adds at least 30 minutes to the experience. So you should not try to schedule another activity too soon afterwards. The boat trip in the Blyde River Canyon is beautiful, but not near as exciting as driving through Kruger.
The most useful items in our luggage were zip on zip off pants, camera, travel guide, because the car rental companies did not have maps. We made copies of the maps in our guide book and passed them out to the others in our group.
More Kruger Park Safari Reviews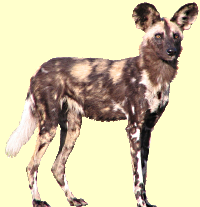 Join in and write your own page! It's easy to do. How? Simply click here to return to South Africa Safari.