Magnificent Kruger Safari
by Kevin Stalder
(USA)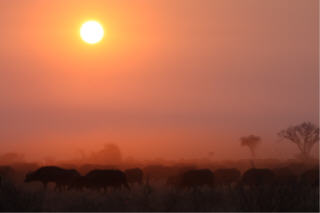 Kruger morning rush hour
A male lion feeding on a zebra was a highlight and the first of the big five we spotted about 15 minutes into our safari the first afternoon when we arrived.
Safari Operator Performance
The performance of Neil and his team was top notch.
As a guide, Neil presented a unique look at the Kruger that I am convinced could not be achieved by any other outfitter. He has years of experience in the park and with the wildlife and is extremely excited about sharing it all with group.
He was quite knowledgeable in all areas of interest from plants and trees to wildlife and even birds.
Guide books were on hand at all times to ensure we all had the tools we needed to identify species and see how important a subtle difference can be.
His interest in animal behaviour resounded throughout our time together and helped put all the pieces of the wildlife experience puzzle together.
That added with his extraordinary sense of humour created an exciting and welcoming environment of learning…not just viewing.
The other member of Neil's field team was Gordon.
He was in charge of all things back at camp, and we wanted for nothing. Glasses never went empty and the food was the quality we had only hoped for…and that never happens.
Tina Heron, back at the home office was able to work out additional details for us at moment's notice and it is very clear that this well oiled team LOVES what they do.
Oh, and the breakfast rusks…I would go back just for them!
Our group was from all over the world and EVERYONE was as excited EVERYDAY to be there and to be a part of the adventure.
Hands down, a group of people that can have that much fun together can enhance any experience…and ours certainly did in every way.
Accommodation
Within the Kruger we stayed in 4 locations.
Berg-en-dal and Satara Camps were beautiful and well cared for. The accommodations dramatically surpassed all we had hoped for. They were comfortable and had more space and extras than we could ever use or need.
The settings of these camps also scored additional points for us.
The ability to watch water holes and wilderness from the safety of the camp was extraordinary and we had the feeling of exploring, even though we were within the complete safety of the perimeter fence.
Additional camps at Talamati and Byamiti were equal in their accommodations, but the locations were even MORE impressive and extraordinary.
The overnight hide at Talamati holds special memories for me and the night I spent there watching wildlife come to drink…elephants, lions and rhinos in the dark are an entirely different experience than during the day…the civet and Honey Badgers we spotted were especially prized night-time visitors.
The riverbed front yard at Byamiti provided wonderful opportunities to view elephant interactions as they came for water in the remaining pools before the rain came.
Lions played and lazed in the shade under the Lala Palms and the birds were glorious!
Our bush walk was a highlight and capped off an overall amazing adventure.
Food
Oh, the food! Give me a break! I think I gained 10 pounds.
Our days started with rusks and coffee, tea or hot chocolate in the cool of the very early mornings…game drives were underway as soon as we had the last of the rusks gone. DELICIOUS!
Following our morning outing, breakfast was ready when we returned to camp…piping hot and filling it always hit the spot…depending on the day, sometimes lunches varied in times but we always had snacks and drinks in the vehicle with us….and when in camp they were more than ample and always filling and good.
Dinners were really worthwhile and plentiful.
Huge steaks of delicious South African Beef, local lamb and beautiful sides were more than we ever needed. Prior to travel, it was insisted that we share our likes and dislikes and menus were created from our lists.
Wildlife
The wildlife was abundant on every game drive we did.
Neil was able to take us to various places where we would be more likely to see certain species, and as often animals just popped up on the roadside.
Every drive was different and an experienced operator delivers on wildlife far more than anyone on their own could luckily fall into driving the park on their own.
We learned the alarm call of the Vervet monkeys in the trees above meant a leopard was near and by watching their behaviours we were able to find that very leopard as she moved through the bush.
In total 3 leopards presented them selves to us during our time in the Kruger…spectacular! Lions, oh the lions…we saw more than 40 lions throughout the trip and only had one day where we didn't see any.
Hippos, huge herds of Cape Buffalo, tons of impala, lots of Greater Kudu, Wildebeest, Black-backed Jackals, hundreds of Giraffe, Sables, Bush Buck, Reed Buck, Duikers, Banded Mongoose, Dwarf Mongoose, Chacma Baboons, Vervet monkeys, Hyenas, Honey Badgers, Civets, Zebras, Ostrich.
3 species of owls including a mother Eagle Owl on her nest with a chick, Several species of Vultures, several species of Hornbills, Rollers, Sunbirds, Orioles, Saddle-billed Storks!!!, Wooly-necked Storks!!!
Oh, did I mention the White Rhinos? Oh yeah, we saw rhinos! In 10 days we saw at least 40 or more. They are amazing hybrids between armoured tanks and lawn mowers.
We also saw a few Elephants... well, a few HUNDRED Elephants. They were everywhere and provided hours of entertainment and pure awe.
Typical Day
Typical days started before dawn.
Rusks and coffee or tea and then to the vehicle for a game drive. We were on the road as early as the gates would allow every day.
The most consistent part of our adventure was that plans changes instantly when we spotted game, or behaviours worth watching.
The most special finds were our own and we did not pack in with other vehicles to see what they were gawking at…we could ALWAYS find our own!
We returned to camp for a lunch and a rest, OR sometimes stopped at one of the food stops inside the park for a feed and then on from there.
A rest time in the afternoon was often pleasant and even wildlife spotting in the camps was exciting and beautiful for those that didn't want to catch up on some rest.
Afternoons brought another game drive and we were out as long as the park would allow. Always something exciting around the next corner!
After returning to camp…food was already being cooked for us and drinks and laughter carried on from the day's adventure…a good meal was consumed and more laughter…always laughter… and stories from around the world.
The sounds of lions roaring, leopards calling, rhinos and elephants carrying on takes over and we would sit quietly and listen to the magnificent African night.
As darkness takes its toll, one by one we would disappear into our private lodgings for a good night's sleep.
Tips and Advice
Chargers and adaptors for local electrical outlets are ESSENTIAL.
Research potential tours and guides, use the Internet and other resources from your travel agents to ensure you are going with the right people to the right place.
Also pick the time of year that the season is optimal for WHAT you want to see and that you know it is possible.
The dry season for example provides enhanced wildlife viewing because animals are more densely grouped around water sources…the landscape is dry though and temps can be hot.
In the wet seasons, temps are more comfortable but there is likely to be rain, and the overall wildlife experience will be totally different.
DO YOUR RESEARCH BEFORE YOU BOOK YOUR TRIP!
We also visited Pretoria and the National Zoo. It was an amazing day trip from our B&B near Kempton Park. I would recommend that to anyone!
More Kruger Park Safari Reviews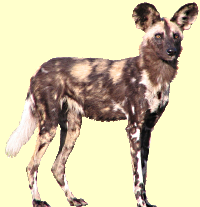 Join in and write your own page! It's easy to do. How? Simply click here to return to Africa Tour Operators Reviews.