10-day South Africa Safari
by Fabrice Corcoral
(France)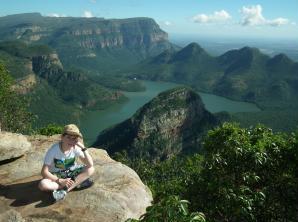 Blyde River Canyon view
Fabrice and his friends and family did a 10-day trip taking in the Blyde River Canyon, Kruger National Park, Swaziland and the St Lucia area in KZN where they visited another game reserve, Hluhluwe-Imfolozi. Here is his day-by-day report:
28 Feb:
Unfortunately only 6 of us arrived at JNB airport (my wife was at the last minute not allowed to fly due to a problem with her knee) so the first hours in RSA were a little bit melancholy.
We drove directly to Forever Resort Blyde Canyon but we were a little bit late and arrived by night. Some km before our goal, arriving via Lydenburg we missed the road on the right after Branddraai and after a "little panic" we finally arrived at about 8:00 PM!
The enormous house and the good restaurant were really welcome!
01 Mar: Our holidays really began!
Waking up and viewing the 3 rondavels from our house was really wonderful!!!
After a good breakfast we left, regretting a so short stay in this place. We stopped during the morning to each views of the canyon you recommended.
Grocery shopping at Graskop then we entered
Kruger Park
at about 2:00 PM via Orpen Gate.
From the gate to Satara, 6 people in the car were changed into 6 children!!!
Many many animals appeared just along the H7: buffalos, elephants, Wildebeests, Zebras, Giraffes, Warthogs, Kudus, Impalas, Baboons, Nyalas, Waterbucks... I didn't remember from my previous travel to have seen so many animals in such a short distance!!!
Then our first evening braai in Satara was really nice!
02 Mar: Game drives from Satara to Skukuza
More classical day in Kruger Park, following your suggestions. Many pictures taken, hyenas in the morning but our Big Five counter stayed at 2 of 5 ;-)
The main attraction of that day was a dead elephant with a lot of vultures eating it. A very impressive spectacle.
03 Mar: Lucky day in Kruger between Skukuza and Berg-en-Dal
Indeed the first thing we saw leaving the camp was... a leopard just walking on the road in front of our car!!! Yes!
Then again many animals, birds, and so on, always following your suggestions (we also saw the little owl in Afsaal).
At the end of the day, before entering in Berg en Dal: our first Rhino. It was very important to me because this "big five" was the only one I didn't see during my previous trip. Magic!
Then 2 rhinos again...
Then our sunset game drive. Then 4 rhinos again...
One of my friends was laughing at me saying that there are as many Rhinos here as ducks in the South of France!!!
Our Big Five counter was now at 4 of 5: lion was lacking!
04 Mar: Leaving Kruger Park - Swaziland
A last game drive before breakfast (rhinos again...) and we left Berg-en-Dal which was not our favourite camp (rooms were not very clean).
We thought that the North of Swaziland looks a little bit like Swizerland: green, mountains...
Arrival in Mlilwane
(more reviews for Mlilwane Game Reserve)
was really appreciated: our Lontweni rondavels were really nice, the view wonderful, and an afternoon doing almost nothing!!!
Good dinner in the restaurant then a funny thing happened: the manager told us that we should have come by car because our further rondavels are on a hippo trail, dangerous after sunset ;-) We went back with a ranger and his gun !!!
05 Mar: Mlilwane - Swaziland
The five boys of us hired some mountain bikes and we had a good experience in the Park even if we didn't see a lot of animals.
Karin stayed in the camp, speaking with Swazi people in order to better understand the life in this country.
Then some grocery shopping, and we also bought some Swazi souvenirs in Ezulwini. Really good prices compared to same objects in St Lucia!!!
In the afternoon we went for a little game drive in Mlilwane, stopping a long time to watch for crocs eating a supposed impala...
Then we left the car and hiked on the mountain paths of Mlilwane.
For dinner we decided to stay in front of our rondavels and as it was Karin's birthday we had a very good evening, eating, laughing, hearing at each noise (hippo trail)! Unforgettable!
06 Mar: Go to St Lucia
We left Mlilwane and crossed the South of Swaziland. A stop in a nice Swazi market to buy souvenirs, another in Nisela Safaris for a coffee break, then we arrived at St Lucia at about 2:00 PM.
A lunch in a touristic "Key West" restaurant, then we reached 57 Pelican Street
(accommodation)
.
And yes, here it was Key West (Florida) same atmosphere, same plants, same prices!!! Very different from Swaziland and other places we visited. But really nice to end this trip.
The first evening was dedicated to the swimming pool and the braai.
07 Mar: Game drive again... but with Jeff!
Lucky we were, Euro Zulu called us to say that they will pick us up at 5:00 AM, not at 4:00 AM!!! (Hluhluwe-Imfolozi opens later during this season).
So we left with Jeff and 2 other couples of tourists (from Germany and Holland) at 5:00 AM. It was cold in the open 4x4, but we were excited: last chance to see a lion!
The game drive was really nice: landscapes are more beautiful than in Kruger Park.
We saw a lot of buffalos, hyenas, and other animals we had already seen before. Jeff is very efficient to see hidden animals even if sometimes he regrets having only seen "Rockosaurus"!!!
Then Jeff had a call: lions were seen somewhere! He drove quickly there and we saw 2 lions, quite far from the car, but there were lions!!!
Our Big Five counter was now complete ;-)
The braai prepared in the bush by Jeff was really a good experience.
More reviews for EuroZulu and Jeff...
Back to St Lucia we decided to follow Dawn's
(from our accommodation)
advice: we went to the beach via the wooden bridge along the estuary and we could observe many hippos going out from the water at sunset.
Then a good moment at the Ski Boat Club, a pub-restaurant with a nice view on the estuary, good beers, good wines, good burgers ;-)
08 Mar: Last day in St Lucia
We decided to go to Cape Vidal and Crocodile Center in the morning: we saw there our last animals :-(
Then our last braai for lunch, last shopping in St Lucia, last hippos, last Ski Boat Club...
Dawn informed us about many construction works on the N4 road and that our travel back to JNB could take 9 hours!
09 Mar: Back to JNB
Dawn was right: between Pongola and Ermelo, 200 km of construction works... many stops and go. At Ermelo we decided to join the N12 in Middleburg and then it was good.
Indeed 9 hours were necessary to arrive to JNB!!! Maybe for next customers your could indicate another route because it seems that 30 months of construction works are planned...
Now, thanks to
you
, our minds are full of incredible pictures, people, places. Really a wonderful trip!
More Kruger Park Safari Reviews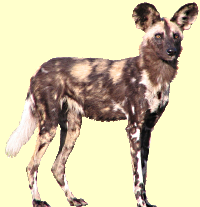 Join in and write your own page! It's easy to do. How? Simply click here to return to Africa Tour Operators Reviews.