Hands On South Africa Safari
by Neil Jones
(England, UK)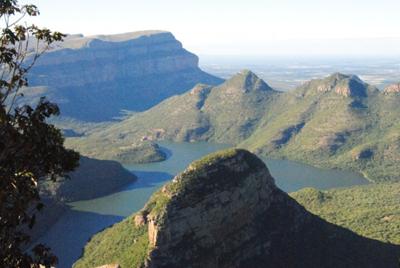 South Africa scenery - Blyde River Canyon
My highlight was staying at the bush camp at Kruger national park, having no phone, no electricity and no indoor shower or kitchen. It was a welcome break to the fast paced life we live in England.

Lying on the grass listening to the sounds of the wild and looking at the stars is something you can never experience in England.
Safari Operator Performance
We travelled with African Insight which was pre-arranged with my university.
I was extremely satisfied with the travel company, especially our tour guide Matthew Cowell, he had a vast amount of experience and knowledge having working all over South Africa for over 30 years.
My trip to South Africa was aimed at aiding our learning on my Animal management degree at university so the travel company specifically arranged trips to rehabilitation centres, reptile parks, and even arranged a day working alongside a vet in the field taking blood samples and vaccinating buffalo.
The day spent working alongside the vet is something that is available to the public and was arranged purposely to give us hands on experience working in the field.
I really couldn't fault the travel company in any way possible, they did their utmost everyday to provide us with interesting things to do, they also answered all of my questions that I had on the area we were staying in.
They never had a problem identifying flora and fauna I wasn't aware of, I wouldn't hesitate to use this company again and am currently in touch with Matthew about visiting in the future.
Accommodation
The first camp we stayed was Moholoholo camp which is part of the rehabilitation centre, it is located about 60km from the Orpen gate at
Kruger national park
and about the same distance to Pilgrims Rest and the Blyde River canyon, which is spectacular.
The Moholoholo camp was basically a six bed chalet which was bliss compared to our second camp. At Moholoholo we visited a number of rehabilitation centres and animal parks and went on many early morning bush walks and night drives where we saw giraffe, hippo, cheetah, jackal, and wild boar.
Our second camp was on the southern tip of Kruger national park and can be described as a bush camp, we had two man tents and power for two hours daily, for me this was what made the experience brilliant.
We used torch by night (when we weren't admiring the stars) and showered outside, it brought the wild of Kruger national park even closer.
At this camp we undertook game drives into Kruger national park and undertook early morning bush walks where we saw lion, hyena, elephant, hippo, giraffe, white rhino, and an array of bird species.
Food
Much of our food was provided courtesy of our two camps, it was generally cereal and fruit for breakfast.
A brunch consisting of scrambled egg, bacon, and bread, sandwiches for lunch.
A hot dinner which varied between sausage and mash to spaghetti bolognaise.
Unfortunately we weren't able to try many local foods, we stopped at a local restaurant whilst on our way to Kruger national park.
As far as local traditional foods go they served relatively few, although I did take my tour guide Matt's advice and purchase some Kudu biltong, which is dried meat, it kept me going between meals.
Wildlife
As explained earlier we saw all the big five apart from leopard (I only saw leopard at the rehabilitation centre).
We also saw hyena, giraffe, zebra, wild dog, jackal, baboon, cheetah, honey badger, mongoose, kudu, gazelle, porcupine, chameleon, spitting cobra, puff adder, and many more. It was an amazing experience for someone who is interested in wildlife.
At the rehabilitation centre we got up close to a captive cheetah. We were allowed photographs stood next to it and experience it at full pace chasing down some meat on a rope, this was an unforgettable experience.
However hard it may be, if I had to pick two highlights the first would be when we experienced an elephant in the wild.
It came right up alongside the jeep and you could feel the excitement inside the jeep then when the elephant opened up his ears and turned towards the vehicle, excitement quickly turned to fear amongst the group.
I saw the driver quickly get ready in his seat but then just as fast as it happened the elephant turned and disappeared into the bush.
To be that close to a wild elephant and the speed and stealth at which the huge animal disappeared into the bush is something I will never forget.
My second highlight was working with the vet vaccinating buffalo.
Once he had darted the buffalo with an opiate we had to go into the holding pen and hold the buffalo's head up straight whilst they had five blood samples taken and where vaccinated against tuberculosis, foot and mouth, and corridors disease.
As much as I enjoyed encountering the wild animals this felt more like the work routinely undertaken in the conservation of South Africa.
My biggest regret was not seeing a leopard in the wild especially seen as two other groups with us did, but I guess that's what you will always get when wildlife watching.
Typical Day
A typical day included waking up at the unearthly hour of 4.30am, grabbing a shower, coffee, and cereal then leaving for a bush walk about 5.30am.
On the bush walk we learnt about the flora and fauna, tracking, and looked for that all important wildlife spot, we returned to camp for brunch about 9.30 – 10.00am, we were then able to change and shower if we wanted.
At about 12.00am we usually had a lecture arranged by the travel company or visited local markets, shops, or went on a game drive.
This usually finished about 3.00pm which was then free time up until dinner about 5.30pm. We usually spent this time relaxing in the sun or writing up notes.
After dinner we had game drives arranged from about 7.00pm – 9.00pm after which was free time again where we relaxed with a drink underneath the stars discussing our tales from the day. It usually ended with an early bed ready for the 4.30am wake the next day.
Other Activities
We didn't really undertake many other activities apart from visiting local markets and shops.
One day we did visit a local river where we took samples from the water and identified what plant and animal species lived there, this was probably one of the more different days we experienced.
We also visited a small farm that had a huge baobab tree, which we were allowed to climb, turned out to be a tough job in the heat of the day.
Tips and Advice
Make sure you go for as long as you can and
choose a reputable travel company
as they can make or break what you learn and the enjoyment you have on the visit.
Although this may sound stupid I was very unaware at how big South Africa actually is and the amount of driving we had to do in a warm poorly air conditioned mini-bus wasn't what I expected, but I know this can't be helped and would still do it all again without hesitation.
The most useful item in my luggage was my camera. I bet everybody says this though, so I will say my torch especially for the camp at Kruger national park, without it I may just have wandered straight into a pride of lions.
Neil's Safari Details:

Rating: 10/10

Safari company used: African Insight (make an enquiry)

Parks visited: Moholoholo rehabilitation centre, Khamai Reptile Park, Hoedspruit Endangered Species Centre, Kruger National Park - South Africa

Date of safari: 27th February for 11 days

More South Africa safari reviews »

More Kruger Park Safari Reviews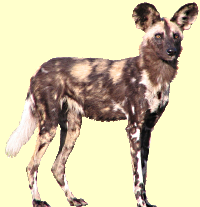 Join in and write your own page! It's easy to do. How? Simply click here to return to South Africa Safari.