Leopard Causes Traffic Jam
by Dave & Virginia Wilson
(Felixstowe, England)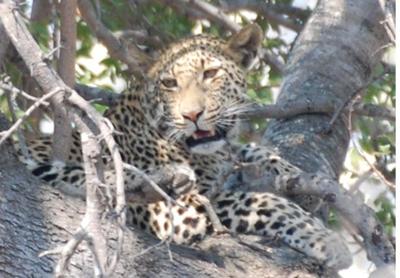 The leopard caused a traffic jam
We actually got to see the Big 5 in ONE day and that was thanks to an unknown driver who stopped us turning right at the H1 – S114 junction to say there was a Leopard if we turned left towards Skukuza.

I had never seen so many vehicles in one spot. The traffic police even ended up there to sort the "jam".
Booking Information
We made our bookings via a UK Travel Agent, but as we have friends from the area they gave us all the relevant information about where to go, what accommodation and type of vehicle.
So it was a very simple booking once the tour operator finalised all the details.
Everyone we met in the Kruger was extremely friendly and very helpful. Have not got a bad word to say about the Kruger staff.
Accommodation
Pretoriuskop
Rest Camp, Kruger National Park.
Had a Bungalow (number 122) near the perimeter fence for our stay and found it very comfortable. It had everything we needed, shower, bed, cooking facilities. Could not fault it.
The laundry facilities were only just sufficient. Could have done with more driers.
Food
Had two meals at the camp restaurant - nothing spectacular, both buffet/carvery type.
We bought food from the camp store which had enough variety for our needs and used the BBQ outside the Bungalow.
While out during the day we had meals at Skukuza, Lower Sabie and Asfaal picnic area. All these had very good choices and were very good value for money.
Vehicle
We hired a Toyota Hi-lux 3Litre 4WD, used AVIS via the UK tour operator.
Had no complaints about the vehicle. It did, as the can says, what it was supposed to do. Gave a brilliant view and being higher, better visibility.
Self-Guiding
Being on a self-drive was the best way to travel, no restrictions other than park regulations. We could come and go as we pleased, stop here or there for 2 minutes or two hours.
We have even been talking of going back next year.
A great big thank you from my wife and I for all the different journals we used, which we often refer back to when we try to pin point when we saw a particular animal.
Doing a "self-drive" really was the way to go. After seeing the "tourist" vehicles only staying a maximum of 2 minutes, we wondered how they ever saw anything.
Wildlife
Of all the animals we saw we both agree the elephants got to us the most, they were so gentle.
I ended up with approx 1800 photos and my wife had 50 short videos.
Just few of what we saw:-
Warthog
Spotted Hyena
Crocs
Nyala
Plus the usual Zebra, Rhino, buffalo, Impala, Kudu. The one that eluded us was the cheetah, and we only just missed seeing one by 5 minutes (makes you want to go back to try and see it).
Typical Day
Up at 0530, ready to leave at 0600 when the camp gates open. Made sure plenty of cold drinks in the car.
Usually headed to the nearest dam/watering hole and stayed there for around 90 minutes before heading on a mystery tour as we did not plan any specific destination other than we went on this or that road yesterday.
Usually we ended up near another camp near lunch time and decided what to do for the rest of day. Had to make a conscious reminder that no matter how far we were from base camp, we had to get back there and as it happened, wildlife usually added to the delay.
As gates closed at 1800 every day, got back around 1630 – 1700 thoroughly worn out from the heat and trying to remember what we had seen.
Thank heavens for digital cameras, which we used when we wrote our daily diary with a refreshing Gin & Tonic on the table, and watching the Impala eating nearby, as well as the vervet monkeys chasing around trying to get the last morsel of food from trees or BBQ's.
And so to bed around 2130 with a head full of what we had seen and looking forward to tomorrow.
Weather
The weather was one of the reasons we chose September as it was coming out of Winter into Spring, so it was not going to be too hot - how wrong we were.
Maxed out at 34-38°C every day. Were told this was not the norm so don't let it put you off. This is definitely the right time to visit.
Regrets
Everything was planned to our expectations, the only regret was we were not there long enough.
Tips and Advice
Read up on the area to visit.
Make sure you have plenty of memory cards for the camera & video.
Forget the planned guided tours from the camp/s. They don't give you enough time to see everything, a
self drive
is the way to go.
Don't think anything is happening if you cannot see the animals, be patient they are all there somewhere. Look up, down, near & far you never know what you will see.
We found a good pair of
binoculars
most useful.
Thanks for all the advice and tips
you
have given us. They will be used on another occasion, I am sure.
More Kruger Park Safari Reviews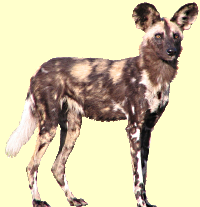 Join in and write your own page! It's easy to do. How? Simply click here to return to South Africa Safari.