Third Safari With Bearded Heron
by Jean Pierre Vanderschueren
(Belgium)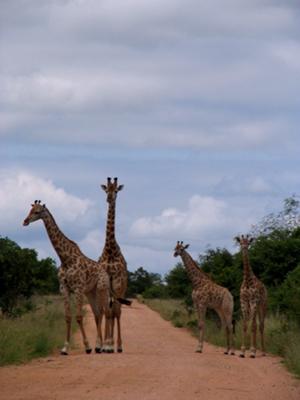 Giraffes in Kruger National Park - ©www.african-safari-journals.com
We were very lucky to see some extraordinary behaviour, like the sparing of the Giraffes and a very nice meeting with a young female leopard trying not to fall out of a tree with her prey.. also the cheetahs marking their territory, only paces from the vehicle was an eye-opener.
Safari Operator Performance
We used Bearded Heron Safari; originally we got in touch through Via Africa.
They performed excellently.
The real strong point of this company is the "tailor made" service.
Mr Heron really goes out of his way to give a "once in a lifetime" experience to his guests.
The most important thing he tries to convey to his guests is the way all living things are linked in the N.P. this "once in a lifetime experience" was so good we already had 3 safaris with this company, of which 2 in a span of 7 months...
This has been our toughest safari yet. Very exhausting, but rewarding. Neil Heron has a good small thing going with personal attention to each guest and he really tries to convey his love for Kruger.
Accommodation
Berg en Dal: very big and very tourist orientated rest camp. Very nice view on the pond and visiting wildlife.
Satara: again a very big camp, very confusing structure, certainly if you have to try to find your way back to your lodge in the dark!
Mopani: smaller camp, nice and comfortable.
Punda Maria: fantastic to see how they succeeded in incorporating modern comfort to the original huts.
Food
Food… what to say..? Plenty.. plenty.. plenty… and so good I gained 6kg in 6 days!
Day starts with light snacks for breakfast, elaborated full English breakfast after the morning game drive.
Then light lunch and an exorbitant dinner in the evening.
Our cook Gordon was a real wizard, making sure that not only each time fresh meals were cooked, but also providing the "special meals" like vegetarian food etc.
Wildlife
What didn't we see…?
We saw 116 species of birds and all of the big five animals, some of them up close and personal.
And in the case of the Black Rhino, much too close and personal, certainly if you are walking in the bush.
As we crossed Kruger from South to North we saw almost all the antelopes, including the very rare Roan, and the Sharpe's Grysbok. Certainly the big tuskers in the North were impressive.
A herd of over 500 Buffalo, a giant of an Elephant submerging totally in the water, with only his trunk visible..
This trip was just one highlight after an other… and believe us.. we did our share of safaris already…
Typical Day
They were 2 different "typical" days:
We either stayed in one camp 2 nights, then you got up at 5 (oh my Goodness that's early).
Quick snack, 2 - 3 hours game drive (more if it was really interesting – which happened quite often..).
Back for full breakfast – short rest – small lunch - and again game drive till the gates close – freshen up – impressive dinner – after dinner talks with some drink.
Or we were on the road moving from one camp to another - this meant a full day's drive most of the time, getting breakfast and lunch on the road like in Olifants Rivier, Skukuza etc…
The one day we had an outdoor picnic at night outside the camp at Berg en Dal and certainly the picnic (if you can call it a picnic... was once again some magic from Gordon) we had at Pafuri with the view of the river and the Nyala coming to the banks.
We also visited Thulamela Hill and the ancient ruins.
Tips and Advice
Do not make a "wish list" just enjoy what the bush throws at you! It must not always be lions or any other of the Big Five!
My most useful items were my camera,
binoculars
and my
bird book
.
Only one regret… not enough time and still so much to see.
More Kruger Park Safari Reviews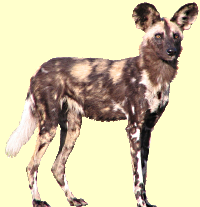 Join in and write your own page! It's easy to do. How? Simply click here to return to South Africa Safari.