Incredible Safari Experience
by Patty Flynn Sadtler
(USA)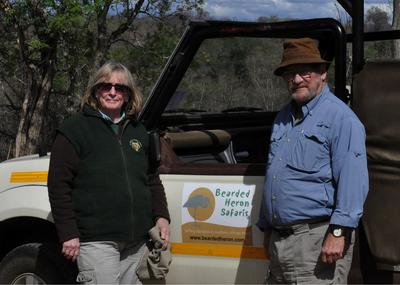 Patty & Field on safari with Bearded Heron
It was an outstanding safari! I learned more about the African bush in six days from Neil Heron than I had on two previous trips, one for 17 days and the second for 23 days, with American tours to Africa.

Safari Operator
I
won a safari
(on this site)
in the Kruger National Park, South Africa with Bearded Heron Safaris.
This safari is not a simple quest for the big five. It is total immersion into life in the bush.
Neil is a master tracker with an incredible knowledge of the bush from the largest mammal to the tiniest insect, from the riverbed to the waterhole, from the largest tree to an angled branch important in Zulu folklore.
We started the day with pre-breakfast, then a game drive/bush walk, followed by full breakfast and some down time. After that, a light lunch was served and we'd go on another game drive/bush walk. In the evening there was camaraderie of happy hour, dinner, and recall of the day's highlights with Neil and fellow guests.
Accommodation
Tina Heron took care of our pre and post safari itinerary. Golfer's Lodge was our first stop.
During the safari: Malelane Camp - comfortable, not crowded, great game – 18 lion pride.
Skukuza Camp – like Disneyworld in the middle of the bush, too commercial, electrical problems. Thankful we were not there on the 40+ degree C day!
Biyamiti Bush Camp – how a bush camp should be, private, great game – 4 of the big 5 in a two hour drive, more than adequate accommodations, my favorite camp.
Transfers from one camp to the next went very smoothly with game viewing along the way.
After our safari, we continued to Cape Town for 5 days with The Eco-ist. The visit was perfectly planned from our booking at An African Villa to our three days of touring the city, Table Mountain, Simon Town, Boulders Beach, Cape Point, and the winelands.
Safari Meals
Pre-breakfast - rusks, coffee, tea
Breakfast - eggs, beans, home fries, bacon, sausage cooked on a braai, toast, jams, tea, coffee
Lunch – sandwiches
Dinner - a variety of chicken or beef, assorted local vegetables, wine or beer
All prepared by Abbey and all delicious whether he cooked on the braai or in a proper kitchen.
Wildlife
Each day had a least one spectacular sighting.
On our first game drive, we were engulfed by a huge pride of 18 lions led by a majestic male. Later that afternoon, an endangered black rhino appeared. Neil was ecstatic to have spotted the rhino. White rhino were everywhere.
During the rest of the week we visited a fantastic bird hide, witnessed a pack of wild dogs get chased by a lion and a lioness, saw a herd of buffalo get stampeded by hunting lionesses as they tried to isolate a calf, and watched a rhino relocation team do their job.
In addition, we saw hippo, giraffe, hyena, kudu, impala, duiker, waterbuck, bush buck, steenbok, lilac-breasted roller, bateleur eagle, and birds too numerous to mention.


Highs and Lows
My only regret is not being able to join the safari on day one. We purchased one extra day, but my husband had commitments in the US that prohibited us from doing the ten days.
My highlight was meeting Neil Heron, Abbey, and our fellow travelers.
My advice to others? If you are going to Kruger, go with Neil! And don't forget your camera.
More Kruger Park Safari Reviews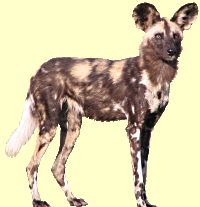 Join in and write your own page! It's easy to do. How? Simply click here to return to South Africa Safari.