Self Guided Kruger
by Denise Candiani
(Italy)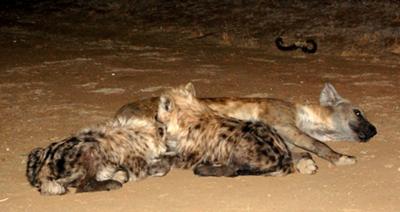 Hyena with pups
I would not exchange for anything the magic sounds of Africa at night time and the wonderful pictures I took back which allow me to revive the holiday every day!
Planning and Logistics
I collected all needed info through the Lonely Planet guide of South Africa and through the web, mainly on traveler forums (e.g. Thorn Tree forum).
We flew from Milan with Olympic airlines (cheapest from Europe) and we landed in Jo'burg where we rented a car.
For the Kruger I booked everything on Sanparks' website - it's very exhaustive.
For each rest camp it details all info about accommodation/availability and wildlife (which species are most likely to be seen in the surrounding of each camp).
I was happy that I relaxed a lot. I always thought safaris with early wake-ups, constant moving and driving, would have been tiring after a year of work on the back.
Instead, we were able to sleep enough in the morning and enjoy the rest of the day. And, even with this relaxed timetable, we saw many animals!
Accommodation
Pretoriuskop rest camp (south-west part of Kruger) for 3 days/2 nights - the basic bungalows are pretty nice and clean, but they are a bit close to one another. The staff is kind and the facilities (laundry machines, supermarket, restaurant) are convenient.
Kruger map »
Tamboti tent camp (central-west) for 2 days/2 nights - this is a satellite of the Orpen camp and has no bungalows but furnished tents.
No restaurant is available in the camp. We really enjoyed the atmosphere there - less touristy and commercial than in the other camps, definitely more savage.
Tents are far from one another, allowing a better intimacy. It's surrounded by a forest and a big river, just beyond the camp fence.
Kruger accommodation explained »
The river is almost dry at that time of the year but a lot of animals go there to look for water. During night we could hear sounds of nature and savage animal calls...amazing!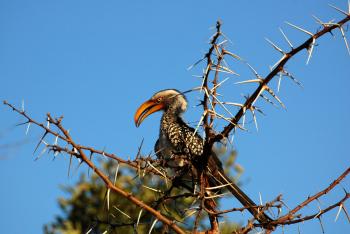 Olifants rest camp (central-east), close to the Olifants River, home of a large variety of animals for 2 days/2 nights - the landscape and the view from most of the bungalows are breathtaking.
The camp is very quiet and the staff of the camp is kind and helpful (especially one ranger who helped us when we ran out of fuel in the middle of nowhere!)
Food
We generally arranged our meals since it was very easy to find all sort of food, from breakfast to dinner, in the camp supermarkets.
We had our usual breakfast with cereals, yogurt, milk, bread, jam, and hot drinks - coffee and tea. Each bungalow or tent is provided with a fridge for storage.
At lunch we used to be in the car during our safari and used to eat the traditional dry meat (we tried impala's and buffalo's but we did not like it very much).
At dinner we used to go to the restaurant at Pretoriuskop where they have a good and economic buffet menu.
We self catered at Tamboti and Olifants where restaurant was not present or convenient.
Each bungalow or tent at Kruger is provided with its own
braai
for making barbeques; camp supermarkets sell good meat and everything you need for BBQ at convenient prices.
We tried impala's and many other animals' steaks while drinking excellent red wine from South Africa.
Wildlife
Apart from the thousands of impalas every day, we also saw lionesses with cubs, lionesses eating on a giraffe, lots of giraffes and lots of buffalos.
We also saw a couple of white rhinos, many elephants, several zebras and gnus (often together), vervet monkeys, baboons, wild dogs, crocodiles and hippos in the waterholes, hornbills and, as a highlight, a lactating hyena with puppies.
My main wish was to see big cats.
Since most animals, especially big cats are nocturnal, and self drivers are not entitled to go around Kruger after 6pm, we participated in a
night safari tour
, organized at Pretoriuskop, on a truck.
The ranger guide was okay, but in 2 hours we did not get far from the camp.
We thought we would have travelled along roads where the self drivers cannot go, instead we saw the same places and spots we had gone by ourselves in the afternoon.
We were about 20 people on a big truck. We sat in a central place on the truck and were not able to see the surroundings because it was too crowded.
There were many children; they shouted at every creature they saw requesting the truck to stop for seeing it, and it was nothing every time.
The ranger was a bit annoyed about that but parents seemed to get fun. We weren't lucky, in 2 hours we only saw one giraffe, few buffalos ... and hundreds of impalas, as usual!
Typical Day
Usually we woke up at 9am and enjoyed huge breakfasts on our veranda getting pleasure from the surroundings.
Then we checked the sighting map of the camp to see where other people have spotted the animals earlier on the same morning.
We used to leave the camp at around 10.30 and drive toward the spots.
We would eventually stop the car and spent some time, about 1 hour, close to a water hole waiting for animals, hippos and rhinos for instance, taking pictures and enjoying the landscape.
At around 2pm we used to reach one of the picnic spots for getting out of the car, stretching our legs and eating. Picnic spots are very nice, you have to bring your meal and you can use the braai.
We then started travelling around again for another 3 hours, often moving from one camp to another.
One of the last days, we ran out of fuel in the middle of nowhere. The fuel indicator of the rented car was broken and showed we had plenty but it wasn't.
We waited some time till we met a car of people who gave us a lift back to the Olifants camp.
There the ranger was very kind and friendly and brought us back to the car with a tank of fuel.
Once we started driving again we spotted two lionesses chasing on a gnu and we had the luck of watching at them for hours.
Despite the lack of fuel, it turned out to be a very lucky day!
Other Activities
Just before visiting the Kruger we spent a few days at the Blyde River Canyon, close to Nelspruit, and it was a fantastic experience.
We appreciated the wonderful landscapes, the potholes and waterfalls, and really enjoyed some breathtaking views, such as the God's window and the rondavel-shaped mountains.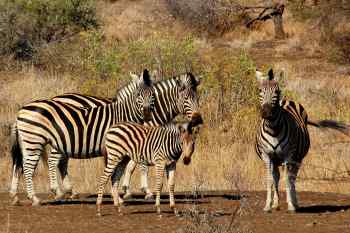 Disappointments
I have no disappointments; everything is well organized at Kruger.
My regret was that both times we crossed the lionesses it happened at around 5 pm when we had to go back to the camp closing at 6 pm whereas I would have stayed hours looking at them.
Tips and Advice
Before choosing the camps you will stay, check on Sanpark's website
(and here)
where the hottest spots are for seeing animals in the period you want to visit Kruger.
When I went, most of big cats were close to Skukuza camp. The information is continuously updated. Also, try to book the camps well in advance since they get fully booked very quickly.
I didn't rate 100% because I think the better landscapes and less touristy camps are in the northern part of Kruger but I haven't gone there. Hope to let you know very soon…
Make a Kruger accommodation enquiry here at no extra cost »
After Kruger we went to Mozambique and enjoyed a beach holiday. I think this was a perfect combination for holidays, I would suggest doing the same, in the same period.
Also, there weren't many mosquitoes in August, prevention against malaria (clothes and spray after 5pm) is sufficient during winter.
The camera and map of Kruger during the day were most useful, and a warm jersey at night.
Denise's Safari Details:

Rating: 9/10

Safari company used: Self organizing & self driving together with my partner. Learn how to guide your own safari ».

Parks visited: Kruger NP and Mozambique

Date of safari: 3-9 August

More Kruger Park Safari Reviews