Independent Kruger Safari
by Paul Pontello
(Sydney Australia)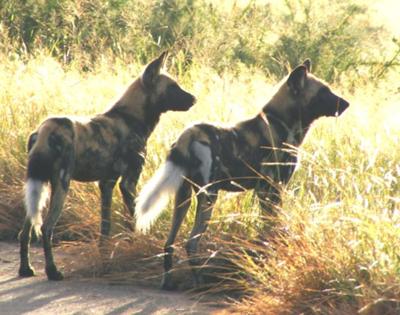 Believe it or not, we saw wild dogs on three separate occasions. One of them was when a pack of 10 chased off some poor little guys! We have pictures to prove all of this!
Safari Company Performance
Having done a lot of reading on the Web, I was lucky to find Wilma (African Safari Journals).
An absolute wealth of information, extremely helpful and Wilma knew exactly what we would have wanted from the trip, with only brief communication beforehand.
She organized everything from what to bring, what car to rent (as well as organising the best car rental), where to stay, daily travel route plans and transfers back to Johannesburg.
Nothing was too much to ask.
We were two people - my brother and I. We spent the week driving around in a standard VW Golf sedan.
Food and Accommodation
We stayed at Lower Sabie, Skukuza, Satara - to name a few.
Basic tents were very comfortable and enjoyable!
We mostly self catered for breakfast, had coffee and cereal. We had lunch at one of the rest camps - local sandwiches or meat pie, South African beef Jerky
(biltong)
and dinner included some great braais back in the camp.
Wildlife Highlights
We saw EVERYTHING, and we know that we were very lucky!
Apart from the wild dog, we saw lion on at least 10 different occasions, so many elephants, hippos, crocodile, rhino, leopard 3 times (including one circling our car hunting a warthog) and cheetah with cubs.
Typical Day
Wake up at 4am - out the gates by 4.30 with our flashlights... drive and drive until the heat of the day about 1pm.
Lunch and rested in the pool until about 3.30 and then out for the cooler time again until the gates close at 6.30pm.
We did a couple of night drives (where we also saw African Wild Cat a number of times), and would then typically kick back with a couple of Castles before doing it all again the next day!
The randomness of not knowing what was around the next corner, the relaxing pool time and the Castle at the end of the day were all highlights!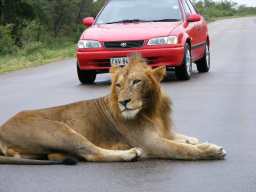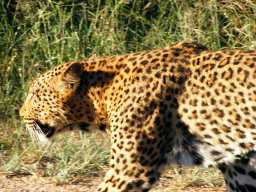 Other Activities
We did the Cape tour in Cape town, as well as the Township visit.
We also did Great White Shark diving as well as the world's highest bungy at Storms River.
In Closing
Everything was brilliant - although the only complaint is the surf wasn't breaking when we were at J Bay.
You must get in contact with Wilma and African Safari Journals! You will not regret it - believe me!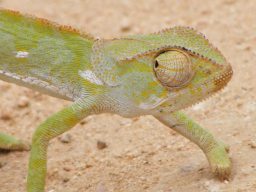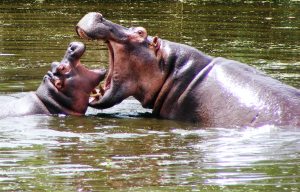 More Kruger Park Safari Reviews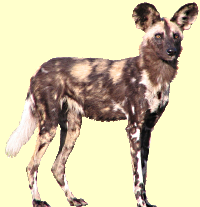 Join in and write your own page! It's easy to do. How? Simply click here to return to ASJ.