African Safari Journals
Add Your Own Review
Share your own safari experience to help others still planning to go on a rewarding trip like this.

African Safari Journals Reviews
Click below to see contributions from travelers who have been on a South Africa safari aided by African Safari Journals in the past...

Facebook Reviews


&nbspKelly Ford Seals Comeaux&nbsp&nbspBig Five 4 Times Over
We went on safari in Dec. 2012. Everything was as advertised and promised. It was everything we hoped it would be. The food...
---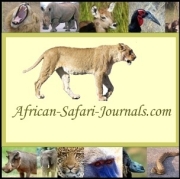 Since 2003, African Safari Journals has been helping people plan and make decisions about their safaris all over Africa.
The company is based in South Africa near the Kruger National Park.
We organise guided safaris but our particular area of expertise is self drive safaris
We take the logistics of the trip off your hands by booking your accommodation, vehicle and activities in Southern African reserves and game parks for you at the same price as if you were doing it yourself (no extra charge).
All you have to do is turn up and drive as we give you detailed support on exactly how to go about a self drive safari.
*Per Person Per Night