Kruger and KZN Family Safari
by Rémi & Fréderique Boizard (family group of 8)
(France)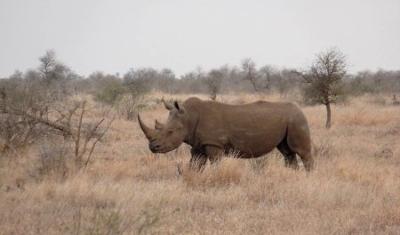 The day drive with Jeff Euro Zulu in Hluhluwe was the best day of our trip, he is so kind and can see an hidden lion at 300m! This park is great and with such a good guide, it is a must. He made us a very good Braii, the home made salads and rusks were also very appreciated.
Accommodation & Food
The Blyde River Canyon was fantastic, amazing view points and falls. The lodge
(Forever Resort Blyde Canyon: 8-sleeper guest house)
was so big that we thought it was a mistake, and when we saw the view in the morning .....wow!
It was a pity to spend only one night here, but we arrived one day late due to a plane problem. Nice restaurant in the lodge too.
We like the Kruger very much, (maybe too much car for our teenagers...). The rooms were very nice and the camps too
(stayed at Mopani, Letaba, Olifants rest camps)
.
We followed your advice for our self catering and the braii were excellent!
On our last day, we had a stop at Lower Sabie, and didn't like it (too much people) so we were happy not to sleep here.
After the Kruger, we stopped at Komatipoort. The Kruger View Lodge is a very nice guest house, you can keep this address: very nice rooms, good food and friendly atmosphere (and very cheap too). We do not hesitate to send people here, the rooms are gorgeous and the innkeeper is very kind.
Mlilwane Game Reserve in Swaziland: The Lontweni rondavels were very nice, and we chose to eat at the restaurant in the evenings, which was a good choice. We saw Swazi dances, maybe not very authentic but the dancers seemed to have a lot of fun!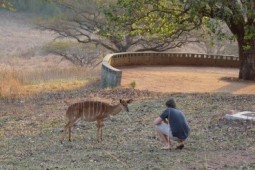 Sodwana Bay: the hotel
(Sea Escapes)
was very hard to reach, the last 2 kilometres was a sand road, and we were obliged to get out the car to be able to not get stuck in the sand! Even with the 4X4 of the dive camp it was difficult...
It was the low season and we first found the hotel closed, we had to call them to enter. We found this place quite expensive (comparing to the rest of our trip) and not so nice.
In fact the lady of the hotel was in Johannesburg, and she asked her neighbour to welcome us, but she was not very aware of what we expected! But this was not a bad day for us, it was a relaxing day, we loved the beautiful beach and we could have some rest, which is also important, isn't it?
St Lucia: The house
(57 Pelican Street)
was really nice and big, we must come back in summer!
We loved the rusks (our favourite were the Ouma with marmalade).
Wildlife
Our guided safari in Hluhluwe-Imfolozi reserve was the best.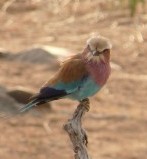 In Kruger - we have finally seen the big five, just one leopard sleeping under a tree, with very many cars around.
But we saw 2 cheetahs (lucky, no?). We only saw lions on the first day at the first hide, but they were far from us.
Of course a lot of elephants, giraffes, zebras, gnus, .... and wonderful birds, my daughter's favourite one was the coracias caudatus.
Other Activities
We were not lucky with our sunset drive
(Mopani)
, as we didn't see too many animals but we saw the sunset!
The morning walk
(Letaba)
was good but the ranger wasn't very friendly. He was in fact focused on wildlife and did not talk a lot with us, but the other rangers (in Mopani and Olifants) were very kind, funny and interesting.
The bicycle in Olifants was very nice, we had a stop on the river and walked on the rocks a few meters only from 20 hippos!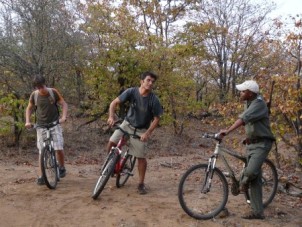 On our way to Mlilwane in Swaziland (very nice country), we had a stop at the Phophonyane Falls, there is a wonderful lodge and get around the falls is easy and amazing. It can be a good address too, a good way to relax between the parks.
Mlilwane: this small park is so nice and it's good to be able to get out from the car and walk! We made "Rock of inspiration" horse riding, it's very easy (our 8 year old son had his own horse!), very nice view of the entire park from the top of the hill, and we rode between the zebras! (very friendly staff too).
The view was so good that 2 of us made the same trail with mountain bikes in the afternoon! (we were quite tired in the evening ...)
Sodwana: The beach was really nice, maybe too much wind. For the dive, the guy was very kind but the equipment was very old (my spare regulator was broken...).
Logistics
Our car
(a rented minibus)
was very large and fine, very good choice!
Thanks again for all the work you've done for us, thanks to you, our trip is now unforgettable!
Make an enquiry...
More Hluhluwe-Imfolozi Safari Reviews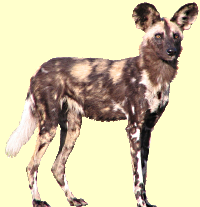 Join in and write your own page! It's easy to do. How? Simply click here to return to ASJ.