Kwazulu Natal Safari
by Anne De Jong
(Canada)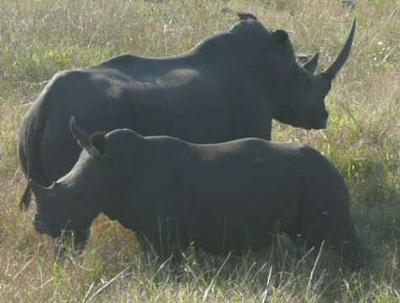 Rhino Mother and Calf
On our night safari we saw an aardvark which is a very rare sighting. We saw a spotted hyena mother and her two young ones and a mother rhino and her calf up right close to the road. Many more as well. With Euro Zulu Tours we saw so many animals but the highlight was the two big bull elephants in the river bed. We had been told that the elephants had gone north into the wilderness and there had not been many sightings.
Safari Company Performance
A wonderful day and we were able to see 4 of the Big 5. Jeff gave us all kinds of information on every animal and plant. He had a wonderful sense of humour and made us feel special.
He was able to spot animals long before we could. Breakfast on a mountain top and a braai lunch with steak, boer sausage and fresh salads were included. Jeff definitely made the trip one to remember a lifetime.
Accommodation
We spent 5 nights at Umlilo Lodge in St Lucia on Dolphin Ave. This is a tropical retreat with wooden walkways, through lush tropical gardens, leading to your room, the breakfast area, and the lounge area.
Es De Lange was our host and made every effort to accommodate us by arranging tours, packing a lunch for Dan's day of fishing and making us feel welcome. A full breakfast provided every morning, got us a great start to our day.
Food
A full breakfast was included with our lodge. Lunch was included as was braai (barbeque) for our 2 safari days.
Dinner was at Braza (Portuguese), Ocean Basket and Babooshka Bistro. We tried local vegetables and seafood.
Other Activities
Dan's fishing trip was cancelled on the Sunday because of the rain so at the last minute we booked a Culture Tour to Khula Village. The tour was very interesting and then we stopped for our Zulu beer sample.
The man who gave us the beer invited us to his daughter's traditional Zulu wedding that was happening at 1:00 pm. We returned, after we finished the rest of our tour, just as the ceremony was about to start.
We watched the young Zulu women dancing and singing Zulu songs. The unmarried women wore only short skirts and beads, the married women wore longer skirts and bras. The Zulus singing in harmony was absolutely amazing.
What a rare privilege it was to be invited as a tourist. We were very honoured to be there and stayed for about 2 hours.
Our Zulu guide was able to explain some of the Zulu traditions that we were observing and answer the many questions we had. This was something right out of National Geographic.
Dan did get to go sea fishing the next day and I walked and shopped in St Lucia.
Tips and Advice
Make a point of connecting with the local people. Dan showed a group of young Zulu children his 'Magic Finger Trick' and then had fun with them as they tried it.
When you are on a tour don't sit like bumps on a log - connect with your guide, ask all kinds of questions and learn more about them too.
In a gift shop I asked the Zulu girl working there if I could take her picture because she looked so pretty with all the brightly coloured cloths and beads hanging behind her.
I then took the time to play back the picture and show it to her. Her reaction was amazing. he said she would never forget this day all her life.
Most Useful Item in Luggage
Definitely the power adapter. I needed to charge the camera and the camcorder batteries every night.
More Hluhluwe-Imfolozi Safari Reviews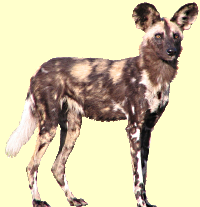 Join in and write your own page! It's easy to do. How? Simply click here to return to South Africa Safari.