South Africa Tour
by Thea Wijnands
(The Netherlands)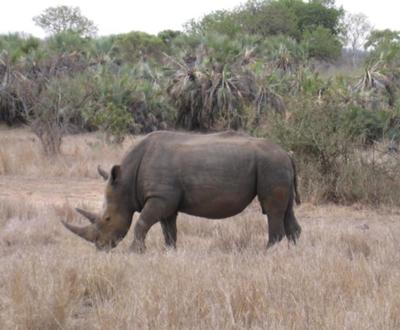 Rhino in South Africa
We were a group of 18 people between 39 and 68 years old, and travelled South Africa by bus for 24 days including Johannesburg, the Panorama Route (God's Window, Bourke's Luck Potholes, Pilgrims Rest), Kruger National Park, Swaziland, St Lucia and Hluhluwe-Imfolozi Game Reserve, Drakensberg, Lesotho, Graaff Reinet, the Garden Route, Stellenbosch and Cape Town.

Our guide Steven van der Merwe and bus driver Yusuf Davids of Sawadee/Protours were wonderful.
ACCOMMODATION
Panorama Route
(Mpumalanga): Jock Sabie Lodge – beautiful accommodation and delicious meals.
Kruger Park
: Rondavels each with its own BBQ so we cooked our own braai.
Swaziland
: Beehives, which lead to much fun – some of the men had to crawl inside! It was very nice though and each had en-suite bathroom and the beds made of branches with merely a mattress on top.
Lesotho
: Ordinary room in a small brick house in the mountains with electricity only until 21:30 – a good opportunity to go to bed early. Sheep, goats, horses, donkeys all walk around this village.
Tsitsikamma National Park
: Wooden bungalow on the Indian Ocean coast – what a view of the ocean!
FOOD
In the Kruger we had to watch our food at lunch times as the baboons steal it from your plate.
In St Lucia we could try some crocodile meat which tastes like a combination of chicken and fish – not bad but then rather give me either chicken or fish.
In Lesotho we had lunch one day in one of the houses of a small local community: home made lemonade, very thick maize porridge and lentils – tasty and wholesome.
In Graaff Reinet we stayed on a guest farm where we enjoyed wonderful home cooked meals, if I'm not mistaken it was bobotie.
SAFARI AND WILDLIFE
In
Kruger Park
we went on game drives in open Jeeps in stead of the bus. That was a good plan as we saw much more and the guides could spot the animals very well. We saw the big 5 on our first day although the leopard lay quite far away in a tree. We saw an incredible amount of animals and birds (impala, warthog, lion, elephant, giraffe, buffalo, kudu, hornbills… too many to mention). We went on a night drive but didn't see much and were bothered by insects. It was very hot these two days.
In
St Lucia
we went on a boat trip to see hippos, crocodiles and beautiful birds.
For
Hluhluwe-Imfolozi
we went on a jeep game drive with local guide Jeff of
Euro Zulu
who collected us at 5am in misty weather. The first animals we saw were a number of lions which killed a buffalo and had already eaten the hind of the prey… good morning!
The weather cleared later in the morning and we saw a lot of animals. Jeff is very knowledgeable and shares information about he flora and fauna of the Hluhluwe-Imfolozi Park. He even provided breakfast and tea and coffee. It was unusual to have breakfast in a game reserve; we had to stay close to the vehicle for obvious reasons.
We spent the whole day in the jeep spotting animals and for lunch Jeff prepared a braai at one of the picnic spots. Personally, I found this park prettier than the Kruger – it is much greener.
More Euro Zulu safari reviews »
At the
Cape of Good Hope
reserve we were warned against the baboons but one man openly sat and ate his sandwich when, from where I don't know, a huge baboon with large teeth appeared and wanted to attack him. I got a big fright and others tried to chase it off… great panic! Fortunately nobody got hurt.
OTHER ACTIVITIES AND IMPRESSIONS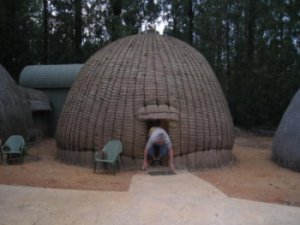 The landscapes of
Swaziland
were beautiful. We visited a candle factory and curio market as well as a glass factory where they still make glass the traditional way, by hand. One feels that here at least the local community benefits from your purchases, rather than supporting items which are mass produced. It was noticeable how living quarters differed from those in South Africa, i.e. huts and shacks. The group visited a traditional village which was wonderful – we sang and danced with the Swazi's. They are a very friendly nation. and some people went on a guided bicycle ride.
In the
Drakensberg
there was opportunity to go hiking, and I went on a helicopter ride which was extremely beautiful and exciting. We were flown two at a time to the high point to enjoy champagne. I have never seen anything so beautiful – the mountains, the view, the sky, it was awesome! I highly recommend it.
Lesotho
has beautiful mountains with small villages consisting of only a few huts. The people seem very poor by the looks of their dwellings. Their transport is by foot or by donkey. They wear woollen blankets and hats, strange in this hot weather. Our bus struggled on a steep and bumpy dirt road to one of the highest points of the country in Semonkong where we overnight in a small village. Very beautiful and probably worth it, but the journey was tiring. The Basotho people seem very friendly and open toward us. We stayed up late one night looking at the stars – with Africa being so dark, the stars are much brighter than at home in the Netherlands. While in the mountains of Lesotho, Karel went on a horse trail while I joined another group for some hiking to a beautiful waterfall and a visit to a sheep shearing operation – I was exhausted that evening!
Karel did a
bungy jump
at Blaauwkrans bridge on the Garden Route, 200m the highest in the world!
We visited a school where the children sang and danced for us – so poor and yet so cheerful - and the township in
Knysna
and I found it emotional to see how these people live, in shacks made of corrugated iron. We bought some crafts made by disabled women – again it's nice to support the community directly.
In
Cape Town
we did wine tasting (Stellenbosch), went up Table Mountain with the rotating cable car from where we even saw a whale, visited Boulders Beach to see the penguins, Cape of Good Hope, whale watching in Hermanus, shark cage diving, visited the V&A Waterfront and the aquarium.
More Hluhluwe-Imfolozi Safari Reviews