Independent South Africa Trip
by Catherine Kay Roose
(UK)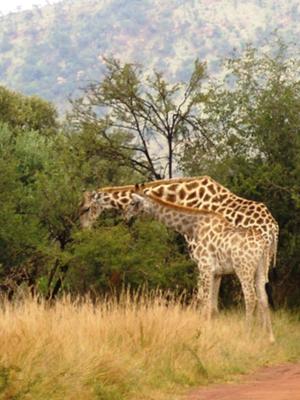 Giraffes in Hluhluwe-Imfolozi Game Reserve
On our elephant tour, I took an elephant named 'Marula' for a walk. She was just amazing, so careful and gentle. Her skin was so soft and smooth with a lovely sweet smell, not quite what one would imagine!
Accommodation
Apart from the national park in Kwazulu Natal province which was amazing, we visited family in both Richards Bay and Western Cape.
We also visited Durban, Zeerust, Sandton in Jo'burg and Paarl in the Western Cape.
Food
The food in South Africa is great, so fresh and affordable.
I love the traditional 'bobotie'. It's a curried mince dish.
Also the famous Braai. I just love steaks done this way. Braai is South Africa's version of BBQ. People cook on a braai regularly and often entertain this way over weekends.
The steaks was a highlight for sure, and fresh mango juice!
Wildlife Highlights
In the game reserve Hluhluwe-Imfolozi we saw an abundance of zebra, buck, wildebeest, warthog, and giraffe. Also tortoises
(terrapins - Ed)
basking in the sun by the riversides.
We saw a lot of white rhino and their young, who used to wander in front of our "bakkie" (South Africa's version of a pick-up).
Also there were buffalo and elephant, we didn't get too close to them but got some great photo's.
The best wildlife experience I had was in the Western Cape at Boulders Beach Simonstown.
The jackass penguin colony reside there (
they sound like donkeys hence the name jackass
) and it's a wonderful experience to be paddling with penguins, they just shoot past you in the water.
If it's cute guys you want to meet on holiday- this is the place! It only costs about £1.50 to get in and there is a wonderful boardwalk system all around the beach that allows great view points if you don't want to go on the sand. There are certain areas out of bounds to allow nesting etc.
Look out for the dassies
(aka hyraxes - Ed)
. These are little guys that live in the bushes. I would say they look like big guinea pigs - truly gorgeous, and not too shy either!
Watch out what you lay down on the beach as the penguins are notorious for stealing stuff, like goggles and trainers, etc. You'll never catch them either if you want your stuff back!
When driving in mountain areas over 'passes' look out for wild baboons by the road, look out for moms carrying their babies - they are fabulous acrobats, do not feed them though - this is well sign posted.
You must pull over in the mountains to some designated picnic areas and if you're lucky enough you will see vast amounts of protea, which is the South African national flower. They come in all colours and look slightly like a coloured artichoke. They are truly beautiful.
Take some time and view the wonderful scenery from the mountains - wow.
Typical Day
We would have a really early start pre-dawn and then arrive at park for sunrise - this way you see Africa come alive before your eyes.
We always saw most animals in the mornings. The rest of our safari days entailed driving the bakkie for miles upon miles in bush land - always spotting something in this vast park.
The only thing we did not see at Hluhluwe were any big cats.
Other Activities
We visited the Lion Park in Johannesburg. Here we viewed all sorts of big cats in a safari park situation opposed to a game reserve.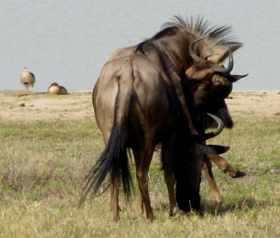 They rescue unwanted and abandoned cubs and re-habilitate them. Some of the original white lions of Timbavati blood lines are here, the white lions are so beautiful.
There is a young cub enclosure where visitors can stroke the young cubs with experienced handlers.
This is truly amazing. Two cubs I remember are Ceasar, a huge male cub and Malibu, a white female who liked having her tummy tickled.
There is a large group of hyena too - it's amazing to drive amongst them.
In Richard's Bay we met a man sitting under a tree selling his own carvings - he made three carvings especially for us of horses. We paid half up front, and paid the rest on collection 4 days later. Very reasonable too for such wonderful artwork.
There was a day trip we went on called 'walking with elephants' - this was truly incredible. It was at The Elephant Sanctuary in Hartebeetspoort Dam which was a couple of hours drive from Jo'burg.
The information lecture was fantastic and the demonstrator and guides were very entertaining, but thorough and experienced.
Also look out for cheeky little meercats popping up - they are so cute!
I would recommend this place to anybody, and I will certainly do this again anytime I am lucky enough to return to South Africa. A true experience of a lifetime.
Tips and Advice
I regretted not staying overnight at an actual park and doing a night safari. If I did I would have rated the trip 10/10.
Do not try and cram it in to 2 weeks - take 3 or 4 weeks and see as much of South Africa as possible. It has a very modern and cultured side to it too, make sure and see a bit of everything.
When there, do not drive around at night without somebody experienced, crime is rife with car-jacking and theft. Be careful and sensible at all times, especially in towns.
A good pair of trainers, or as South Africans call them 'tackies', were most useful!
I will definitely do this again sometime, cash permitting of course! But will definitely go for a more 'rustic' stay and do the whole campfire thing and guided night drives in the bush for sure.
More Hluhluwe-Imfolozi Safari Reviews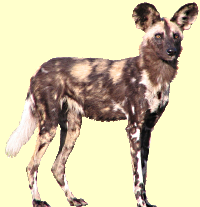 Join in and write your own page! It's easy to do. How? Simply click here to return to South Africa Safari.