Rain On Safari
by Ginene Marriott
(Australia)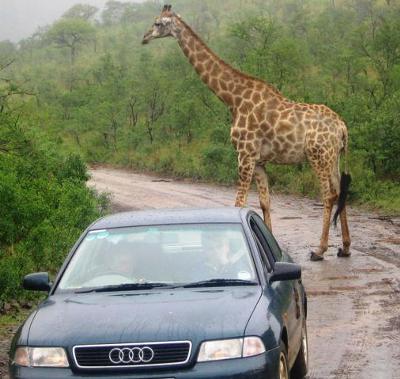 We saw about 5 giraffes on the side of the road. We stopped and watched them then decided to move on as there was a car behind us. One of the giraffes decided to go and stand in the middle of the road, giving us the perfect photo to show how truly tall they are. It was awesome.
Safari Company Performance
We were referred to Hluhluwe Hotel & Safaris by the game reserve. They were fantastic.
The guide was excellent and he kept the kids interested. He also taught us a lot about the animals that we did not know.
Accommodation and Food
We stayed with family in Mtubatuba, but would have loved to stay at the Hluhluwe hotel.
We had a tour of the hotel and it was stunning but we could not afford to stay there.
The food was delicious and we did try local food which we all enjoyed.
On Safari
It was the first and only time that we went on safari.
We woke up, had breakfast and headed for the game reserve where our guide was waiting for us.
It was raining so we had to wear raincoats and cover our legs in blankets as we were in an open safari 4 wheel drive.
We managed to spot a few animals before lunch but not as many as we hoped due to the rain. We went up to the hilltop to have lunch at the Hilltop Camp/Café.
The rain slowed down a bit on the way down but most of the animals were still hiding. Before we knew it the day was over, it went so quick.
We saw zebra's, giraffe, wildebeest, deer, springbok, monkeys, rhino, hippo, boar, exotic birds, buffalo and a few other animals.
We headed back to the house where we were staying.
Other Activities
We went to St. Lucia Crocodile and Reptile Centre as well as on a boat trip on Lake St. Lucia to spot hippo and crocodiles.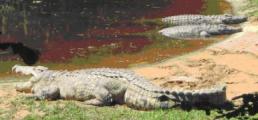 Disappointments
The weather was terrible, raining hard, therefore reducing the chances of us seeing all the animals.
The kids were disappointed that we did not get to see lions and elephants.
We regret that we did not get to see the Big Five and wished that we booked the safari for the next day as the weather was perfect and everyone that went on that day saw all of the Big Five.
I give our trip a good rating in spite of the fact that we did not get to see the Big Five and that it poured with rain as it was still very memorable and exciting.
Tips and Advice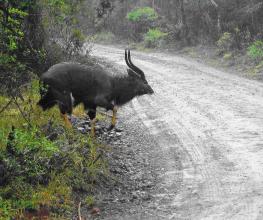 I strongly advise that a one day tour is simply not long enough to see everything.
It would be best to stay at the reserve's accommodation to capture the entire essence of being on safari. If we had the money that is exactly what we would have done.
Make a booking enquiry »
Our digital camera and video camera were the most useful items in our luggage. These are a must to take along with you.
Get your FREE safari wildlife photography guide »
More Hluhluwe-Imfolozi Safari Reviews